Holding Redlich, Flying Arts Alliance team up for QLD art exhibition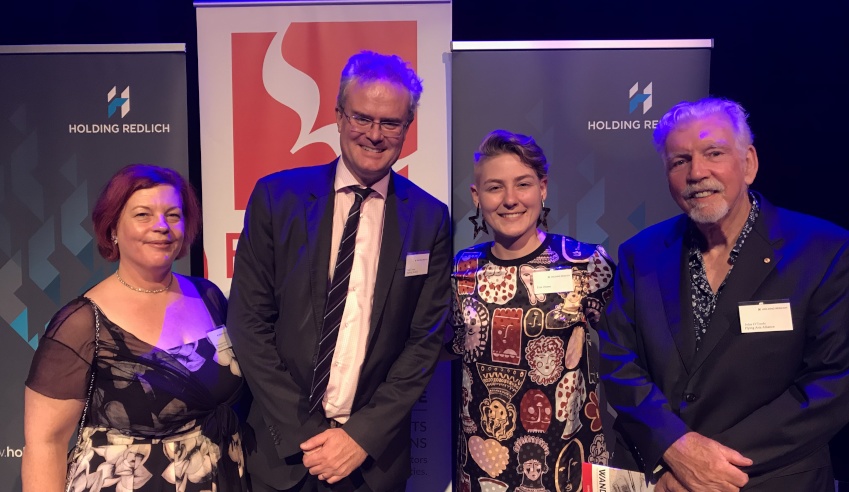 Mid-tier firm Holding Redlich has partnered with Flying Arts Alliance to help showcase artists from across rural and remote Queensland.
Last week, the firm hosted the Flying Arts Alliance's 2018 Queensland Regional Art Awards at the Judith Wright Centre of Contemporary Arts, an event that also showcased the Wanderlust exhibition, a collection of works by artists in regional and remote areas of Queensland.
The winner, Erin Dunn from Rockhampton, $10,000 'Art For Life' award for her work 'Destination Duaringa', which was co-sponsored by the firm.
Holding Redlich Queensland managing partner Paul Venus congratulated Erin on her winning work: "This is an impressive and eye-catching work on paper by Erin - a deserving winner. We wish Erin all the best in her future artistic endeavours."
"We are very proud to be able to celebrate and support artists from across rural and remote Queensland through our firm's partnership with the Flying Arts Alliance," he said.
Following exhibition at the Brisbane gallery, the artworks from the event will travel across regional Queensland to be displayed in towns including Somerset, Winton, Goondiwindi, Chinchilla, Toowoomba, and Ingham.
Holding Redlich is also the sponsor of this travelling exhibition, it said, and is "pleased to be able to help promote artists from across rural Queensland, and also to provide many regional galleries with a professional curator service to install and set up the exhibitions".
The firm's national managing partner Ian Robertson said partnering with the Flying Arts Alliance "represented a major expansion of the firm's support for the arts nationally" which also includes the Salon des Refuses exhibition at the SH Ervin Gallery in Sydney and the Masters Program exhibition at the Victorian College of the Arts.
"Supporting the arts is part of our firm's DNA," he said.
"We are delighted to be the major sponsor of this exhibition that will travel across regional Queensland and help promote so many wonderful artists."