The global coronavirus pandemic has upended the nature and appearance of daily legal practice – not just in Australia, but globally. A new (professional) world order is upon us, and for legal tech providers like LEAP, that brave new world is exciting.
COVID-19 has forced upon the legal profession radical shifts – environmental, economic, social, vocational – but none more consequential than the technological changes that, without question, are here to stay.
At a conversational level, much attention has been focused on the advent of necessary flexible working arrangements, and how legal employers will likely be more receptive to such policies for staff moving forward. But, simultaneously, the legal profession has almost overnight become exponentially more reliant on legal technological services.
The genie, according to LEAP, will be very hard to put back in the bottle, and as a result, the 'new normal' that legal professionals are talking about is going to be digital, not remote.
Tech providers have struggled for a long time, LEAP Australia CEO Donna Broadley reflected, to get the legal profession to more wholly adapt online platforms. Now, the pandemic has forced new circumstances upon more sceptical practitioners to the extent that "I just don't think they'll be able to turn around from that", she said.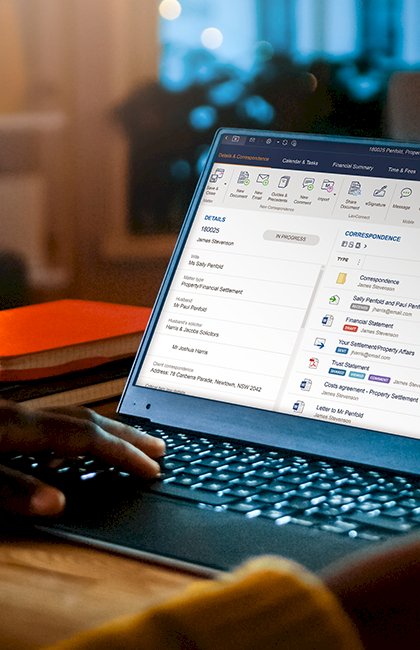 "The fact that they'll be able to better collaborate and find they don't need to have so many face-to- face meetings [means that they will] change the way they work in the future, definitely."
Fundamental shifts in legal practice
For LEAP Executive Chairman Richard Hugo-Hamman, there are "three fundamental shifts" that have occurred in the wake of COVID-19: a move towards digital, new relationships with clients, and managing staff.
"There are still thousands of law firms in this country who are sitting on old technology and are paper-based; they have been dragged into the digital world, basically in seven days, which we haven't been able to do with them in seven years," he mused.
"Every law firm in the world [is now trying to understand] how do they interact with, how do they build, how do they nurture a client base that they do not see? They have to learn a whole lot of new skills and they need tools to create an online relationship, or they will not have clients."
Unless they build those blocks now, Mr Hugo-Hamman argued, and introduce systems whereby they can have those online relationships, they will sink, "because they do not have a front door", he said.
"This is a major shift. They have to get online," he posited.
Thirdly, managing staff is a hugely challenging prospect during the pandemic, he continued, particularly if an employer loses a staff member and they are forced to recruit for a replacement.
These forced shifts, Ms Broadley outlined, have resulted in increased use of platforms such as RapidPay, LawTap and LawConnect.
"Our RapidPay functionality allows clients to get paid, not being in your office with access to a terminal to enable you to get paid could result in reduced cashflow. With RapidPay, our Clients are able to do it online, this is obviously very important with everyone working remotely. We also have a Web Portal product which allows our clients to collaborate with their clients, through this they can complete intake forms, book appointments through LawTap, and share documents through LawConnect.
Taken together, Ms Broadley surmised, lawyers can better collaborate remotely.
"They don't need to be sitting next to the client to be able to get the necessary information. LEAP is helping them to gather this information digitally. All of this helps them to work remotely."
What the new normal looks like
It is important for legal professionals to understand, Mr Hugo-Hamman noted, that increased time spent working from home is not the game-changer: the real shift is working digitally.
There is no better example of this, he said, than in observing the courts.
"What the courts have been resisting for years, they're now suddenly doing in a week. The court that's leading it here in Australia is the Family Court – there are so many urgent issues for that court and it is discovering that there are a whole range of hearings that can more easily and more cheaply be done online," he explained.
"Confirming parenting orders, property settlements, all that stuff where the argument is completed before it goes to court…that is the big shift. All of that is going to move online. The lawyers would have resisted that for another 10 years if [the pandemic] hadn't happened."
"So, this is really throwing petrol on it, if you like. It's a real accelerant. And, what is so amazing is that the drive is going to come from the court system, rather than from the profession itself, because we – on behalf of the profession – have been banging on these doors for 10 years."
Bringing clients along for the ride
One thing lawyers and firms will have to bear in mind, Ms Broadley added, is the need to ensure that clients are on board with greater utilisation and reliance on the digital realm moving forward.
Referencing her parents as an example, hurdles can arise not simply based on age, but also the vocational environment in which one has spent their careers.
"They're both working people, but they've never worked with computers. So, I think dependent on the clients, that's going to be quite difficult. And so, we need to make that part of it as easy as we can for our lawyers to be able to work with those clients," she explained.
"We have tools for that. We have the Web Portal, RapidPay and LawConnect, all of these help our Clients, law firms to connect digitally with their clients. I think the more we can do to make the use of these easier will make that whole process a lot simpler."
The role of legal tech moving forward
Looking ahead to a post-pandemic world, Ms Broadley is well aware of the enormity of the challenge facing tech providers such as LEAP: their primary duty is "making that digital world as seamless and innovative as possible", she proclaimed.
"Everything we're doing right now is to assist our clients to work remotely, and for them to be able to work with their teams remotely and their clients. We have introduced our Microsoft Teams integration just recently, and I think that is going to help immensely. We've also released an integration with FaceTime for Apple users. Our clients have the best tools for the digital world that they're going to become used to, and our future clients that are so easily transitioning to LEAP will benefit greatly from this innovation," she said.
Richard Hugo-Hamman | LEAP is here for Law firms
Hear from Executive Chairman Richard Hugo-Hamman on how LEAP is helping law firms stay productive through lockdown, through seamless integrations with Microsoft 365, Xero and MYOB. With LEAP, law firms can continue to provide access to justice and help clients who may need legal help more than ever.
Watch in source
Mark Burgess | LEAP helps firms stay productive
LEAP Dev CEO Mark Burgess on how easy it is for law firms to use LEAP to work from home without any loss to productivity.
Watch in source