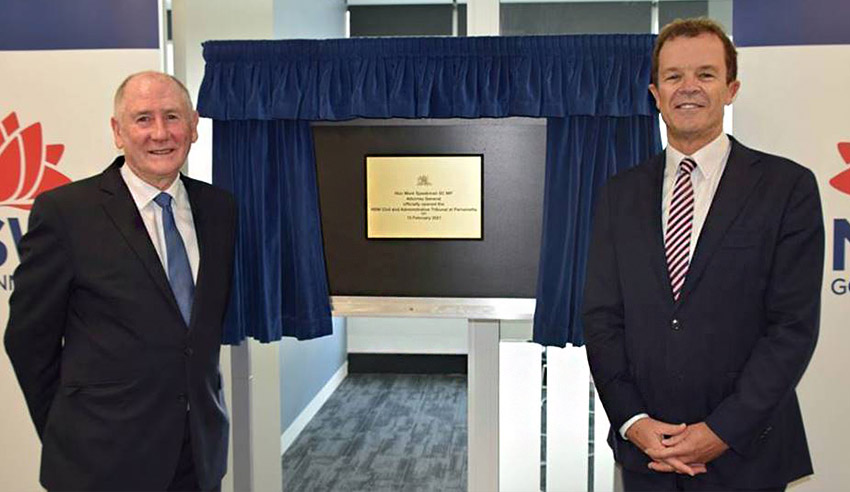 A new NSW Civil and Administrative Tribunal registry has officially opened in Parramatta in what's being described as a huge win for the people of Western Sydney.
The new NSW Civil and Administrative Tribunal registry in Parramatta was officially declared open by the City of Parramatta Council on Monday, 15 February, as part of a continued drive towards expanding the region's Justice Precinct. 
The new Parramatta registry comes after a $2.3 million investment made by the NSW government, and features four hearing rooms with high-definition videoconferencing technology, five conciliation rooms, a registry, a public service counter, and a waiting room.
"A new state-of-the-art NSW Civil and Administrative Tribunal registry in the Parramatta CBD is a huge win for the people of Western Sydney," City of Parramatta lord mayor Cr Bob Dwyer said in opening its doors.
"As Parramatta continues to grow, servicing a region of more than 2 million people, we look forward to more critical services like NCAT being located in the centre of global Sydney."
The opening ceremony was also attended by Attorney-General Mark Speakman, who noted the importance of the registry.
"This facility marks a dramatic improvement in NCAT's capacity in Parramatta. Hearing days will increase fourfold from five a week in the borrowed hearing room in the Commonwealth Law Courts Complex," Mr Speakman said.
"With its simple, cost-effective dispute resolution process, NCAT is one of the critical strands in the NSW Government's aim of providing affordable, accessible and effective access to justice."
Meanwhile, member for Parramatta Geoff Lee said the new tribunal facilities will enable many more local people to solve their NCAT disputes locally.
"I'm thrilled that these new modern tribunal premises will result in an increase in NCAT's capacity to conduct hearings in Parramatta now and position it to meet future demand in the region. This means more convenience for the people of Western Sydney, and that's always welcome," Mr Lee said.
Commenting further, Cr Dwyer noted now that the new registry is opened, the City of Parramatta will continue its work on its "bold proposal to expand the City's Justice Precinct". Next, he said, the council will advocate a permanent Supreme Court circuit, a new law school, and a legal start-up hub to encourage new ideas in the delivery of legal services.
"Parramatta is home to the second largest legal centre in NSW but only has 5 per cent of Greater Sydney's legal jobs," Cr Dwyer said.
"By growing Parramatta's Justice Precinct, we could attract more than 2,200 legal jobs and boost the local economy by $350 million a year by 2036.
"Not only will an expanded Justice Precinct accommodate the needs of our growing population but it will help support local legal talent and improve the justice system."