Colin Biggers & Paisley (CBP) lawyer Nick Crennan has taken on his new position as deputy managing partner.
Mr Crennan, who has worked for the national firm for more than 28 years, will help lead CBP's 2020 business strategy. He will continue to do legal work within CBP's construction and engineering team.
Mr Crennan has led a number of recent initiatives at CBP, such as an inclusion and diversity strategy for the firm's legal practice, which he will continue to do in his new role, a statement said.
Speaking of the role, Mr Crennan said he looked forward to shaping the strategy and growth of the firm.
"We're committed to innovation and diversity at Colin Biggers & Paisley and I am excited to be part of the team to deliver on those key aspects of the business," Mr Crennan said.
CBP managing partner Dunstan de Souza highlighted the new deputy's qualities as a natural leader.
"Nick has a reputation not only as one of the top construction lawyers in Australia but also as a natural leader.
"He is deeply ingrained in the culture of the legal practice and has already been a big part of leading it to the success it is today. I look forward to working with Nick and bringing about new ideas to continue to be one of the leading law firms in Australia," Mr de Souza said.
A statement released by the CBP said the firm has gone from "strength to strength over the past few years", noting a doubling in staff numbers to more than 430 employees across its three offices in Melbourne, Sydney and Brisbane.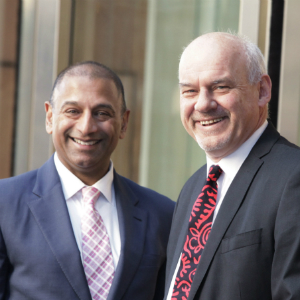 L-R: Colin Biggers & Paisley managing partner Dunstan de Souza and deputy managing partner Nick Crennan