In Murphy's defence: the background story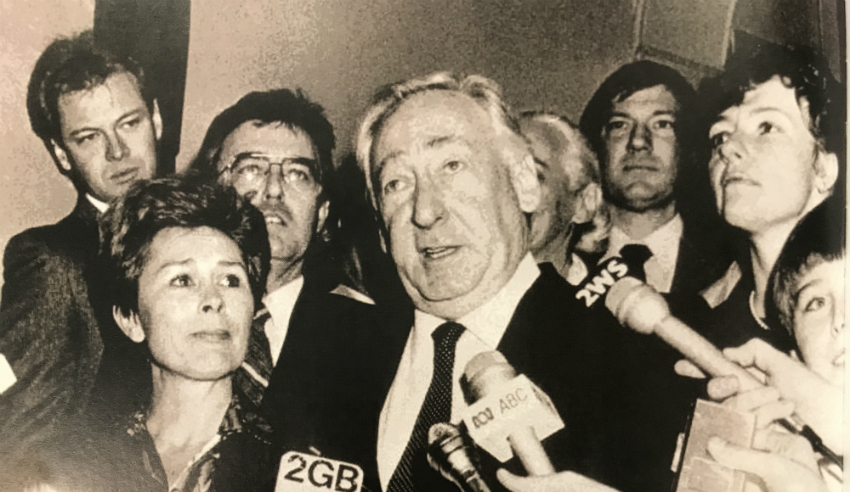 Lawyers Weekly speaks with the public servant turned corporate lawyer who represented High Court justice Lionel Murphy in 1986, in what would become one of the murkiest judicial scandals in Australian history.
It was the evening after a work Christmas party in 1985. Young solicitor Graham Kelly stood at the intersection of George and Druitt streets, trying to spot and hail a taxi in Sydney's busy CBD but to no avail.
He had left the festivities of his law firm Freehill Hollingdale & Page (now known as Herbert Smith Freehills) and wanted to get home. The evening had been an occasion for double celebration because the Freehills team engaged to defend Lionel Murphy had recently succeeded in overturning a 18-month conviction handed down to the High Court judge and he was acquitted of all charges.
"A cab went careering through that intersection and I heard a loud voice sing out, 'Stop!' And the cab screeched to a halt.  And the man yelled out, 'That man defended Lionel Murphy, we'll take him home!'
"I've never met the person and I would never have seen him since. I wouldn't have a clue who he was but that was a love of Murphy," Mr Kelly said.
Mr Kelly was in his early 30s when he was recruited to the Freehills team that would defend Murphy's criminal trials in 1985. He was part of a guard of top commercial litigators and corporate lawyers, some of whom previously worked with Lionel Murphy during his political career in federal politics in the Attorney-General's office.
When the idea of acting in the capacity of Murphy's criminal defence team was first raised with Freehills boss the late Brian Page, Mr Kelly said that the senior partner insisted the firm was duty-bound to help a judicial officer who was in need.
"Brian Page's reasoning at the time was that it was imperative that we accept instructions from a High Court judge who was in trouble. It was almost our duty to do it," Mr Kelly said.
"Even though that wasn't our normal level or area of expertise, he was the sort of fellow who had great confidence in his team. So he consulted the head of the litigation area at the time, Kevin Broadley*, who also agreed and we put together a team and took the case on."
Freehills senior litigation partner Peter Perry and Canberra-based partner Sir Clarence Waldermar "Clarrie" Harders OBE led the team, assisted from time to time by a couple of junior solicitors. Murphy's counsel was the eminent barrister Alec Shand QC.
Mr Kelly had worked with "Sir Clarrie" in the Attorney-General's department during Murphy's tenure as Commonwealth attorney-general for two terms of the Whitlam Labor government. He said that it was this connection and Murphy's faith in the legal astuteness of Sir Clarrie that led the High Court judge to come to Freehills during a time of crisis.
"It was completely unusual. Freehills was a corporate commercial firm that had effectively no criminal legal practice at all but Murphy had this respect for the people concerned. He had a great sense of quality.
"So a major decision was made that the firm would take the matter on. Sir Clarrie spoke with Brian Page, and Page said: 'We must do so'."
By 29 April 1986, Murphy had been acquitted of all charges.
Mr Kelly had no idea at the time of his involvement that he himself would one day sit at the highest echelons of the Freehills' pyramid. Much to his own surprise, the lawyer who would one day take the reins as managing partner of the firm's Sydney office was offered partnership in about the middle of the first of Murphy's two trials.
Before he became (in Kelly's own words) involved in court proceedings, unlike anything Australia has seen since its very beginnings as a colony, Mr Kelly was working as a foreign associate for Freehills in Washington. Prior to that he worked closely with Sir Clarrie in the Attoney-General's department.
Two Senate inquiries into the judge's alleged misconduct took place in 1984, preceding a criminal trial process that Lionel was later roped into. He took leave from the High Court in that year.
At trial, Murphy was acquitted on one charge of attempting to pervert the course of justice and a conviction of 18 months' jail for the other charge was successfully overturned in the court of appeal, for which Murphy was also ultimately found to be innocent.
Mr Kelly told Lawyers Weekly that he believed the prosecution was initiated by then Commonwealth Director of Public Prosecutions Ian Temby QC, who used a new public policy to justify taking the Murphy case before the courts. He added that a leading member of one of the 1984 Senate committee inquiries would later tell him that criminal prosecution of Murphy had never been an intended consequence of the hearings.
"The Director of Public Prosecutions had to concoct a whole view – and fortunately long since abandoned – theory of prosecution.
"[Ian Temby] said he was charging Murphy to clear the air and he issued a public policy that people in high positions should be charged, even if the prosecutor didn't think there was a strong case for prosecution," Mr Kelly said.
The Freehills lawyers worked for free, with an arrangement to only charge Murphy for disbursements. When the High Court judge was finally vindicated as an innocent man in 1986, the government paid Murphy $420,000 in costs. However, the saga did not end there.
"We acted on the basis that we'd charge Murphy the disbursements but not fees for our time, until we'd won and we'd make a claim on the government, which is ultimately what happened," Mr Kelly said.
"The component from the government was minuscule compared with the fees that were on the clock," he added.
Speaking of the man that Lionel Murphy was and his approach to the onslaught of scurrilous accusations made against him in those final years, Mr Kelly said that the judge was "generous in attitude" and a "dominant sort of thinker".
"When things went wrong, Murphy never tried to blame someone. He was just very generous in his attitude," Mr Kelly said.
"And when Murphy was acquitted and made his famous speech on the steps of the court – if you go watch the video, you'll see that there wasn't the slightest acrimony to anyone. He even thanked the first jury that found him guilty and said that they would have found him not guilty if they had been properly instructed.
"But he was a forceful character and therefore you had to be very clear in your advice to him because he would test it," he said.
A vivid example of the clarity and power required to persuade the judge was when, just prior to the second trial, Mr Kelly had to find a way to convince the judge of his defence team's strategic advice not to give evidence. Murphy had taken to the witness box in the first trial and Mr Kelly said that decision was made against the advice of his lawyers.
"We didn't think it was right but we didn't succeed in talking him out of it," Mr Kelly said.
"Then there came a major change in tactics."
He recounted an exchange with Murphy over a long lunch at the popular Sydney restaurant Noble House. The pair were into their second bottle of red wine.
"Murphy, despite not being a Christian, absolutely loved the celebration of Christmas. It was something that had just carried with him through childhood.
"I looked him in the eye and said: 'Now listen, you better understand something. This Christmas you're going to be in jail unless you follow our advice.'
"He was shocked and when I think back on a very young and junior person saying that to a High Court judge, I don't know how I did it," Mr Kelly said.
"He was very resistant [of the idea] and he continued to resist that for a long while."
Despite Murphy's reluctance, the young lawyer got his way. Mr Kelly said that the prosecution arrived in court with cricket bags packed full of documents, ready to cross-examine the judge on. To this day, the defence team suspect those documents intended for cross-examination related to political issues only.
At the risk that Murphy might change his mind and give evidence in his second trial, Mr Kelly said that the Freehills lawyers also prepared Liberal Defence Minister Sir Denis James "Jim" Killen as a character witness.
"Murphy took our advice and the prosecutor was stunned when he didn't give evidence. We had caught them completely flat-footed," Mr Kelly said.
Then, after Murphy's final acquittal in 1986, the Hawke government set up another parliamentary investigation. The independent judicial inquiry, which was terminated in the wake of news of his terminal cancer diagnosis, was presided over by three retired judges. It is that unfinished inquiry which has been the catalyst to renewed interest in the scandal.
Facing yet another formal probe into allegations of misconduct, Murphy again sought the help of Freehills but Mr Kelly said the firm decided that it would be too much of an ongoing strain to effectively have three partners out of action. 
"After he was acquitted, out of the blue came this commission of inquiry. We declined and I remembered one day he rang me up and [said]: 'I only wish you were still acting for me'."
Mr Kelly said he took a dim view to the political circumstances surrounding the third inquiry, whose secret files were made public last week after more than 30 years locked away in the parliamentary archives.
"Of course, the commission was a bit of a thorn in the political saddle of [prime minister] Bob Hawke. He allowed the Parliament to appoint this so-called 'commission of inquiry' that was a modern-day star chamber. It proceeded in secret, it advertised in the newspapers for people to come forward and complain. Goodness me, what natural justice is that?" Mr Kelly said.
The insinuations of the first Senate committee inquiries and criminal trials that ensued related to claims that Murphy had attempted to influence members of the judiciary for the benefit of his friend, solicitor Morgan Ryan. The recently declassified allegations made to the aborted parliamentary inquiry in 1986 however went much further.
Documents revealed 14 detailed allegations, which were received by Murphy's lawyers from the commission, variously claiming he had been involved in attempting to influence appointments to commissions; that he had convinced the NSW premier to give known criminal boss Abe Saffron a grant of lease for Luna Park; and that he received a suspicious payment in 1975 by way of shares in the Union Bank of Switzerland shortly after his appointment to the High Court.
The closed inquiry only had the opportunity to run just shy of three months (from May to August of 1986) and was ultimately wound up. After Murphy's diagnosis, he quickly deteriorated and died in October of that year, with Parliament passing legislation that placed a 30-year secrecy provision on the material gathered as part of the inquiry process. 
While there is contention among commentators about the reliability of the documents, they can be appropriately described as sensational. Mr Kelly dismisses the claims in the files as concocted, citing the polarising character of Murphy and his Libertarian views as threatening to certain powerful groups among the Australian authorites.
"One of the extraordinary things that I found was walking around the streets of Sydney with him and all sorts of people would come up and say hello or wave to him; and this cross-sectional admiration for the man led to one of the most extraordinary events of my life.
"But there was also this blind fear and hatred of Murphy and there were all sorts of reasons for that.
"He was instrumental in the abolition of the death penalty; and he had a view about Croatian terrorism in Australia at the time that he thought had not been properly handled by the Australian Security Intelligence Organisation (ASIO). That led to him conducting his famous raid on ASIO, which was probably inadvisable but nevertheless there was hatred of him for it," Mr Kelly said.
"I would say that it is all completely concocted and even the commission of inquiry itself."
The now retired lawyer said that he hoped the prevailing lesson to be learnt from the saga was the value of Australia's jury system – a subject Murphy championed on the steps outside court on the day he was acquitted.
"Ordinary decent human beings, properly instructed in the law, will nine times out of 10 come to the right conclusion," Mr Kelly said.
"Every single person in this country is entitled to be treated equally before the law. Just the same as the law should apply equally to the most senior person, similarly the most senior person should be entitled to the protections of the law.
"That's a lesson that I don't think we've completely learnt."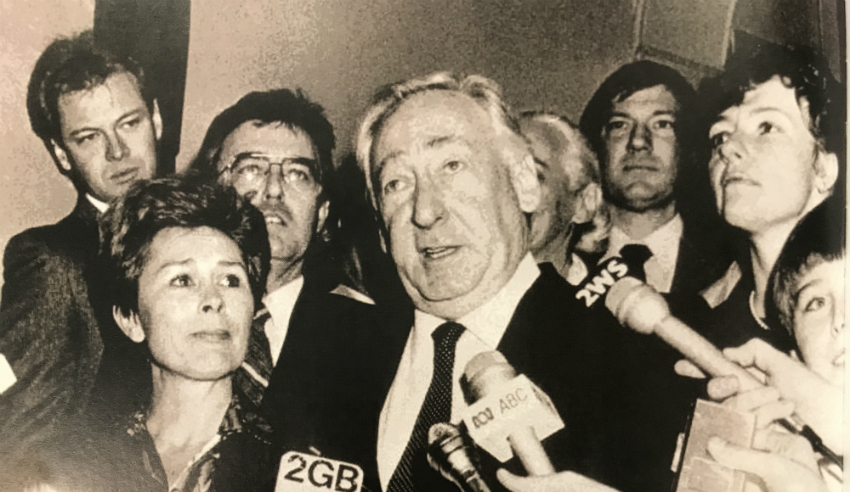 High Court judge Lionel Murphy QC addresses the media on the steps outside court just after his acquittal  in 1986. Graham Kelly is pictured on the far left, beside the judge. 
*An original version of this article included a quote that misstated Kevin Broadley was deceased. This is not the case. Lawyers Weekly sincerely apologies for the error.