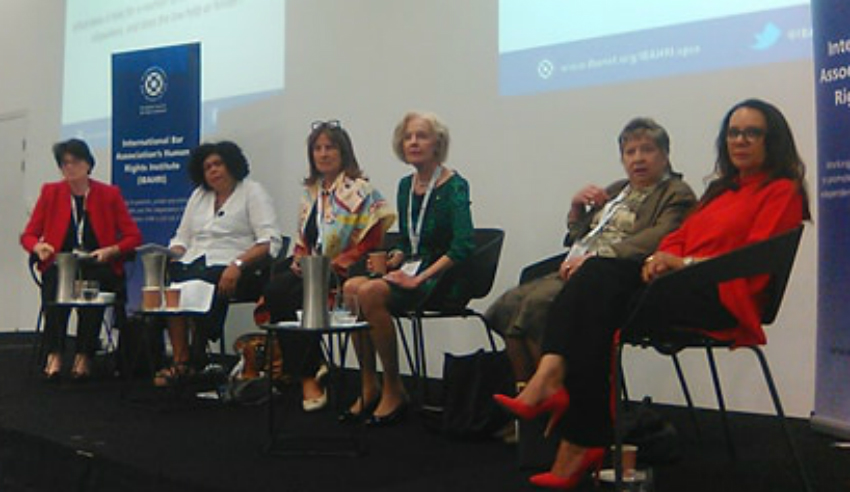 A panel of eminent lawyers and politicians to have achieved 'women first' milestones in Australia have lamented the barriers that still hold talented women back in the workplace and court room.
When Mary Gaudron QC was appointed to the bench of the High Court of Australia in 1987, after a distinguished term as solicitor-general of New South Wales, she made history as the first woman to ever do so.
Joining a panel of other Australian women to make a historic mark as 'women firsts' in their own right, the retired judge told an audience at the International Bar Association conference in Sydney that she was tired of euphemisms.
References to the so-called 'gender pay gap' and associated euphemism of 'smashing the glass ceiling' should be relinquished, Justice Gaudron said.
"I think it's time we call it for what it is. It is discrimination pure and simple," she said.
"And it is discrimination which seems to be intractable and incapable of resolution by the application of the anti-discrimination laws."
Dame Quentin Bryce AD CVO, a legal academic from Queensland who went on to become the nation's 25th Governor-General in 2008 and first woman appointed to the role, recited a favourite saying attributed to Justice Gaudron.
"My favourite quote of yours that I do so love is: 'We got equal pay. Then we got it again. Then we got it gain, and we still don't' have it'," the former governor-general said.
For the benefit of the international crowd, Justice Gaudron offered a chronology of the stop-start efforts in Australia to end the discrimination of unequal pay. She said that current figures showed that there was a 13 per cent difference in pay between men and women of equal seniority.  
Despite the enduring disparity between the pay rate for men and women, the retired judge said that there was a clear reluctance to use Australia's anti-discrimination laws in aid.
"The female [pay] rate is 87 per cent of the male rate," Justice Gaudron said.
"Several times [an attempt to address equal pay] has been introduced. Starting with equal pay for women doing men's work; and then allegedly equal pay for work of equal value."
"The discrimination continues," she added.
The panel was facilitated by a co-chair of the IBA Human Rights Institute, Baroness Helena Kennedy QC. The distinguished civil rights advocate, barrister and member of the House of Lords, discussed gender equality issues ranging from workplace discrimination and sexual harassment to violence against women and the discriminatory difference between pay for men and women.
Law Council of Australia president Fiona McLeod SC, federal Labor MP Linda Burney and Indigenous business woman and lawyer Andrea Mason also participated in the panel talk.
Echoing Justice Gauldron's sentiments about the power of language and the importance of speaking plainly about the situation women faced in the workforce and society at large, Quentin Bryce said that it was because of prejudice the equal pay issue continues to this day.
In what was an illustrious career preceding her appointment to Governor-General, Ms Bryce served as a Federal Sex Discrimination Commissioner between 1988-1993 working for the Human Rights and Equal Opportunity Commission (as it was then known).
"Why don't we use the word prejudice? Because that is what it is," Ms Bryce said.
"There is endless explanations given about the issue of equal pay and about other areas of very blatant discrimination."
Referring to an example that Baroness Kennedy gave about the reasons judges in the UK made for why more women were not appointed to the bench, she added:
"There are these stories where people say 'Oh there's no women who are suited for that' and all sorts of excuses are made."
"We just don't call out what it is."
Speaking of the context in the Australian legal profession, Ms McLeod said gender equality by way of equal opportunity, equal pay and promotion would need to be addressed in more pragmatic ways than they have been. She said that for too long, the legal fraternity relied on the assumption that the growing number of women entering law would even the playing field.
"You've got to have equality down through all levels – and that's why it's so important that we address things like the pay inequity, that we look at how we employ, how we promote, how we allocate work to people, how we brief people," Ms McLeod said.
"We have to look at all of those issues right through all our systems because we won't get there just by having super women at the top."
When Ms McLeod was completing her law degree at the University of Melbourne, Mary Gauldron was appointed to the High Court. She is also one of a small number of women barristers to have taken silk in Australia.
"We've had the promise of equality from the UN Declaration for 70 years now and we're still seeing firsts."
Ms McLeod lamented how all the Australian women to have achieved firsts in law over the course of her long career had offered people a sense of false optimism that the glass ceiling was smashed once and for all and things would finally change.
"It's not enough," Ms McLeod said.
"For the last 20 to 30 years, 60 per cent of our law graduates have been women. That's not enough because they get to a certain point in their careers where they are the majority, but they leave at around five to seven years of seniority.
"In terms of across the profession, it's about a quarter of partners in big firms across equity partners are women. And women are about 10 per cent of Queens Counsel and Senior Counsel. The number of judges is coming up slightly but the numbers just aren't there," she said.
Quentin Bryce went a step further, suggesting that the faith gender equality would evolve into reality after so many 'women firsts' had led society to be complacent. As a result, she said things were in fact moving backwards for those number of women at senior level.
"When we're talking about instances [of women firsts] that made us think, 'Oh the world has changed'; it hasn't," Ms Bryce said.
"And it is so slow. But it's not just that – many gains are moving backwards and in this country, the number of women in senior leadership and decision-making roles is slowing down, going backwards," she said.
This Friday, Lawyers Weekly will be celebrating some of the talented lawyers who are making their mark at the 2017 Women in Law Awards. For more information about the Melbourne event, see here.