Business is now transacted on the move, meetings are held online, and the virtual environment is rapidly expanding thanks to mobile technologies. This means an effective mobile strategy involves more than just a mobile-friendly website to represent your law firm.
Leveraging technology to increase productivity, profits, optimise organisational and individual performance is redefining how law firms deliver services to existing and future clients, and traditional marketing/advertising methods are rapidly changing.
I started my conveyancing firm nearly 20 years ago and was an early adopter of leveraging technologies, moving very quickly to remote servers and establishing a virtual office for my practice. Having a well-branded website was critical to how I communicated, which then progressed into developing video content, social media strategies and self-publishing an eBook.
The next logical step was a conveyancing app. I developed my first "Ask Conveyancer" app for consumers and will soon release my Pro version of the "Ask Conveyancer" app.
Having experienced the benefits of embracing technology to run a successful practice and developing an app to increase brand awareness and the level of accessibility for clients, I highly recommend every law firm to do the same.
In fact to stay relevant, developing a unique legal practice app for your law firm is essential and is no longer an option, just as a mobile-ready website was not an option just a few years ago.
A law firm without its own legal practice app is missing the immense potential an app can deliver – don't let your law firm fall behind!
Key advantages/benefits 
• Builds a strong brand, creates awareness and visibility (your app is always on the client's phone/tablet)
• More client centric and provides a positive client experience
• Attracts new clients and broadens your client reach
• Provides tools to help make access to your firm simpler and more intuitive
• Reduces marketing costs via push and in-app notifications
• Integrates with your website via interactive links
• Simplicity and convenience
• IOS and Android to service both mobile platforms
'How to'
Working with the right designer/developer is easier than you think. They will provide you with an app strategy/brief; assist you in working out the content; add niche features that apply to your practice, making your app unique; and boost the interactivity of each screen.
During the process there are Beta versions to test before publishing. I have worked with the same agency for many years and highly recommend them. Once you go ahead, you will not regret your decision.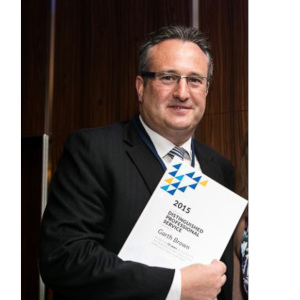 Garth Brown is an award-winning conveyancer and founder of Brown and Brown Conveyancers, based in Sydney. Mr Brown has published conveyancing apps for consumers - "Ask Conveyancer" - and written a series of successful eBooks - Step by Step Guide to Operating a Successful Conveyancing/Legal Practice. He offers highly professional consultancy services to the industry to assist practitioners on 'how to' operate their practice more efficiently, profitably and successfully by working less hours and enjoying a satisfying work/life balance.