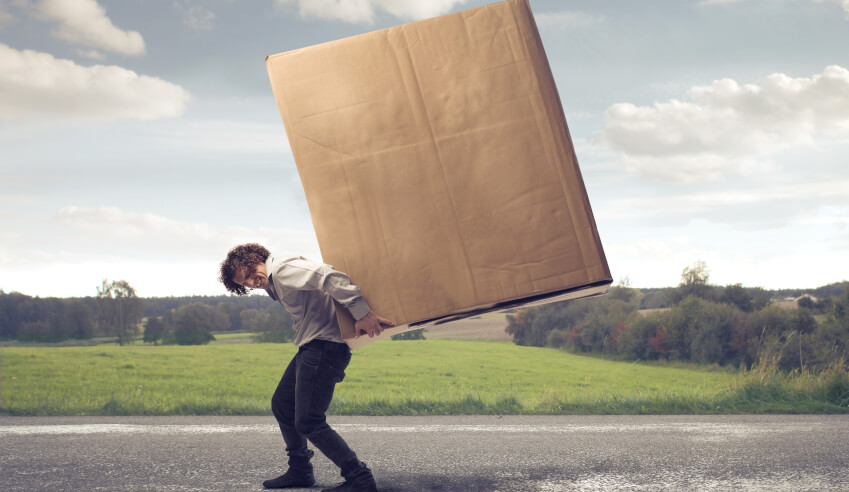 Promoted by Qantas.

Logistics is a major component of most businesses and also one of the most costly. As such, driving efficiencies in the logistics space can have a material impact on your business' bottom line.
A major contribution to Australia's success
According to the Australian Logistics Council, the freight logistics industry directly employs around 1.2 million people and represents 8.6 per cent of Australia's GDP.
Add to that the many other sectors reliant on freight and logistics to survive — including retail, travel, tourism, construction, manufacturing, mining and printing — and it is clear just how critical logistics are to Australia's employment and economic wellbeing.
Yet given the size and make-up of Australia, it is no wonder that logistics is crucial to our economy success. Australia is the sixth-largest country on earth by geographic area, and the only one to have a continent to itself, meaning we have greater distances and logistical challenges than most to keep our population connected and goods moving to where they need to go.
Logistics a costly exercise
No matter how you play it — whether you operate a logistics business, have in-house logistics operations or outsource to other operators — there are substantial costs involved in moving goods from one place to another:
Fuel
Vehicles costs (whether owned or hired)
Insurance — for the vehicles, for goods in transit, for the drivers
Postage and shipping
Packaging of goods
Warehousing and storage
Staffing at every stage of the process
Taking the axe to logistics costs
As the Australian Logistics Council points out, a 1 per cent efficiency gain across the sector delivers a staggering $2 billion in gains for the national economy. So clearly it is in everyone's interests to keep logistics moving as smoothly and efficiently as possible.
Thankfully, there are ways in which cost savings can be achieved:
Technology
Technology is delivering substantial efficiency and productivity gains.
For instance, digitising paperwork reduces the time spent manually completing, filing and keeping track of documents and eliminates the risk of documents going missing or being damaged in transit.
Meanwhile, automation is reducing the reliance on people to complete labour-intensive tasks, such as stocktaking, sales and ordering functions and temperature control for temperature-sensitive goods.
While there can be an initial cost to purchase of new technologies, and to train staff in using them correctly, the longer-term efficiencies can far outweigh these.
Outsourcing
While employing logistics teams in-house can provide greater control over product movements and the supply chain, it can also substantially increase costs, not mention the HR burden on the business.
Wages, superannuation, workers compensation provisions, insurance and — where relevant — payroll tax all need to be allocated for employees, whereas they become the responsibility of another business when these functions are outsourced.
Outsourcing logistics does not necessarily equate to job losses either — the same number of drivers and other logistics personnel are needed to move goods; the only difference is in who employs them.
Competition among suppliers
These days, there is plenty of choice when it comes to logistics businesses to partner with. The national postal service, international shipping companies, bespoke courier services and even Uber-style drivers operating as part of the share economy are all competing for your business.
Comparing the costs, delivery time frames and service provision of different operators allows you to selecting the right service for the needs at hand, and pocket some savings in the process.
Shared deliveries
Sending drivers out with vehicles that are only half-full or less, generally makes poor business sense,  regardless of whether those drivers are in-house employees or work for someone else.
Looking for ways to maximise the efficiency of any shipment, such as combining a smaller consignment with those from other businesses, or packaging multiple orders into the one shipment, can deliver the best value for money.
Weigh up storage versus transit costs
Firms are generally advised against keeping surplus stock, as storage and warehousing can create an extra cost burden or stretch existing space and stocktaking resources. However, frequently transporting goods to keep up with stock turnover can also quickly add up.
Doing the analysis and work to find the right balance between the two is a smart way of minimising wastage.
Tap into benefits
Many major suppliers offer loyalty and rewards points for purchases made.
Fuel cards reward loyalty with a particular fuel company, and have the added bonus of removing the need for drivers to lodge expense claims  for fuel purchases. Credit card companies also offer reward points for purchases made using their card. Similarly, programs such as Qantas Business Rewards enable members to earn Qantas Points when purchases are made with relevant partners.
Proactively taking advantage of these programs can derive substantial benefits for the business on purchases it would have to make regardless.
Forgoing resistance to change
"We've always done it that way" is one of the best ways of blowing out budgets and closing the door on cost-saving opportunities.
Conducting regular, such as annual, reviews of logistics operations and suppliers is a great way of staying on top of the bills and identifying new, cheaper ways of operating.
Security
Shipping goods requires a good degree of security. Of course, there are certain compliance requirements, particularly around flammable goods, illegal or restricted materials, and drug trafficking.
Then there is the security of the goods themselves, and the businesses involved. Credit card fraud is an increasingly prominent problem, with payments platform Ethoca claiming that Australia's four major banks are processing up to 200,000 chargebacks per month, and that the majority of these relate to credit card fraud or delivery fraud, where customer claim delivered goods were never actually received.
Beefing up security along the logistics chain, including adequate ID checks, vigilance on goods declarations and authenticating card-not-present transactions can help reduce the burden of losses to fraud.
Example scenario
A delivery network owned by the Small family was struggling to maintain profitability under the weight of soaring costs. In a bid to ensure the business' future viability, the Smalls decided to undertake an extensive audit of the entire business to see where cost savings and operational efficiencies could be achieved.
The audit identified a number of areas where these goals could be achieved with minimal disruption to customers, chief among them was their cultural resistance to change — by themselves as directors and amongst their team.
The Smalls took a cut-throat decision to do away with this legacy culture in a do-or-die approach to save the business. They sat down with all of their employees, were transparent with the financial position of the business, and used this to explain why the old ways of operating were no longer viable.
With a solid understanding of why changes were needed, staff were enthusiastic in embracing new ways of working, and even helped to identify areas for improvement.
This collaborative approach helped to identify the following areas for improvement, and the subsequent changes that were implemented to address them:
Vehicles: Maintaining a fleet of ageing vehicles was a significant drain on finances, and the business was facing a growing risk of suffering a breakdown that would result in significant downtime. However, the financial state of the business did not allow it replace its fleet. Instead,

they

decided to lease new vans progressively as cash flows permitted.
Equipment: Similarly, the decision was made to retire older forklifts in the warehouse and enter into

a co

st-effective

long-term lease agreement for replacement ones.
Storage: The existing warehouse had a lot of space that sat vacant outside the busy pre-Christmas season, meaning that the business was paying to lease space that was going unused. A more cost-effective approach was adopted that saw the business downsize to a more

size

appropriate, cheaper The overflow in peak times would then be met by renting space at a nearby storage facility as needed.
The Smalls also looked to maximise the rewards and benefits on their business outgoings. As an existing Qantas Business Rewards members, they decided the best way to achieve this was to use Qantas Business Rewards partners in order to boost their points earnings. As such, they opted to use Macquarie Leasing to finance the new vehicles, and Crown Equipment for the hired forklifts. In addition, they enlisted Qantas Freight to help manage their long-haul freight needs, and signed up for a Caltex StarCard to manage all their fuel expenses.
The directors and staff alike have been pleased with the transformations and new equipment, and the business is already seeing financial benefits from the changes implemented. Since the audit, profitability doubled within the first six months and is on-track to continue climbing as the longer-term impacts of the changes are realised.
Find out how your business could turn your everyday business expenses into Qantas Points and savings, with over 50 ways to earn.