Students take out top honours at Canadian moot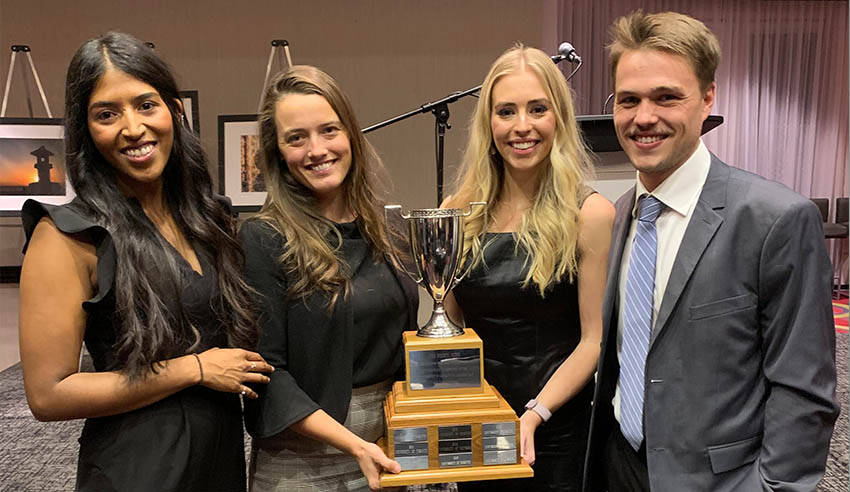 A team of students from Queensland's Bond University has become the first non-Canadian law school students to take out a Canadian moot competition.
The four students — Andrew Wallace, Natalie Lesco, Preksha Lukkhoo and Amy Langley — were also awarded best facta at the Wilson Moot in Toronto, Canada.
According to the university, the law school has established a "strong track record" of individual and team success since first travelling to the event six years ago.
Team coach, assistant professor and director of Bond's Canadian law program Lisa Bonin said students gain significant skills and experience by participating in the event.
Three of the team members — Andrew Wallace, Natalie Lesco and Preksha Lukkhoo — hail from Canada but are studying law in Australia.
"The Wilson Moot gives our Canadian students an opportunity to engage in Canadian advocacy and gain invaluable Canadian law experience. It also gives our Australian students the opportunity to engage with Canadian constitutional law at an elite level," assistant professor Bonin said.
The 2019 problem centred on access to fertility treatments, and the equality and fundamental justice issues raised by a government program that provided funded access to fertility treatments and placed age-based restrictions on access to funded IVF.
None of the student team members had studied Canadian constitutional law before attending the moot, she flagged, "so they not only have to identify and address the complex, novel issues presented by the moot problem, they also have to learn Canadian constitutional law".
Bond University noted the Wilson Moot's conception as being in honour of the Honourable Justice Wilson, "an advocate for access to justice for those lacking power".
The moot tackles socio-legal human rights issues under the Canadian Charter of Rights and Freedoms, it was highlighted.
"When it comes to mooting, you're only as good as your preparation and training — and this team was dedicated and trained hard," the assistant professor said.
"Just like in the real practice of law, you can never predict where a judge is going to take you, so when the students are standing up there making their submissions, it's all on them to apply their knowledge — sometimes in new and novel ways."
Natalie Lesco, a Canadian student on the Bond team hailing from London, Ontario, has credited the Wilson Moot with improving her confidence levels.
"I also learnt that the best ideas are a result of tireless hours of brainstorming and are only ever solid after every angle has been considered," she said.
She considered that the opportunity to gain practical experience in both Australia and Canada is "invaluable" as a law student.
"Mooting teaches students how to meticulously pick apart a case and apply the law in a way that extends far beyond the ordinary curriculum," she continued.
Fellow teammate Preskha Lukkhoo, from Edmonton, Alberta, said the experience extended her understanding of her own physical and mental capabilities.
"In addition to honing my research, writing and advocacy skills, I learnt to operate outside my comfort zone and interact with industry professionals," she said.
Ms Lukkhoo said the more she practised and prepared, the more confidently she could advocate.
"Moots enable you to practice your skills in a competitive environment, but still allow you to learn and grow before starting your career as a law professional," the student acknowledged.
This email address is being protected from spambots. You need JavaScript enabled to view it.