What will the make-up of lawyers be in 2050?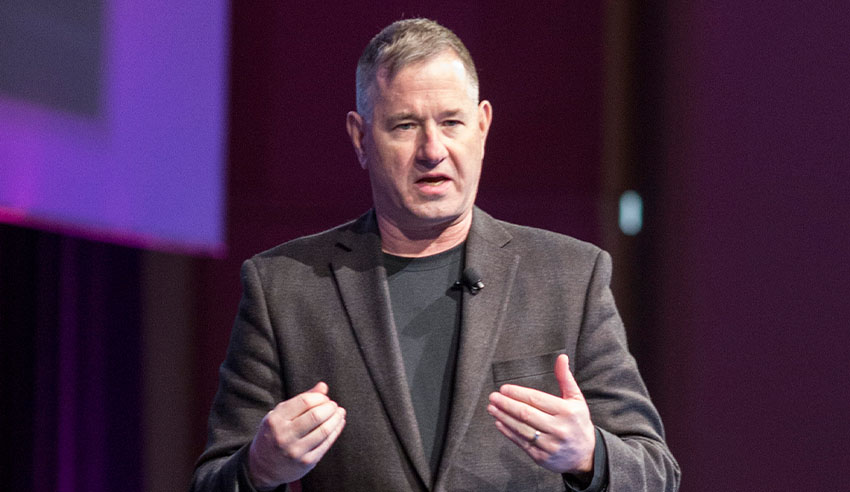 The question of what lawyering will look like in 2050 has been highlighted, with an expert offering his opinion as to whether we'll see a "giant leap" forward or just a slightly better version of 2019.
Speaking at the Law Society of NSW's annual FLIP Conference yesterday, keynote speaker and author Professor Mitch Kowalski of the University of Calgary Law School discussed lawyering in 2050.
In his presentation, Mr Kowalski questioned the new areas of law, trends and technology that will keep private practices, in-house departments and government lawyers sustainable over the next 30 years.
"Business analysts often say that the most dominant factor to trigger organisational change is the external environment. It's the external environment that eventually causes firms to changing mission, culture, leadership and operating strategies," Mr Kowalski opened his keynote with.
"Thirty years ago it was the summer of 1989. Typewriters, word processing machines, telex machines abounded – and even fax machines were in vogue. Tech did not drive anything, clients and lawyers seemed to be relatively happy with the situation.
"Mail and courier were the transmission system of choice, case law was in books and laboriously updated, conference calls were by phone and massively expensive, face-to-face meetings were routine and wet signatures all the rage, bound legal directories were a thing, having an office outside of your home city or country was magical.
"All employees were tethered to the office, all due diligence was manual, filings and registrations were manual.
"Today I'm not sure we can say we've made a giant leap forward in how we operate. Yes, incremental improvements have been made, but nothing earth-shattering. The question is will the next 30 years bring a giant leap or simply more incremental improvement?"
Mr Kowalski said there are three items that have the greatest ability to create operational change and drive the creation of a new value proposition.
1. Clients
Citing that over 69 per cent of people between 18 years old and 44 years old would prefer to hire a lawyer who is active on social media rather than one who is not, Mr Kowalski began by explaining the changing expectations clients have when it comes to their legal adviser/s.
He noted that because we now live "less privately" and with "greater transparency", clients are more likely to head online to look for a lawyer than in years past.
"[The] first thing people do when shopping for anything is Google it – we are a hyper-connected society seeking assistance from the crowd," Mr Kowalski said, adding that clients are seeking convenience and opt to "speak less and message more".
From a consumer and B2B standpoint, Mr Kowalski said clients want "really easy entry to [their] law firm", whereby they can give and receive information and documents efficiently.
Furthermore, clients want better pricing, Mr Kowalski said. They want more for less, price transparency and certainty in what their money is getting them.
2. Talent
"For some time now this so-called millennial generation has been flooding into the legal marketplace. They are anyone born between 1980 and 2000. These first millennials are nearing their 40th birthday. And FYI – they will be 70 in 2050," Mr Kowalski said.
"By the year 2025, 75 per cent of the global workforce will be made up of millennials. And they will continue to dominate, so we can ignore them and misunderstand them at our own peril because they aren't going anywhere."
Mr Kowalski said millennial lawyers are no longer chasing dreams of partnership, finding "it's not all that it's cracked up to be". In a similar vein, they're not fixated on linear career paths, he noted.
"They are quite comfortable leaving jobs that don't fulfill them even without a new job lined up – portfolio careers are normal for them," Mr Kowalski said.
"They're comfortable with change, and seem to have more of an entrepreneurial streak than other generations.
"Law firm personnel directors have said to me: 'We're losing very good lawyers and we don't know what to do'. They're leaving firms and becoming competitors, or clients where they will push back at the traditional delivery service model."
So, what do they want? Mr Kowalski put to the crowd.
Pointing to author Dan Pink's 'Drive', Mr Kowalski said the three most important things to engage millennials are autonomy, mastery and purpose.
"Autonomy means allowing employees to make suggestions and control how they do their own work. It means following through on the suggestions that are workable to show that you are giving them that influence. It means allowing them to take ownership so that they are not alienated from their work – which means they need to see the big picture of what they are doing and how their role is important," he explained.
"In addition millennials care deeply about workplace flexibility. Eighty-nine per cent of millennials would prefer to choose when and where they work rather than being placed in a 9 to 5 position. [Further] 45 per cent of millennials would choose workplace flexibility over pay.
"… Running a highly labour intensive operation that ignores technology is also less interesting to millennials. Rewarding input rather than output will also be less interesting."
3. Tools
Tools, largely driven by new technology, is the third item set to have the greatest ability to create operational change and drive the creation of a new value proposition, according to Mr Kowalski.
"Millennials seem to be naturally drawn to technology, with many looking for new ideas on how to 'fix' legal services. And make no mistake, 'in need of repair' is very much how the inhabitants of the legal tech world see legal services," he explained.
"Many view law as nothing but code and decision trees (if this, then that), and they pay little heed to tradition. No one questions the premise that technology will improve legal service delivery. No one says, 'Hang on a moment, law is really complicated — maybe we shouldn't go there'. No one asks for permission from the legal establishment or its regulators.
"… Millennials have grown up watching technology become the saviour of nearly all things, and now seek to apply its magic balm to legal services."
This email address is being protected from spambots. You need JavaScript enabled to view it.
Image by: Chris Gleisner