Women in Law Awards launched for 2019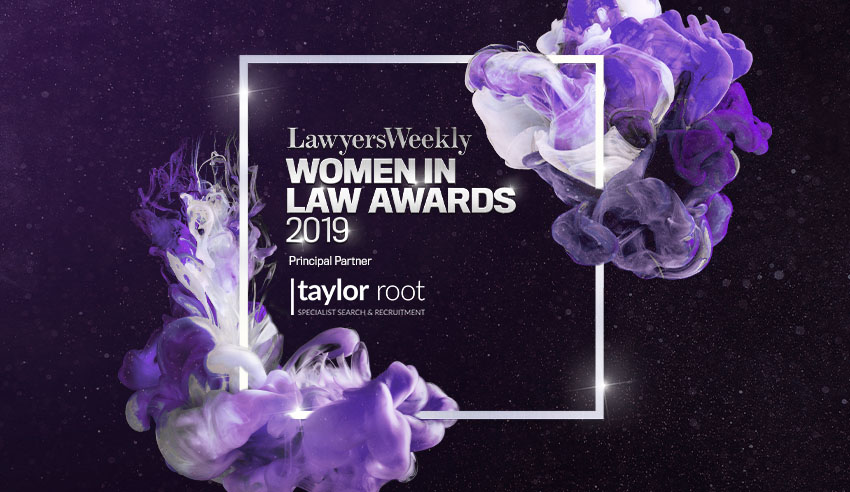 Lawyers Weekly, in partnership with Taylor Root, is thrilled to present the eighth annual Women in Law Awards.
The 2019 Women in Law Awards will be a celebration of the outstanding female lawyers and legal professionals shaping and influencing the profession in Australia, with more awards categories available than ever before, including: Wellness Advocate of the Year, Indigenous Lawyer of the Year and Innovator of the Year.
In addition, the existing partner, senior and rising star categories have been split to cover nominations in BigLaw, SME Law and in-house.
This year, it will be held on Friday, 22 November at a black tie dinner at the Grand Hyatt in Melbourne.
The awards is an excellent opportunity for women across the board in the legal profession to showcase their achievements, attract more clients and propel their careers, not to mention affording them the recognition they deserve.
With over 30 award categories in 2019, the Women in Law Awards will acknowledge academics, barristers, executives, students, partners, counsel, junior and senior solicitors and other professional staff in what has become the benchmark awards program for females in the Australian legal profession.
Submissions for award categories are now open and will close on Friday, 13 September. Finalists will be announced on Tuesday, 1 October with the winners to be announced at the awards.
Don't miss your chance to be part of a five-star industry celebration with over 600 members of the legal community at what has become one of the legal profession's most anticipated awards nights.
For more information – including how to register for the event and/or to nominate yourself or a colleague – click here.