Lawyer X audit 'was not written well', ignored source management issues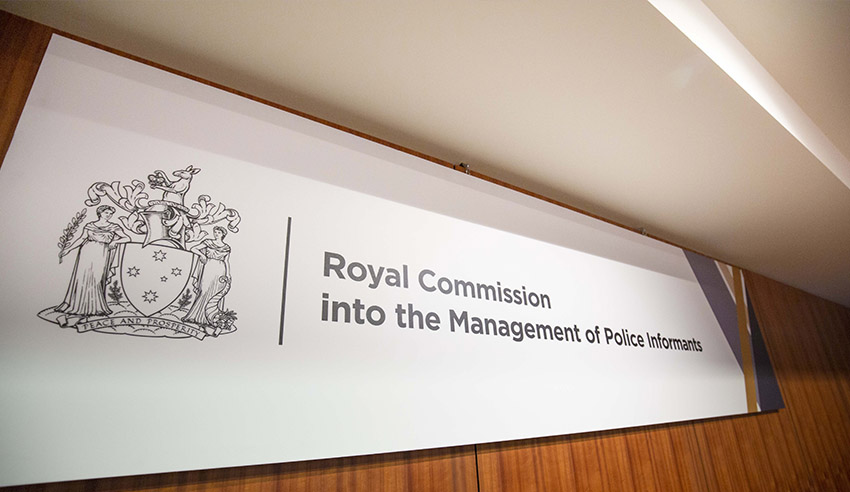 Former Victoria Police superintendent Anthony Biggin admitted he made mistakes with a 2006 audit into the management of barrister Nicola Gobbo.
When questioned by the Royal Commission into the Management of Police Informants (RCMPI) counsel Andrew Woods, Mr Biggin said he "had not written [the audit] all that well", referring to a time he observed Ms Gobbo in an operational setting.
Mr Biggin was head of intelligence and cover support and had been the officer leading the establishment of the Source Development Unit (SDU) to manage high-risk human sources, much like Ms Gobbo. He conducted an audit into her files in 2006 referencing interviews he conducted with her primary handlers and reports.
At the time, Mr Biggin wrote: "I am satisfied the source is a valuable asset to Victoria Police. I consider Victoria Police should continue with the relationship and DSU (SDU's forerunner) should be the one point of contact with that source. The source provided excellent information and has led to successful outcomes."
'Not an issue at the time': Mr Biggin on Ms Gobbo's legal role
During an open hearing, Mr Biggin said he rejects the idea of knowing Ms Gobbo was providing information regarding criminals to the SDU, rather than bail information, prior to conducting his audit. He did admit talking to detective Peter Overland about it.
"You knew the SDU was managing sources who were at serious risk because of their informing and had a very high value in relation to the material they were providing and you knew those two things prior to April 2006," Mr Woods put to him.
Mr Biggin accepted this, but rejected that given those two things, he knew prior to his audit Ms Gobbo was providing "significant information" regarding persons of interest.
When asked if he considered Ms Gobbo's role as a barrister, Mr Biggin said it was not something at the forefront of his mind, but does admit it is an issue now.
"You don't remember seeing it as a particular legal issue at the time – when you had first discovered she was acting as a source?" Mr Woods asked.
"Not specifically, no," Mr Biggin answered.
"Do you see that now as perhaps a bit of a blind spot you should have identified?"
"Yes," Mr Biggin admitted, and added he was not made aware by handlers or controllers of issues with conflicts of interest and legal professional privilege at an early stage. He also admits Ms Gobbo should never have been asked to obtain intelligence that would become evidence and asked to be a witness as "it's contrary to why they are a source."
Separate audits allegedly to keep Lawyer X identity secret
At the same time of Mr Biggin's audit, superintendent Lucinda Nolan was also tasked with conducting a review into the SDU's files – only she was requested to review all of the files, bar any that related specifically to Ms Gobbo.
In several conversations noted by Mr Woods, "Officer White" – a pseudonym belonging to a former Victoria Police officer handling SDU and Ms Gobbo – asked Mr Biggin what he should disclose to Ms Nolan regarding the absence of Ms Gobbo's files.
However, Mr Biggin rejects that this was the reason Mr White approached him, adding the notes to this effect are "very ambiguous".
"It might be seen to a cynical person that she was given files to review as an outsider who didn't know about Ms Gobbo and the role she was performing and you were given this very problematic file as someone who knew and wouldn't raise any problems," Mr Woods put to him. "Do you have anything to add to that?"
Mr Biggin answered: "I reject that. Clearly you don't know Lucinda Nolan. Lucinda does not back down for anyone."
Mr Woods said he understands this, but due to her not being given information about Ms Gobbo, there was nothing to back down from. To this, Mr Biggin replied:
"Knowing Lucinda, she would have found out. If she had gone into the source development unit, knowing Lucinda she would have found out."
At one point, Mr Biggin becomes frustrated with this line of questioning, assuming that the counsel is "suggesting I was a patsy in doing this audit".
Mr Woods responded with: "No, I'm not suggesting you're a patsy. I'm suggesting that there was a deliberate intention to keep from Ms Nolan that Ms Gobbo was a source."
"I don't recall that," Mr Biggin said. "I've already answered it."
Mr Biggin 'does not trust all' in Victoria Police
In emails given to the commission prior to this hearing, Mr Biggin had a conversation with Mr White in 2007. The emails month date was redacted, but it is clear to be before a workshop for SDU members to better manage human sources.
In it, Mr Biggin said of Ms Gobbo: "The branding of this person as a human source has become a significant issue – I think we scraped through by good luck."
He also mentions not trusting some people in the source development unit and he will also need to be prepared for "the inevitable court process and what our position will be," before adding: "See I have been thinking about these issues."
This email address is being protected from spambots. You need JavaScript enabled to view it.