Victoria Police says 'no issue' with Lawyer X amending statements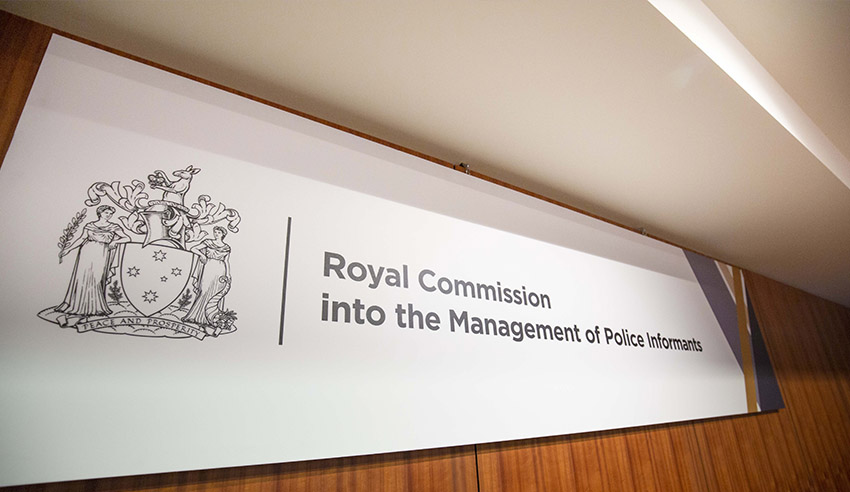 The Royal Commission into the Management of Police Informants heard barrister-turned-informer Nicola Gobbo was brought in to talk to clients who were believed to be untruthful in their statements in an effort to amend them for use by Victoria Police.
n style="background-color: #ffffff;">
Appearing before the royal commission, gangland detective Stuart Bateson was quizzed on Ms Gobbo's involvement with Victoria Police specifically, occasions in which she was asked to attend the police headquarters and talk to clients she was informing on in order to improve statements for Victoria Police to use against other persons of interest.

RCMPI counsel Chris Winneke asked Mr Bateson whether various police officers had an understanding that Ms Gobbo would "get these people telling the truth". For one particular witness, who cannot be named, Ms Gobbo said he was only 80 per cent truthful.

Mr Bateson said the alterations were only made by the client, but Ms Gobbo was brought in to liaise with them, often leaving red pen and post-it notes with updates. It is understood these clients had no knowledge she was a police agent.

"What we did know is she provided legal advice and agreed with our view that it was the best outcome for those clients [to] plead guilty and provide assistance," Mr Bateson said and added: "She negotiated and advised her clients along those points, I'm not sure that I agree she was helping us, she was doing what she had to do as a legal practitioner."

Mr Winneke then pointed out that she also happened to be acting as an agent of Victoria Police, but Mr Bateson disagreed: "She wasn't acting as an agent in these circumstances. Her role, I believe, was minimal in those people making decisions to assist police."

"Well, that's your belief," Mr Winneke replied.

"Yes, that's my firm belief," he said.

Mr Bateson said he "had no issue" with investigators – who were brought in to provide an overlook into particular cases – handing over statements to Ms Gobbo. He accepts he was the person responsible for authorising Ms Gobbo to review particular statements.

Later in the commission, Mr Winneke put to Mr Bateson: "If you were a person who was taking a statement you would want to make sure they were telling the truth as far as you were concerned and that may well be something that Ms Gobbo might assist you in?"

"She may well have provided that advice to her clients, I don't know, but certainly when I'm talking to a witness, being truthful is high on the agenda," Mr Bateson replied.

In the same hearing, it was heard that Ms Gobbo was warned that due to her role, and in editing statements, she was the source of a rumour in the prison system and there was a reason to be concerned Carl Williams and Tony Mokbel knew of her involvement.

The commission confirmed a police witness, who cannot be disclosed, told her that they "don't think they will kill you" but to be "very careful" with her work in the task forces.

Ms Gobbo is looking more and more unlikely to give her own evidence in this commission. Commissioner Margaret McMurdo has once again postponed the judgement. In a hearing in early October, it was ordered Ms Gobbo provide a statement. This has not been done.

Ms McMurdo said: "While I accept there is some considerable weight in the issue raised by Ms Gobbo's counsel, in that these are valid concerns and are themselves relevant to the limited weight that can be given to the material, given that it's unsigned, unsworn and given in circumstances which may have been difficult to her, I am however also conscious that during the interviews she was engaged and responsive.

"It seems appropriate that the commission should receive the material and inform itself."