New year, new whistleblowing laws to foster 'culture of compliance'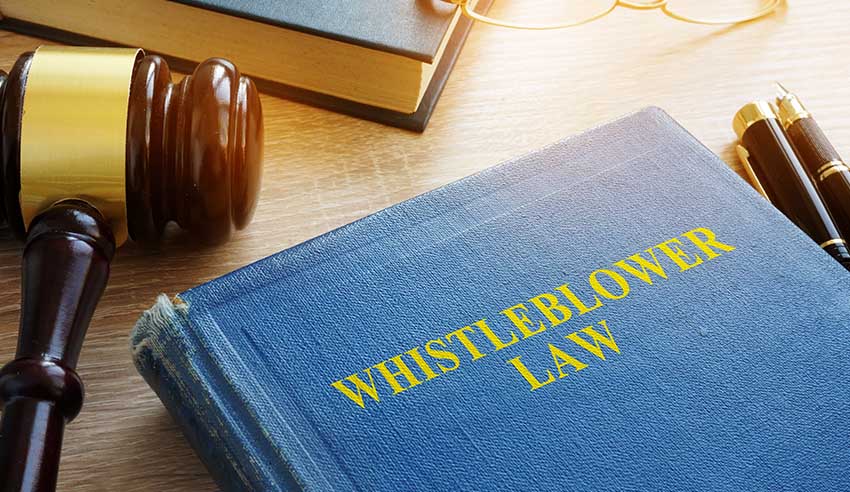 New whistleblowing guidelines intending to provide guidance and foster a compliance culture will come into effect on 1 January 2020 and provide new laws for firms, officers, employees and those associated with the organisation to abide by.
Catherine James, chair of In-House Corporate Lawyers Committee at the Law Society of NSW and general counsel at Allianz Retire said the changes will create a "stronger whistleblowing protection regime" that will increase compliance burdens.
"Whistleblowers play an important role by identifying and calling out misconduct in the organisation, for the good of the wider community," Ms James said. "To encourage whistleblowers to come forward with their concerns and protect them when they do, legislation exists that gives certain people legal rights and protections," she said.
This follows the Treasury Laws Amendment (Enhancing Whistleblower Protection) Act 2019 which took effect on 1 July 2019, which amended both the Corporations Act and the tax legislation. Ms James said the new law ensured corporate whistleblowers can make anonymous protected disclosures and a broader group is eligible to do so.
"The new laws also make it easier for victimised whistleblowers to claim compensation with a reversed onus of proof and a broader range of remedies," Ms James said.
Ms James pointed to Witness K and his lawyer as an example of whistleblower activity. The former spy and his barrister are currently before the courts for helping expose Australia's bugging of Timor-Leste during 2004 negotiations to carve up oil resources.
And in the US, whistleblowers are currently playing a major and central role in the impeachment hearings currently underway in Washington, DC.
A breach in these new laws could result in "heavy punishment", with both criminal and civil penalties applying, such as fines of up to $10.5 million for a company.
The Australian Securities and Investments Commission (ASIC) recently published the Regulatory Guide 270 (RG270) to provide guidance on the new whistleblowing policies and ensure anonymity and protection from detriment in the upcoming law changes.
"Transparent whistleblower policies are essential to risk management and corporate governance," the guide read. "They help uncover misconduct that may not otherwise be detected. Often, such wrongdoing only comes to light because of individuals (acting alone or together) who are prepared to disclose it, sometimes at great personal risk."
Public companies, large propriety companies and propriety companies that are trustee of registrable superannuation entities must have this policy in place. The policy must explain the entity's legal obligations to protect confidentiality of a disclosure identity.
From 1 January 2020, the policy must include protections available to whistleblowers, outline how the entity will support whistleblowers and investigate disclosures, as well as ensuring that the whistleblower is provided with equal and fair treatment.
"The policy must highlight that the protections apply not only to internal disclosures, but to disclosures to legal practitioners, regulatory and other external bodies and public interest and emergency disclosures that are in accordance with the Corporations Act."
While whistleblowers will no longer need to make a disclosure in "good faith", law firm Keypoint Law said they are only protected with "reasonable grounds" to suspect that the information "indicates misconduct or an improper state of affairs in the company".
"A whistleblower is not protected from the consequences of earlier illegal behaviour in which they may have been involved in. However, they are protected against liability for (broadly) disclosing information where they have reasonable ground to suspect it concerns misconduct or an improper state of affairs within the company or its group," Keypoint Law's consulting principal's James Halliday and Shana Schreier-Joffe wrote.
The whistleblower may now be required to conduct an investigation before making any disclosure in order to obtain statutory protection. Ethical conflict can also arise where the internal lawyer wishes to make an external disclosure and while external disclosure is permitted, "it may be said this violates the lawyers' ethical obligation to maintain client confidence and preserve legal professional privilege in the matter".
This email address is being protected from spambots. You need JavaScript enabled to view it.
Interested in the issues shaping the roles of in-house lawyers? Don't miss your chance to hear from local and global in-house legal powerhouses at the Corporate Counsel Summit 2020!