Gobbo says she felt 'stuck' but doctor told her to keep informing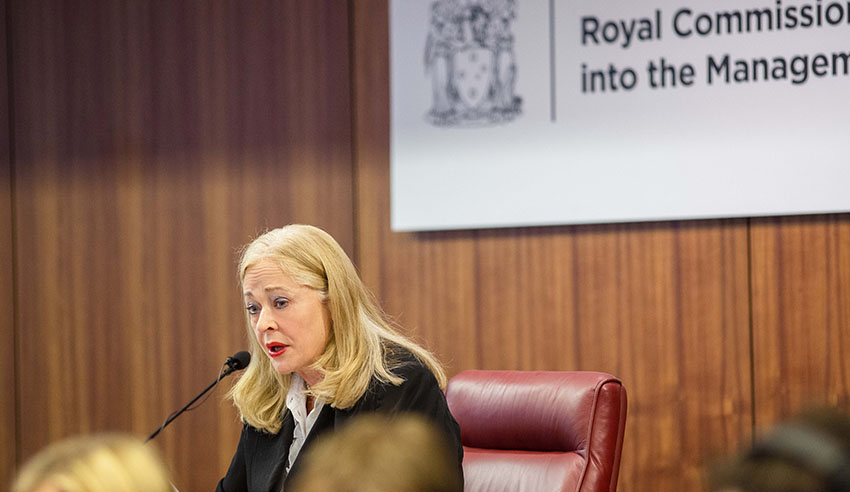 Barrister-turned-police snitch Nicola Gobbo was given many opportunities to leave police and criminals behind but chose to continue informing despite many warnings.
Speaking at her second day of examinations, Ms Gobbo told the Royal Commission into Police Informants (RCMPI) that as time progressed throughout 2004 and up to September 2005, her mindset was on seeking help from police. She said she felt "really stuck" in her work with underworld criminals and wanted a way to assist while moving away.
Evidence from both Wednesday's and Thursday's hearings suggested years of coercion and of manipulation from police, despite seeking their aid. However, when asked why Ms Gobbo had not taken the many opportunities to walk away, she said it became more difficult.
This was particularly the case after her stroke, Ms Gobbo said. Her excuse for continuing informing on her clients then? Doctor's orders, she told the royal commission.
"After I recovered the ability to speak again, I was told by my neurologist that he could not necessarily ascertain how much damage the stroke had done unless I was doing all the same [things]," Ms Gobbo explained, before adding: "I am not offering this as a cop-out."
The rest of the examination on day two centered on some of the more major issues from her work with handlers, her informing on sensitive clients and a potential witness hearing. She also briefly touched on Simon Overland, suggesting she was told by police to be wary.
Ms Gobbo said she was advised that Mr Overland would "burn" her: "It wasn't given in a nasty fashion, I interpreted it as kind of fatherly advice to not trust Mr Overland."
The commission will continue over the next two days and we are expecting to hear more about her opinions on senior leadership, including Mr Overland, soon.
Ms Gobbo's professional – and on occasion, personal – relationship with corrupt cop Paul Dale has been a point of contention for this royal commission. Especially around the tense decision about whether or not Ms Gobbo would become a witness against Mr Dale.
By this stage, Ms Gobbo had settled a civil proceeding against Victoria Police in 2010. In early 2011, she was contacted by officers seeking to make her a witness. The main issue in this was whether it could be done without disclosing her role as a police informant.
Ultimately, she would not, but during 2011 she had a number of meetings with Boris Buick and with the Director of Public Prosecutions. Several officers joined these meetings, with suggestions on how to refrain from revealing her identity.
"All kinds of people had all kinds of crazy suggestions," Ms Gobbo said. "One of them had been completely ridiculous because I kept saying if I gave evidence, it would come out."
The suggestion she is referring to was pressuring Mr Dale's barrister to provide examples of his questions upfront and prior to examination so that Victoria Police could then request he avoid certain topics that may be potentially damaging to Ms Gobbo and police.
Ms Gobbo said she was "shocked at how stupid it was".
The commission will resume with Ms Gobbo's third day of examinations tomorrow morning. Follow every update with the Lawyers Weekly live blog.