Police joked about royal commission, promised to protect Lawyer X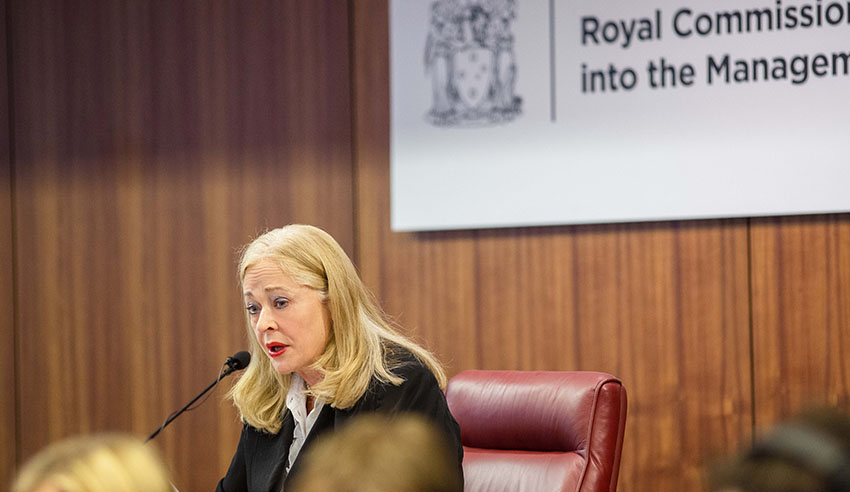 While simultaneously representing clients and then informing on them to police, barrister Nicola Gobbo said she was told by Victoria Police that they would do everything to ensure her informant role was never revealed, but at the same time joked about the possibility of the royal commission she is currently sitting before.
During what was supposed to be her last day of evidence, Ms Gobbo told the commission police led her to believe they would do everything to protect her.
When counsel assisting Chris Winneke asked if she accepts that her informant role was wrong and that her clients should have been informed of her double-crossing, Ms Gobbo agreed her advice was not independent: "It should have been disclosed to them."
Ms Gobbo said there were often jokes from her handlers that her informing would be the subject of a royal commission one day, "indicative of the fact that I wasn't comfortable in what was going on. I was told as far as police were concerned, it was all fine".
Despite these jokes, police attempted to placate Ms Gobbo by promising they would make sure her name was kept hidden from official documents relating to the arrests she had a hand in. Her handlers, at this time, knew she was representing these same clients.
By 2007, Ms Gobbo told police there were at least 20 people she was still working with.
Asked who the 20 people were, Ms Gobbo said: "It's anyone I've inappropriately given information to because they have been a client or potentially client and then they ended up being charged and I have ended up having more contact with them or doing whatever I did for them, because I can't work out a way to extract myself."
One such client was Milad Mokbel. In 2006, he was arrested and after Ms Gobbo visited him in prison, she immediately told police Mr Mokbel intended to plead guilty.
"Would you accept that that would be highly unusual, immediately after visiting a person who had been arrested, and that a barrister would immediately speak to the informant and indicate that person was prepared to plead guilty to a charge?" Mr Winneke asked.
Ms Gobbo kept trying to make excuses for this, but when Mr Winneke asked if she would accept Mr Mokbel did not get independent legal advice, Ms Gobbo agreed.
Gobbo allegedly used as an alibi to cover for known criminals
In a new statement provided to police by Witness Two – a Lawyers Weekly pseudonym to protect the heavy sensitives around the case – Ms Gobbo was accused of providing an alibi to Witness Two and Carl Williams at the time Jason Moran was murdered.
Witness Two alleged he and Mr Williams arranged to organise to donate blood on the day of the murder. On the way, they also contacted Ms Gobbo.
"A short time later, she called back and told me that Jason Moran had been killed," said the Witness Two statement. "I was in shock because I believed it was going to happen later in time. Anyway, she put the timing of my call and the shooting together and made me aware she knew she had been set up as an alibi."
To this, Ms Gobbo said: "That's just rubbish. The bit about giving blood on the way, that's the first time I've ever heard him say that… [Witness Two] was one of the biggest gossips."
Witness Two also alleged Ms Gobbo used amphetamine at casual gatherings, which Ms Gobbo now also says is "a direct lie" and that there was "no chance" of it happening.
But, more explosively, Witness Two alleged he kept a retainer for Ms Gobbo and provided her with between $10,000 and $30,000 per month, totaling $400,000.
"I don't want to laugh because this is a royal commission," is Ms Gobo's response to this allegation. "He was one of the tightest human beings… more money than he knew what to do. He didn't pay… the suggestion he would pay me fees is just ridiculous."
Victoria Police financially supported convicted criminals, used Lawyer X to placate
On Thursday, it was disclosed police "encouraged" Ms Gobbo to bond with a client by the name of Mr Osbourne – a pseudonym to protect sensitives around his case – to the point that she had planned his birthday party and had a personal relationship with his family.
On Friday, it was discovered Ms Gobbo was putting money into Mr Osbourne's accounts after he went to prison. Eventually, the Purana Task Force would take over the payments, but it would still appear as if Ms Gobbo was the one giving Mr Osbourne the money.
Ultimately, this meant Victoria Police was "financially supporting him".
"He ends up going to custody and he [doesn't] have a single cent," Ms Gobbo said. "[He] is complaining about money and of course because I have had the role of being his little best friend for months before his arrest, I put money into his account."
Ms Gobbo said her payments were on the basis that she would get paid back from police at some point. She said it was with the aim to keep he and another client happy.
"Did you understand there was a desire to keep these people happy to ensure that they were kept on side with police so that they would continue to assist police by way of making statements, or at least giving evidence in accordance with statements," she was asked.
"That's an understatement," is her response. "Absolutely."
Other than providing money, police used Ms Gobbo to ensure Mr Osbourne and Witness Two were kept "happy or relaxed" so they would stay on their side.
Ms Gobbo said there was often friction between Mr Osbourne and Witness Two, as they were kept in the same prison, and she was often juggling phone calls between them.
"I [remember] being frustrated that I didn't feel I was giving them answers they wanted to hear," Ms Gobbo said, referring to her inability to be an independent adviser.
Large amounts of cash found in Gobbo's home, stashed away and forgotten about
In 2019, police conducted a search on Ms Gobbo's home under the Inquiries Act. During this search, they discovered multiple envelopes full of large amounts of cash.
In one instance, there was $2,000 bound by a rubber band, stashed inside a birthday card which read "from Carl and Purana". The implication is "Carl" refers to Mr Williams. She does not have an explanation why the money was found, other than to say it was kept in a box during a house move and subsequently forgotten about.
But why was Mr Williams linked with Purana? Ms Gobbo said: "If you're asking whether Carl or Purana or Carl on behalf of Purana put money in an envelope and a card and sent it from somewhere, that's just rubbish."
Elsewhere in her house, manila envelopes containing $3,000 and $2,000 were found and labelled as "fees". Another amount of $5,000 in $100 notes was discovered, labelled as "NG Evidence" and alluding to Azzam Ahmed. Ms Gobbo said it was just rent money.
She cannot recall specific details about these sums, other than to tell the commission: "I am assuming this all came from a giant pile that was in the study in the old house that got out in a box and shoved into a drawer when we moved."