Why are so many disabled lawyers prevented from progressing?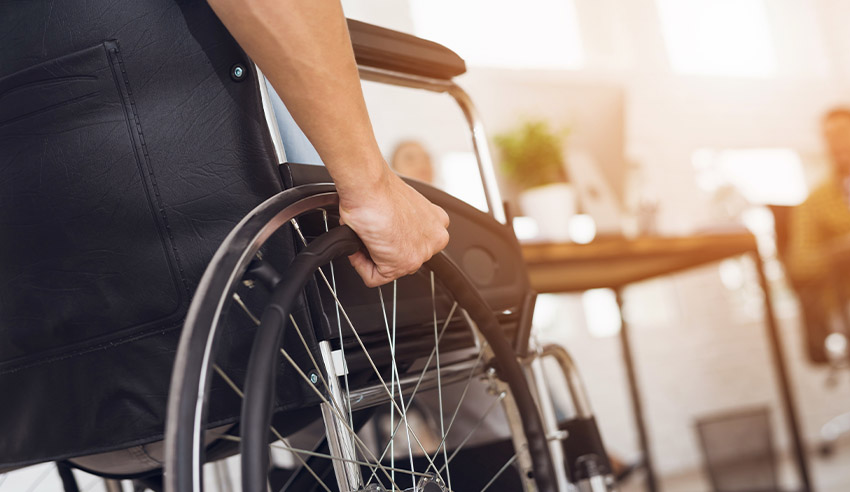 While reforms in the legal profession relating to gender and ethnicity have been widely accepted, disabled lawyers are still feeling they are at a major disadvantage.
Over 70 per cent of barristers and 56 per cent of other legal professionals believe they do not have the same opportunities for career progression as non-disabled colleagues, which has led to severe stress, concealment of the disability and avoiding career risks.
A study from Wales' Cardiff University found the exclusion of disabled people is not always intentional, but routinely accepted in relation to behavioural codes, rituals and in stereotypical expectations, which places unspoken boundaries on disabled workers.
"Disabled people frequently reported an organisational reluctance to adapt, reform and address exclusionary practices and an unwillingness to listen to a suggested practical adjustment based on their experiences," the report noted.
This widespread disadvantage extends to the current debate around the billable hours, with the report finding disabled people tend to being least likely to hit targets. Where it had been replaced, or used as a threshold for a bonus rather than a hard target, there was evidence that disabled people found it easier to request appropriate adjustments.
Findings also indicated a significant portion of disabled lawyers experienced a variety of forms of ill-treatment, bullying or discrimination associated with their disabilities.
Some lawyers with more than one characteristic that commonly experiences bullying, like gender or ethnicity, went to great lengths to hide their disability where possible to avoid "a double or triple disadvantage" at the behest of colleagues and employers.
"The legal profession has a long way to go to address poor behaviour and those on its receiving end need to feel confident that they can report it," the report read.
The disadvantages during the hiring process
Almost 70 per cent of barristers and 59 per cent of solicitors and paralegals said they were disabled when they started their training and hiring process, but just one barrister and 8.5 per cent of other professionals were confident to disclose this.
"Those who identified as disabled [and] having long-term medical conditions at points of application were most disadvantaged when applying for training or employment, and short-term work placements appeared to mitigate some of this disadvantage," it said.
The report found there were limited opportunities to request basic adjustments during the hiring process. It was cited as a key obstacle, and few were willing to initiate such conversations with potential employers out of fear of discrimination. Those that made the request reported having largely negative responses and experiences.
There needs to also be more considerations around accessibility, the report noted, like giving thought to a range of physical, sensory or learning impairments.
"The profession wedded to traditional ways of working and widespread current practice of trying to fit a disabled person into a standard job role must cease," the report noted.
"Job redesign to accommodate common and well-recognised reasonable adjustments need to be placed at the top of the disability agendas and properly integrated."
Career progression for disabled lawyers unattainable
Report findings suggested career paths in the legal profession can be more precarious and unpredictable for disabled people due to barriers that include lack of accessibility, location, rigid working practices, health-related interruptions, expectations around the models of physical networking and unwillingness to facilitate adjustments.
"These were common barriers at the Bar — though the amount of emphasis placed on physical networking as a career progression activity, which can exclude some disabled people, was identified as important across the profession," the report read.
The report highlighted what it calls "misplaced paternalism" — in which a senior colleague makes assumptions that underestimates disabled persons' abilities, and subsequently denies them opportunities that would have advanced their career — although done with "seemingly good intentions", it is a misplaced intention of "protecting them".
Over 90 per cent of respondents reported having non-visible impairments, but only half said they disclosed this impairment when applying. It suggests many employees who should receive workplace adjustments are not requesting them.
"We also found that disabled people were reluctant to move to another role or another organisation for promotion because they feared losing agreed adjustments," the report noted. "This is important, as it suggests disabled people are failing to advance not due to their talents, but because of the anticipation of discrimination [and] is limiting progression."
The report recommended that employers acknowledge the uneven balance of power between themselves and an employee inhibits requests for workplace adjustments.
"We recommend proactive campaigns are undertaken by professional associations — employers [need to] ensure that reasonable adjustment polices are visible, transparent and accessible. Positive experiences of adjustments were more likely to be found with organisations that have dedicated disability advisers."