Lawyer X 'vampire gigolo' confession not possible, veteran detective says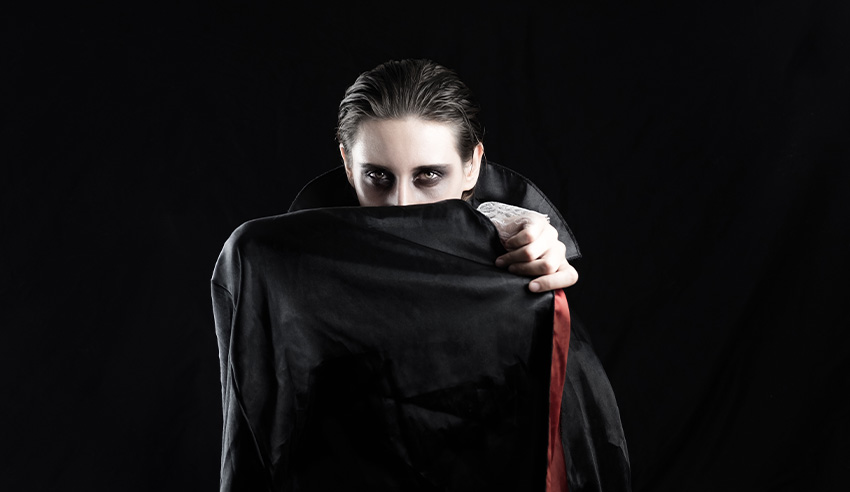 A veteran detective at the centre of the "vampire gigolo" murder investigation has said barrister Nicola Gobbo could not have received a confession because she would have wanted to "jump on the phone straight away" to be praised by her handlers.
The inquiry into Ms Gobbo's informing is currently investigating her involvement in the murder of Shane Chartres-Abbott, a self-defined "vampire gigolo" who told clients that he was 200 years old and drank human blood to survive. Two police detectives would be implicated in the crime but would deny involvement and were never charged.
Former Briars Taskforce detective Steve Waddell and former homicide detective Ron Iddles flew to Bali to take her statement in 2009, while she was hiding out after having received death threats. While there, Mr Waddell told the royal commission Ms Gobbo said Mark Perry, the prime suspect in the investigation, confessed to the killing.
But moments later, Mr Iddles would reject this. He said if he had been told, this would have changed the whole investigation and finally pinned Mr Perry to the murder.
"This would have changed the whole dynamics of sitting there," Mr Iddles told a royal commission. "I would have said not to worry about all the other stuff, let's just take the statement in relation to this. This is the first piece of direct evidence we have that would implicate Mark Perry. I can't believe I can't remember it."
When questioned by counsel Megan Tittensor on whether it was possible to forget the confession had taken place, Mr Iddles denied it. He said he had never forgotten details this instrumental in a case in 64 years: "I have absolutely no recollection of it."
Operation Briars was established by Victoria Police and Office of Police Integrity (OPI) to investigate Mr Chartres-Abbott's 2003 murder. A gangland killer, whose identity has been redacted, allegedly murdered the "vampire gigolo" on orders of Mr Perry, based on the alleged retribution for the rape of a girlfriend by Mr Chartres-Abbott.
The taskforce was initially overseen by a steering committee comprising of the current chief commissioner Graham Ashton and his predecessor Simon Overland. It relied on the statement of the gangland killer, but evidence went cold. In 2009, Mr Overland sent Mr Iddles and Mr Waddell to Bali to take a statement from Ms Gobbo.
It was here that Ms Gobbo allegedly told police Mr Perry had confessed to her. But Mr Iddles takes issue with this evidence, saying she would have put "glory" first.
"Ms Gobbo was someone that wanted glory, who wanted to tell Source Development Unit (SDU) absolutely everything and especially in relation to this. If there had been a confession to her, I'm sure she would have been on the phone straight away."
This is where his account, Mr Waddell's account and that of Ms Gobbo's clash. The two detectives would take a statement from Ms Gobbo, told Mr Ashton it could not be used as a "smoking gun" and then refused to sign the document to use as evidence.
During her evidence last week, Ms Gobbo said the alleged confession was inserted in her unsigned statement, and that she had never told detectives Mr Perry confessed.
The allegedly edited statement read: "[Mr Perry] told me he had arranged for Chartres-Abbott to be murdered in retribution for the rape of a girlfriend or ex-girlfriend. He also told me that [redacted] had actually carried out the murder. This came up in the context of talking about drug trafficking and police corruption."
On why it may have been edited, Mr Iddles said there could "only be one purpose" and it could only be because detectives wanted to use it in an affidavit.
This edited section would also go on to implicate two detectives who were central to a Briars investigation, Peter Lalor and Dave Waters. They would never be charged.
However, around the same time the SDU were attempting to deregister Ms Gobbo, an opportunity to use Ms Gobbo against Mr Waters came up. The Briars Taskforce had sought to convince Ms Gobbo to have conversations with Mr Waters with the intent of possibly recording and obtaining information into the murder.
In 2007, Ms Gobbo would tell SDU handlers Mr Waters expressed concern to her over the now dodgy statement of the gangland killer. Ms Gobbo would go so far as to have lunches and drinks with Mr Waters, eventually gaining his trust so much that he asked her to look over two statements to police which suggested an alibi for the murder.
At this time, Ms Gobbo was becoming concerned she would be used by Mr Waters for more than just a second opinion. However, she read the statements and took it to her handlers to review, telling them it was "full of lies, it's a full denial statement".
The handlers did not take it, disseminate the information and requested that Ms Gobbo not copy it as the statements could be used as a defence by Mr Waters in future. It is at this time that Mr Overland allegedly requested Mr Iddles and Mr Waddell to charge Mr Waters and Mr Lalor without any evidence. Mr Iddles refused.
The statements, including the alleged edits, were left unsigned. Mr Iddles said he had made sure they weren't, because doing so would have "signed her death warrant".
When Ms Tittensor asked why he did not try to put a stop to her informing or to request an investigation into its damage on prosecutions, Mr Iddles said he did by preventing the statement from being signed and used as evidence.
"Stopping getting the statement signed doesn't mean stopping the light getting shined, it doesn't mean that these other cases of potential unfairness didn't happen," said Ms Tittensor, pointing to a lack of change. "It's preventing that very thing."
"So, what else could I have done?" Mr Iddles asked, before telling Ms Tittensor he told senior officers not to sign it because her informing was wrong and could lead to being exposed. "The whole issue with this thing is wilful blindness. Everyone knew, but no one was prepared to put their hand up and say, 'This needs to stop'."
This email address is being protected from spambots. You need JavaScript enabled to view it.