Goodbye job applications, hello dream career
Seize control of your career and design the future you deserve with
The legal solution to prevent sexual harassment at work
With more than a quarter of women reporting experiencing sexual harassment at work, new legislation could go a long way to address inappropriate behaviour.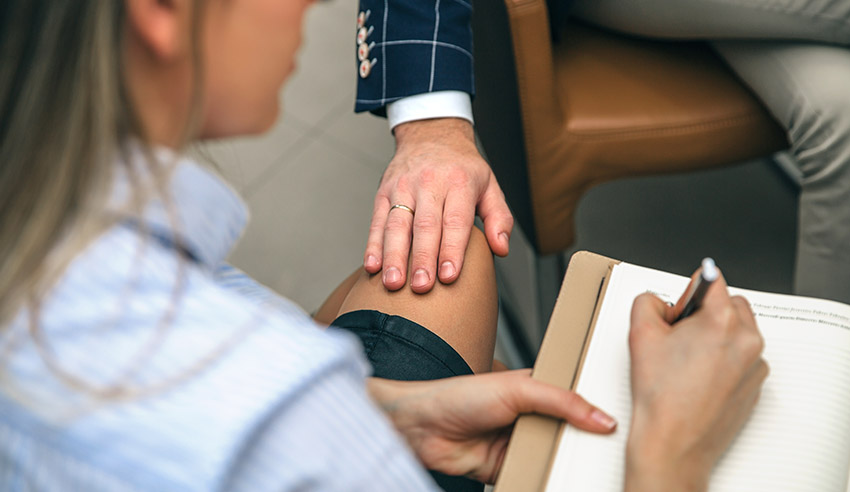 Preventing sexual harassment in the workplace and promoting a safe environment for employees are legal responsibilities of the employer. Not doing so leaves the employer liable to "vicarious liability", which enables the person affected to make a complaint on the grounds the worker, and the employer, made them uncomfortable.
You're out of free articles for this month
To continue reading the rest of this article, please log in.
Create free account to get unlimited news articles and more!
In a research paper, Sydney Law School's associate professor Belinda Smith, Melanie Schleiger from Victoria Legal Aid and Liam Elphick of the University of Western Australia argued that Workplace Health and Safety (WHS) legislation could be used to prevent workplace sexual harassment and significantly improve the safety of the environment.
"On any measure, workplace sexual harassment is experienced by a large proportion of Australian workers, with known harmful effects," the research paper read. "It thereby warrants a legal response. However, a legal response will not be effective to prevent problematic behaviours if it is not tailored accurately to the nature of the problem."
The researchers argued that since WHS legislation requires employers to prevent any harm to their workers, it could treat sexual harassment as a workplace harm.
Anti-discrimination laws no longer effective
Anti-discrimination laws (ADL) have been prohibiting sexual harassment in workplaces for over three decades. However, sexual harassment still remains prevalent, with rates of the offences increasing or increasing rates of self-reporting.
"We argue that the primary reason anti-discrimination laws do not prevent harassment in work is because they are not designed to do so," the research noted. "The regulatory design is a system of individual claims for redress that conflicts with prevention goals."
The weakness of ADL in addressing sexual harassment is not primarily in definitions of sexual harassment, but in its other regulatory elements, the paper noted.
VIEW ALL
ADL is limited because of four main features: the rule it imposes is negative prohibition rather than a positive duty to prevent; it is enforceable by individual victims; any of the enforcement is primarily through a private, confidential conciliation process and all the remedies granted are ordinarily individual and compensatory in nature.
"ADL regulatory framework has created a related barrier to the laws effecting change: ADL has created and reinforced a moralism about discrimination and harassment," the research paper further noted.
"With a relatively weak regulatory framework, ADL historically relied almost entirely on the normative power of the law to articulate discrimination and harassment [as wrong] and thereby effect change." 
How to implement effective WHS laws
As ADL has "clearly been stalled in achieving change", the researchers argued for the WHS laws to improve upon and complement the gaps in workplace sexual harassment laws, as WHS are primarily a set of criminal laws that impose a number of duties.
"For WHS laws to be effective in combating sexual harassment in workplaces, agency bodies need to acknowledge this remit, and they need to be equipped to deal with it," said University of Sydney's associate professor Smith.
For example, Safe Work Australia has now acknowledged that psychological harm will be prevented under WHS laws, but its guidance for employers does not yet expressly cover prevention of sexual harassment. It is likely because traditional workplace harms were perceived in the physical terms and are often harder to define for compliance.
"The 'newness' and a distinctiveness of psychological hazards like sexual harassment therefore [require] additional training and resourcing for regulators," Ms Smith said.
She added that another challenged faced by WHS agencies arises from the nature of sexual harassment often embedded in workplace cultures: "WHS agencies have been traditionally shying away from questioning such 'industrial relations'."
Associate professor Smith added there has been a growing consensus among worker organisations that WHS agencies have the power to address sexual harassment.
"By harnessing these laws in addition to the [Sex Discrimination Act], there can be systematic, preventative action against workplace sexual harassment," she said.
How to recognise sexual harassment in the workplace
As indicated by the Australian Human Rights Commission 2018 National Survey which looked at sexual harassment in Australian workplaces, 23 per cent of women and 16 per cent of men experienced sexual harassment in the 12 months prior to the survey.
For some people, it's a constant and unavoidable occurrence. The conditions have the ability to influence working behaviour, performance and mental health.
According to Justice Connect, sexual harassment includes subjecting a person to any act of physical intimacy, making verbal or written statements of a sexual nature to any person or about a person in their presence, or making any gesture, action or comment of a sexual nature in the persons' presence. These are often explicit actions.
Examples include:
· Sexually suggestive, offensive or demeaning comments
· Unwanted sexual propositions, inside the workplace and outside
· Offensive gestures, staring or displaying offensive material
· Unwelcome or uncalled for remarks, questions or insinuations
· Unwelcome remark or statement with sexual connotations to a person
But it also notes that sexual harassment can sometimes be subtle and can come down to a lack of ignorance or a sense of misunderstanding from the harasser.
This includes unwelcome physical touching – which could easily be as small as putting a hand on a colleague while moving past or asking them to move forward – attempting sexual advances or flirting under a mistaken assumption the other person seemed to want it, but never gave verbal consent, and the sharing of images featuring colleagues, whether they are inappropriate in nature or obtained off private social media accounts.
If you have experienced sexual assault or sexual harassment and would like to speak to someone for support or information:
1800RESPECT (Phone: 1800 737 732) can provide counselling 24/7
If you are feeling unsafe right now, call 000
If you have experienced sexual harassment, you can make a complaint to Australian Human Rights Commission
To find more support services in your area, go to the list of Sexual Assault Services