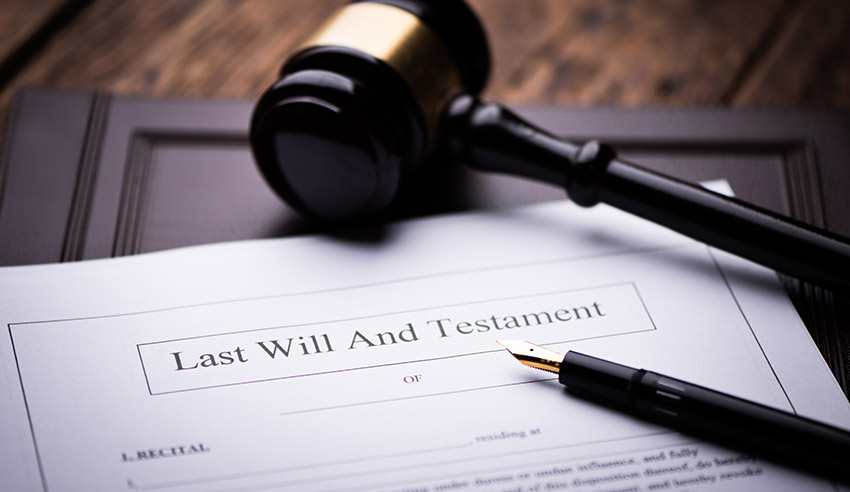 With wills being in high demand due to the sudden surge from COVID-19, new laws passed by state governments are set to change the ways a will is made in the legal industry.
In Queensland MPs met for a massive one-day sitting to pass the law, which will allow wills to be signed electronically, and to rule that Parliament could sit virtually.
Under the new laws, which will lapse at the end of the year, wills will be able to be witnessed and signed electronically, rather than in-person.
In NSW, the government will temporarily allow Skype, FaceTime, Zoom and even WhatsApp to be used for virtual witnessing of legal documents while the COVID-19 pandemic continues.
Amendments to the state's Electronic Transactions Act by Governor Margaret Beazley on Wednesday will allow videoconferencing technology to be used to ensure witnessing continues.
According to Australian Unity Trustees national manager of estate planning Anna Hacker, this is especially pertinent given the rise in enquiries about wills during early warnings about COVID-19 which led to a 20 per cent spike in queries.
Although this has caused an increased workload as a result of the outbreak of coronavirus, this new virtual challenge has offered new opportunities for lawyers in the wills and estate planning space.
Lucy Dickens had previously told Lawyers Weekly that technology would play a big role with the surge in the number of Australians wanting to create or make changes to their wills.
Strong support from the legal community
Queensland's peak legal body applauded the state government's passing of laws designed to assist in the managing of legal affairs during the COVID-19 pandemic.
Queensland Law Society President Luke Murphy said the COVID-19 Emergency Response Bill 2020 was a much needed legal tool to respond to the challenges presented by the global spread of coronavirus.
Meanwhile, president of the Law Society of NSW, Richard Harvey, welcomed the passing of the NSW emergency regulation, which allows for the witnessing of legal documents to be conducted electronically during the COVID-19 pandemic.
The temporary provisions, which have been added to the Electronic Transactions Regulation 2017, provide altered arrangements for the witnessing of documents. 
"As a result of COVID-19 restrictions, many solicitors contacted the Law Society expressing concern about the difficulties that the restrictions have created for the witnessing of legal documents," Mr Harvey said. 
"The Law Society immediately raised these concerns with the NSW government, and I would like to thank the Attorney-General for moving so quickly to enact these provisions. 
"I am pleased that solicitors now have a practical alternative for the witnessing of documents in the coming weeks and months. 
Meantime, law firm Maurice Blackburn has welcomed the Queensland government's move to allow videoconferencing technology for the signing and witnessing of wills and other important legal documents.
The firm, which has seen a 38 per cent increase in wills inquiries this year compared to last year, said the government's move would ensure Queenslanders could make valid wills while still maintaining social distancing rules.
"The rigour around the signing of wills reflects the importance of a will, but we welcome the Queensland government's introduction of some short-term solutions during the health crisis," said Andrew Simpson, head of the firm's wills and estates practice.
Under the laws passed in Queensland Parliament on Wednesday night, videoconferencing technology can be used for signing and witnessing documents including wills, general and enduring powers of attorney, and advance health directives.
Mr Simpson further called for the Tasmanian government to better assist will makers by allowing a more flexible approach to the witnessing of wills during the pandemic lockdown in Tasmania.
Barry.Nilsson. has said that they have seen their enquiries for wills and estate planning services steadily rising due to the coronavirus pandemic.
Special counsel Joanne Carusi said many people were asking how to update their wills or make new wills without having to meet face-to-face with solicitors.
In the wake of emergency legislation passed in Queensland Parliament, Ms Carusi said that "like most other businesses, the legal profession is adapting to the impact of COVID-19 by finding alternative ways to support our clients."
Meanwhile Bennett & Philp director Charlie Young said that this essentially will "create the new dawn of the corona will".
"The court has made a direction, which essentially means that people will be able to make 'corona wills' knowing there is a very good chance they will be approved (probated)," he said.
However Mr Young said it is unclear at this stage what is meant by "videoconference"; "presumably this includes where a witness is on a mobile phone application such as Skype, Zoom or FaceTime and witnesses the will maker's signature that way."
"This change will prove to be very useful during the pandemic, but it is not a sign that everyone can assume they can now get corona wills witnessed by a friend using their mobile phone," he said.
As to whether laws will be made permitting other documents to be witnessed by mobile phone, Mr Young said lawyers will no doubt find out soon.