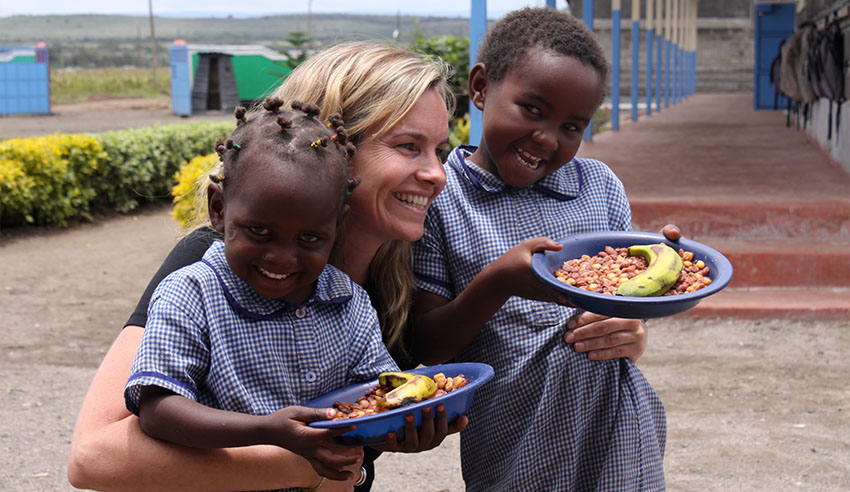 Motivated both by her passion for justice and belief that education is a silver bullet for human rights issues in developing nations, Cassandra Treadwell is using her legal background to change the lives of girls across Kenya and Tanzania.
Ms Treadwell spent her seven-year legal career working in-house, primarily as a "medico counsel" for hospitals, which she loved doing. She has always, however, had a "really strong belief in justice", and – having witnessed the extreme poverty of East African nations – was determined to roll up her sleeves and make a tangible contribution.  
Speaking last week on The Lawyers Weekly Show, in anticipation of this week's Women in Law Awards, Ms Treadwell – who the chief executive of education and empowerment NGO So They Can – discussed the establishment and work of her organisation, which works with vulnerable communities in providing education and striving towards women's empowerment, child wellbeing and community health.
Why change is critically important
In discussing the importance of the work her organisation does, Ms Treadwell said there are 130 million girls around the world who have no access to schooling.
"And, this is only going to be increased this year with COVID-19 – approximately 10 million more secondary school-aged girls will be out of school after it has passed, if there are dropout increases at the same rate as there was with Ebola in Sierra Leone," she warned.
Education, she argued, "breaks that poverty cycle".
"An educated girl is seen as a person with human rights. An uneducated girl – as I've experienced on the ground in Africa – is seen as the property of their fathers and their brothers, and they therefore see themselves, and are used, as an entity to be sold for the commercial gain of their fathers and brothers. Being viewed as a man's property increases the risk to those girls of female genital cutting, and this makes her more marketable for child marriage," she outlined. 
Reflections on her own fortunes
Such work is also essential from Ms Treadwell's perspective, she continued, when she reflects on the opportunities she has had, and the lifestyle she is able to lead, by virtue of the education she was fortunate enough to receive.
"I did my law degree in New Zealand, and then did my masters in Medical Law and Ethics at King's College at the University of London, and made all sorts of connections through those degrees, whom I now call on for the work I do with So They Can," she listed.
"It's enabled me to have four children, put them through school, have the lifestyle that I believe assures that they are healthy and able to reach their potential."
Such access and support, Ms Treadwell submitted, are what all children should be able to have – which is what she is working towards.
"Right now, we have 37 schools that we support across Kenya and Tanzania, and a teacher's training college, because we're very aware that education comes down to the quality of teaching inside the classroom," she said.
Using her legal background to make a change
When asked how she perceived her legal background to be an asset when she started up So They Can, Ms Treadwell said it was "probably more naivety than experience".
"I landed in a situation where I saw extreme poverty and abuse of human rights, and the lawyer in me, together with my sense of justice, just couldn't not do anything. It wasn't necessarily that I thought I was qualified to do it, although in hindsight, my degree has been enormously helpful," she said.
This is particularly so, she noted, given that So They Can requires $3 million each year to ensure the viability of its programs, which means partnerships with local and national governments are fundamental.
Her law degree helps with credence, she mused: "I've sat in government meetings in Kenya and Tanzania as a white female, and I think the fact that I pull out my law degree, at certain times, gives me extra credibility."
"It's also enabled me to ensure that extremely good governance from the beginning with all of our five entities in Australia, New Zealand, America, Kenya and Tanzania – this, in turn, supported us getting the Department of Foreign Affairs and Trade accreditation this year, which only a handful of international NGOs have got in Australia," she said.
Getting involved with aid work
Should other lawyers be interested in engaging more in community or not-for-profit work, so as to make a more substantive difference in the world, Ms Treadwell said that the first step is to figure out where one's passions lie.
"What keeps you awake at night? What's important to you? What do you want to fight for?" she suggested.
"Recognise that, because being involved in this kind of work is draining and you need to have passion behind you to have the sustainability for it. Then, reach out to organisations that are doing the work that you want to be involved in."
So They Can, she noted, will "never say no" to anyone who has relevant experience the organisation could benefit from.
Just don't put off such work if you're keen to roll up your sleeves, she advised.
"I think it's really easy – especially with lawyers, who are so busy with so many billable hours – to put it off, even if you think it's something you'd like to do and it's on your list, it'll just keep getting shoved back to the next day," she submitted.
"I would strongly encourage you to just make the phone call now, to do the research now, to start – because it is incredibly rewarding.
"It fulfils that purpose that some of us in the Western world lack while we search for success in the form of finance or status, which is what too many of us define as success."
So They Can is a philanthropic partner of Lawyers Weekly for the 2020 Women in Law Awards. To learn more about the work of So They Can, click here.
To listen to the full conversation with Cassandra Treadwell, click below: