Theft, insubordination claims made by founding partner in unfair dismissal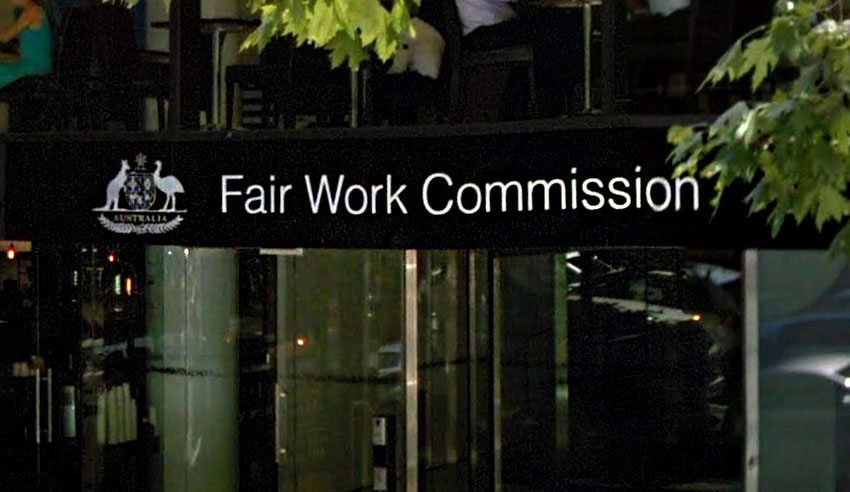 A founding partner of a small Sydney law firm has been ordered to pay just short of $50,000 in compensation to a former employee he dismissed on unsubstantiated claims that she had stolen money and had challenged his authority in front of staff. 
The Fair Work Commission found Brett Galloway had unfairly dismissed the former employee from Brett Galloway Solicitors Barristers & Attorneys at the beginning of the coronavirus pandemic over allegations that were strenuously denied by the employee and were not substantiated during the lengthy trial. 
In a termination letter handed to the employee in mid-March 2020 and with words she claimed were to the effect of "you're fired, get out", the employee read that she was being accused of serious continuing insubordination, attempted intimidation, sabotage and making agreements with others without his consent. During the hearing, she would also learn that Mr Galloway was accusing her of theft and fraud. 
"I am satisfied and find that on the balance of probabilities, the conduct allegedly engaged in by [the employee] did not occur and accordingly there was no valid reason for her dismissal," the commission's deputy president Lyndall Dean said.
"While the respondent is a small employer and did not have a dedicated human resource expertise, Mr Galloway is a lawyer with extensive legal experience who ought to have been able to ascertain the basics in how to fairly effect a dismissal."
In the letter to the employee, Mr Galloway set out that the serious insubordination had occurred after a discussion came up concerning his decision to act for a homeless person with no money or assets in circumstances where he said she had "actively encouraged staff to work for another client" who was refusing to pay fees. 
He also wrote that she had claimed that she and another employee – terminated on the same day – would "leave and take the staff with you", which was an act of "actively challenging my authority". The letter alleged that she was gossiping and had told one of his clients that the opposing side had a "better lawyer". 
In response to the claims that she had challenged his authority, the employee said she thought this may have instead related to a conversation they had in July 2019 in which she told him that a solicitor had been working hard to bring in new clients, and she considered that Mr Galloway resented the solicitor for this success.
Mr Galloway also accused the employee of subjecting him to "name calling" and had elbowed him in the side as she went to slap him. He wrote that he was "dumbfounded" by the unproven behaviour "after all I had done for you". She said this would not have happened, given her petite size against his more solid build.  
Responding to the inappropriate behaviour claims, she categorically denied intimidating him or attempting to hurt him. She said the reason Mr Galloway had left the office in such a manner was because she had said words to the effect of "I can't believe you're using drugs again" and he had told her to "f**k off". 
In response to the claims that she was gossiping with staff and alienating him, the employee said that the only change in behaviour came when she informed staff that she would not be acting as an intermediary between them and Mr Galloway and asked that if they had a grievance with him, they should raise it with him directly. 
"The fact that [the employee] was permitted to continue working for the respondent for months after the alleged incidents indicates a lack of genuine belief that the conduct was sufficiently serious to justify summary dismissal," Ms Dean said. "Further, no disciplinary action was taken at the time the conduct allegedly occurred."  
Claims of theft, fraud against employee
The employee claimed that she was never given a written employment contract but was being paid $115,800 as a full-time employee. While most of the money was electronically transferred into her personal account, she said that Mr Galloway had authorised payment of $650 in cash while he took home $1,500 in cash. 
Her role in the firm included diary management and client liaison, chasing payments, payment of business expenses, payment of Mr Galloway's personal expenses, as well as liaising with staff on matters of hiring and interns. Following two prior disciplinary findings against Mr Galloway relating to accounts, he appointed her assistant to managing the bank accounts and would work closely with him on them. 
In this role, the employee said she kept extensive records of payments because Mr Galloway frequently lost track. She was also responsible for cashing the cheques, including the cheque for $650 and his alleged cheque for $1,500 each week. 
A month prior to her dismissal, Mr Galloway changed the passwords and prevented her from accessing them. Over the next fortnight, the employee showed him the processes she had put in place but was not given an explanation for this change. She also offered to sit down with him and the accountant to explain her system. 
In her submission, the employee claimed that Mr Galloway avoided her the week after and had withdrawn an invitation for her to attend his wedding, due to take place about a week prior to her termination. In the lead-up, she said Mr Galloway retained control of the accounts and failed to pay staff wages on time and other expenses. 
She also alleged that she, along with the solicitor also terminated on the same day, was concerned that he was spending client money on his wedding because they were all aware of the approximate $50,000 debt he owed to the Taxation Office. This is just an allegation and was not addressed by the Fair Work Commission. 
The firm had a policy of handing out commissions if staff could bring in new clients. The employee said she had done so and was awarded $25,000, but Mr Galloway told the commission that she stole this money and that he did not "discuss or approve this payment" and had no knowledge of the "theft" until after she left. 
He also contended that she had used a credit card in his name notwithstanding his instructions to not use the card and to destroy it. He alleged that she had instead used the card for numerous personal expenses without his authority. 
In terms of the cash payments of $650 per week, Mr Galloway said that the employee had stolen this money. He said that she presented the cheques to him for his signature each week and one of those regular cheques was $650 for petty cash. The commission did not find she was guilty of any of these claims. 
Mr Galloway 'fell short of the standard' expected of legal practitioners
The Fair Work Commission said that Mr Galloway's response to the proceedings, including through his counsel, had fallen "well short" of the standard expected of a "highly experienced and well-regarded lawyer". This included a number of adjournments that delayed proceedings and caused further costs to the employee.
Comments had also been made during the proceedings by Ms Dean that she said were "taken out of context and twisted" by his counsel. For example, it was submitted that Ms Dean said the commission had no interest in whether parties were defrauding the ATO or filing false returns. In this case, the employee had admitted that some payments were not declared and so there was no need for further reviews. 
Ms Dean said it was also "astonishing" that Mr Galloway had claimed procedural unfairness and a denial of natural justice in terms of the conduct of the proceedings. 
The entire judgement can be found on AustLII here.  
While Lawyers Weekly has opted to not name the former employee in this article, it is our usual practice to include the judgement information so readers may be able to access the entire decision and learn more details about the case.