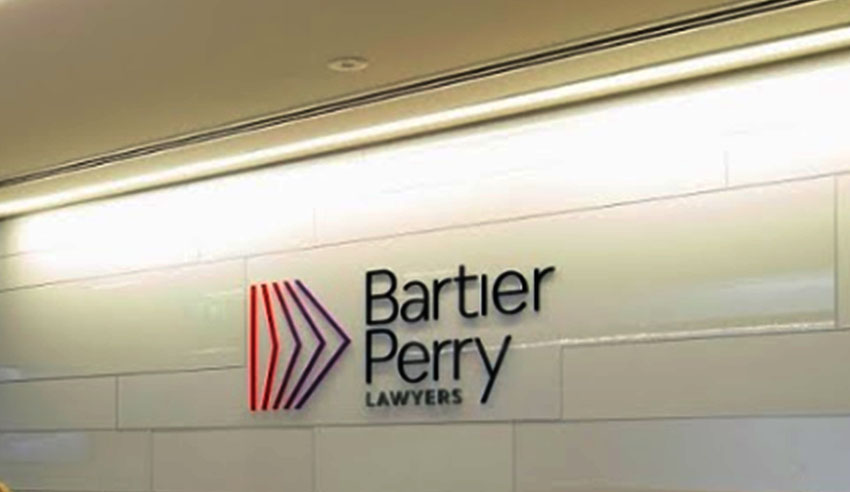 Sydney firm Bartier Perry has been ordered to pay a lawyer over $942,000 after an appeals court upheld a ruling that the firm had provided the client with "deceptive" advice and misled him about the nature of his legal rights. 
Bartier Perry was accused of breaching contract, negligence and "misleading and deceptive" conduct in its alleged failure to advise lawyer Dennis Paltos about the fate of his family law practice and partnership. Specifically, Mr Paltos submitted the firm had failed to properly advise him about his right to a put and call option agreement.
The Court of Appeal did submit that the primary judge had erred in not making a deduction of the amount payable to Mr Paltos and reduced the amount of damages owed from $1,411,707 to $942,777. The firm was ordered to pay Mr Paltos' costs of the original proceedings on an ordinary basis and parties were ordered to pay their own costs in the Court of Appeal. 
"The advice given by Bartier Perry to Mr Paltos was misleading and deceptive, in that it was a dangerously incomplete statement of his legal rights and was apt to mislead him about the nature of those rights," the Court of Appeal upheld. 
The conflict arose over a dispute Mr Paltos had about his partnership with another lawyer, Peter Milevski. Bartier Perry advised Mr Paltos that Mr Milevski could terminate the partnership and suggested that Mr Paltos offer to sell 20 per cent of the partnership over to him or dissolve the partnership himself. 
Mr Milevski commenced proceedings in the Supreme Court and orders were made for the dissolution of the partnership. Separate proceedings about the partnership and against Mr Milevski brought by Mr Paltos are still ongoing. 
The Court of Appeal found that Bartier Berry's advice that the put and call option agreement did not apply to him "yet" was "not sufficient to discharge its obligation to provide competent legal advice" about Mr Paltos' options. 
"A reasonably competent solicitor in the position of Bartier Perry would had advised Mr Paltos that if he remained unable to work in the partnership after six months, he could exercise the put option to require Mr Milevski to purchase 70 per cent interest in the partnership," the judgement read. 
The judgement can be read in full on AustLII: Bartier Perry Pty Ltd v Paltos [2021] NSWCA 158 (3 August 2021).