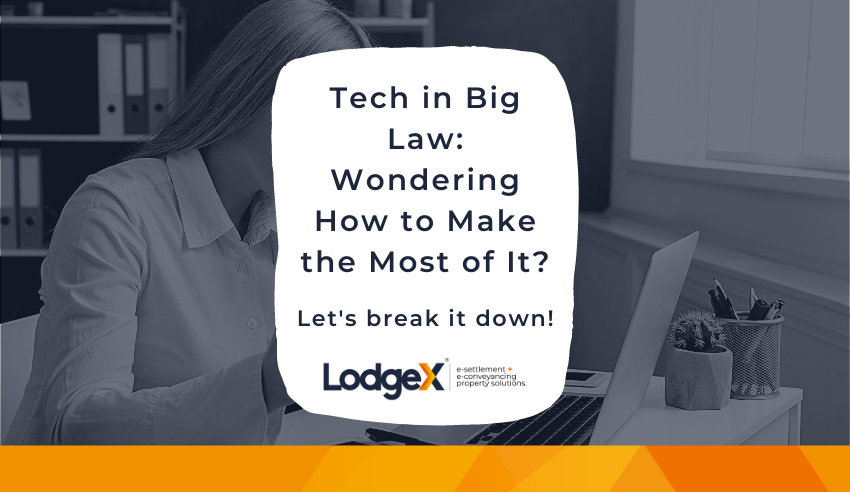 New tech might seem like an overwhelming concept when it comes to your Big Law firm, but the data tells us that the reward makes it a risk worth taking
Big Law: Big Changes and Big Opportunities
Big law has undergone a seismic shift in the past few years - and this shift is not abating. The impact of COVID-19 and working from home has seen a huge re-evaluation of how we work and live: both organisationally and individually. This impact has been felt in employee satisfaction, client retention and overall practice efficiencies. As Big law firms project forward to deal with the emerging issues, tech is emerging as a major satisfaction factor. So, why are new tech changes important? What if Big law chooses not to onboard? 
Legal Tech & Employee Satisfaction 
Employee expectations and styles of work have changed. Dissatisfied employees are more willing than ever to leave a practice and find somewhere aligned their preferences, or start their own practice. Big law firms now need to focus on staff retention, and ongoing development and training of quality staff. Much of this retention-strategy is implemented through tech and process changes. By eliminating rote and mundane tasks and focusing on legal learning and personal development for upskilled teams, Big law can retain staff who are driven to succeed by using their legal skills for more challenging work. 
According to the Thomas Reuters Tech & the Law 2022 Report, 81% of private practice professionals regard more efficient processes as their most valued way of working. Document automation is identified as a key area where the greatest impact can be delivered, and lack of innovation as a key risk for many firms - 29% of private practice lawyers would be willing to leave their firm to go somewhere with greater innovation. So, the solution seems simple: automate tedious processes such as document creation and preparation with innovative solutions, and keep your valued staff members satisfied in their roles. 
The Challenges
Whilst Big law boasts big scalability and varied caseloads, this is counterbalanced with large organisational size and rigid corporate structures, meaning change implementation is often a slow and tedious process. 
With new and emerging legal-tech solutions spruiked constantly, it can be difficult to know when to be an early-adopter, or when to sit one out. Add in the work involved in rolling out new processes in larger firms, onboarding and training staff, and upkeeping processes and technology - the potential consequences of a failed implementation are high. So, do you really need to stay on top of new legal tech changes at all in big law? Well, the data says yes, absolutely! 
But then how do you choose your tech solutions? 
Which tech is the best tech?
Here at LodgeX Legal, we both create tech, and utilize the tech of others – so we consider ourselves well-experienced in judging and evaluating platforms, software and processes! We thought we would share the key considerations we look for in evaluating tech solutions, using our platform LodgeX: Lapp as a case study. 
User Experience – Will your staff even like it?
If the goal is to keep your staff happy, then first any change must be one that staff will want to use, and want to learn. Collaboration with your team in rollout is essential, as well as selecting solutions which have been designed with the user-experience in mind. Think: minimal onboarding, and ongoing support available. These were our key considerations when building our Lapp platform, as property transactions platforms can often be complex and require detailed knowledge. Before onboarding a new technology, ask the provider for a demo or walk through, and involve key team members who will be end-users in the decision-making process. 
The right tech solutions and processes will result in happier staff. Solutions that simplify complex procedures can relieve load from your specialist staff (eg: those PEXA experts in your property team) and upskill your adjacent teams to manage more of their own files (eg: your family law team's property transactions). Staff will feel more satisfied, being able to manage more of their own files, and those expert/specialist team members will have greater capacity to upskill in the areas that matter to their role – creating a talent cycle of top-quality staff. Finally, recognise that your lawyers are lawyers! Most of them have studied for 5-7 years minimum to become lawyers, the last thing most of them want to do is administrative work that could be done by an unskilled business professional, or, even better, – an A.I. process. Look for tech solutions with high levels of automation in areas like document creation and processing, so your staff can "set and forget" and focus on being lawyers. 
Value to clients – Will it make your clients happier? 
Tech and process changes are an investment – your return on this investment is as important as any other. A good return on tech investment will usually fall into one of two categories: 1- the cost will be directly on-chargeable as part of your process, or 2- solutions increase efficiency and productivity whilst simultaneously reducing your bottom line.  The best solutions will allow you a combination of the two! Carefully consider how any large fixed or initial costs can be distributed between your workload, or look for services with pay-per-use models which can be directly on-charged, such as LodgeX's Lapp, with no lock-in contracts or joining fees. Next, think about how the removal of tedious time-consuming and non-fee earning steps from your current processes, will free up for your staff to focus on client relations and provide time chargeable services. If the final product to your clients is high-quality, they will be happy to pay more for it. If the service associated with the final product is also high, they'll happily pay more again. Either way, good tech.
Mitigating Risk – Will it all fall apart?
Finally, you need to safeguard your firm and clients from inexperienced process and cyber risks. When assessing the cyber risk exposure, look for features such as multi-factor authentication and secure cloud storage. Equally for the knowledge base and experience, look for solutions that come from experienced and qualified teams. LodgeX was started by lawyers, for lawyers, so we know what lawyers look for and need. Being a home grown Aussie tech company we know the nuances of Australian legal practice. Importantly our team are all together, right here, in Australia. 
Ready to dive in?
It's a lot to think about – but the right investment in quality solutions with thought and consideration will translate to happier staff, happier clients, and more security for your business. We recognise these key considerations here at LodgeX Legal, and that is why we are dedicated to setting the gold standard in e-Conveyancing by creating the best legal-tech solutions for all your firm's property matters. If you would like to find out more about LodgeX and our Lapp platform, head over to our website to find out more, or contact us to start a conversation about our property solution for your big law firm.