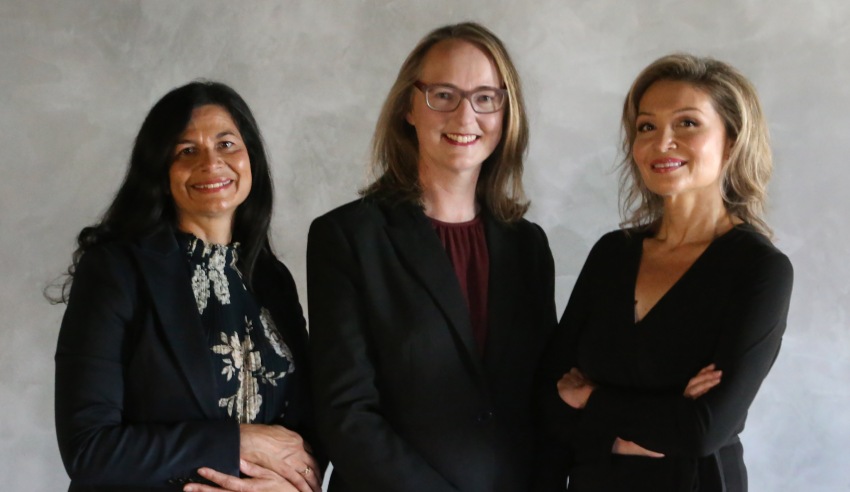 The Institute of Patent and Trade Mark Attorneys (IPTA) has re-elected its first all-female executive team in its 103-year history, after the team stood unopposed earlier this month.
When president Janelle Borham and vice-presidents Jennifer McEwan and Christine Emmanuel-Donnelly were voted into leadership roles last year at IPTA's 102nd Annual General Meeting, it marked the first time IPTA had elected an all-female executive.
This month, the executive stood unopposed at its 103rd AGM and annual conference – but while the proportion of female patent and trademark attorneys has increased dramatically in recent years, the trio said there is still a way to go.
Whilst women make up around 53 per cent of Australia's legal profession overall, they account for only 42 per cent of patent and trademark attorneys.
With 37 years of collective experience on the IPTA council, the leadership trio bring a diverse range of backgrounds and experience to their roles and said they hope their continuing role as IPTA's leadership team will serve as an inspiration to IP professionals.
"IPTA continues to push for equality for all, regardless of gender, identity and background," Ms Emmanuel-Donnelly said.
Ms Borham, a principal and patent attorney in the chemistry and life sciences team at Griffith Hack, has been involved with a number of key initiatives within IPTA, including developing IPTA's strong relationship with IP Australia, preparing submissions to the government in relation to proposed legislative reforms, and implementing an online education series for members.
"Hopefully being active in the IP community, and being visible as president of IPTA, will reinforce the message that women can forge fulfilling and successful careers in IP, and there is strong support for this across the profession," she said.
"The election of an all-female executive team reflects that over the past 20 years women have joined the intellectual property profession in increasing numbers, and have joined representative bodies such as IPTA in increasing numbers. We have been a visible part of the IPTA council for many years now. We are proud of this achievement as it reflects the opportunities available to women in this field, which crosses between the law and science industry. 
"While we have had numerous women on the IPTA council, it can be difficult to dedicate sufficient years of service to the IPTA council to reach the position of president when balancing this with client work, family and other responsibilities. I know a number of past councillors who have had to retire from council after shorter periods of time."
Ms McEwan said that whilst there are still very few women in key leadership or decision-making roles at Australian IP firms, she is confident this can change in the coming years.
"Striving for strong female leadership is very important to me to achieve a well-balanced profession and I hope to inspire and encourage young women to enter and stay in the profession," she said.
"One of my most rewarding achievements on IPTA council has been creating a mental wellness program for members, which now includes up to five free sessions with a psychologist as well as regular seminars focusing on health and wellbeing."
IPTA will continue to champion the cause of getting more women into leadership moving forward, Ms Borham said.
"Visibility is important. It is a symbol to everyone that what you want to achieve is achievable. Every individual who has been president of IPTA in recent years has been unique. At IPTA we have a change in leadership every two years. Each leader has brought a different perspective and balance of strengths, which has benefited our members," she added.
"Women bring a different balance of experiences and personality styles to the role, and it helps everyone to demonstrate that there is no one 'right' style of leadership. My own personal style is to get on with the job and demonstrate with action."
The Lawyers Weekly Jobs Board has had a refresh! To check out the latest opportunities in private practice, in-house and more, click here.