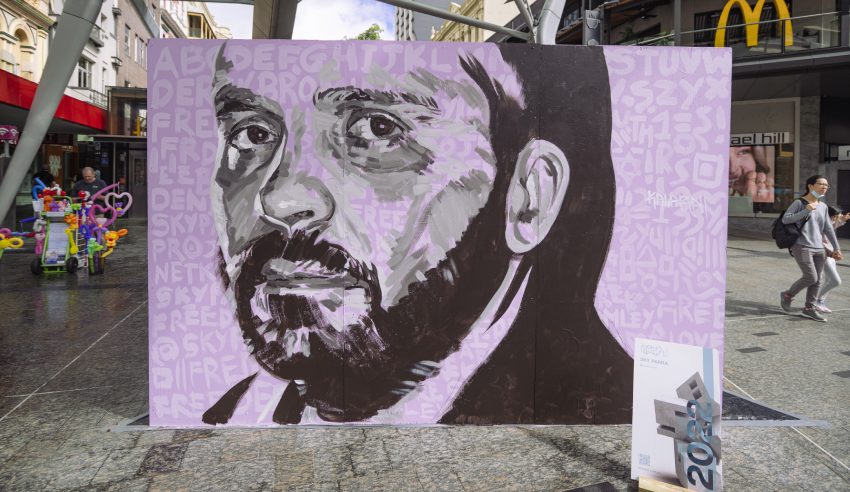 In a bid to help raise awareness, one artist has begun making artwork depicting those who have been wrongfully convicted, with the help of a legal professor.
Sky Parra is an emerging portrait painter based in Brisbane. Her works explore the emotive narratives of exchange and empathy – and she has just commenced a project to depict people who have been involved with miscarriage of justice cases, as people wrongly convicted or as advocates or others who have supported such people to obtain successful outcomes.
Speaking to Lawyers Weekly, Ms Parra said that when it comes to her artistic direction, she's "always looking for conversations to contribute to and use painting as a way to better understand the human experience".
"I think paying attention to my direct environment and what is happening in the world around me and acknowledging how I feel about it becomes the base point for all my work," she said.
"I intend to keep finding important narratives that I feel are compelling and evoke any kind of feeling no matter how small. Exploring ways to visually express those emotions in a way that moves me will always be the driving factor of my work."
Ms Parra started creating artwork to depict wrongful convictions after hearing about the Behlau Murakami Grant Art Prize, for which she was interested in entering an artwork.
"It addresses the important issue of wrongful convictions which I needed to get informed about. I was completely ignorant regarding miscarriages of justice in Australia and understood that to make honest work I needed to talk and sit with people who have had these experiences.
"I began my research in mid-2021 and was grateful to find the contact of leading legal scholar Dr Robert Moles. Bob is a very generous man and has kindly devoted a great deal of his time breaking down the issue and individual cases for me. We decided that a body of work that could be witnessed collectively in public spaces would offer new understanding and awareness to this nationally urgent issue. Bob and I are now collaborating on project 'Denied'," she explained.
"These people have been denied freedom and their basic rights, so it felt like a fitting title. Because Bob knows everyone, he was able to put me in touch with many sitters and people spanning all different fields that together work towards changing our current justice system. The first sitter I met was Henry Keogh who served almost 21 years for a murder which, in fact, had never occurred. It was a profound experience and I am honoured to have won the inaugural BMG Art Prize with his portrait."
Dr Robert N Moles, professor at the college of business, government and law at Flinders University of South Australia, began working with Ms Parra as he saw art as the "missing piece of the puzzle" after finding a gap in how he felt about wrongful convictions and what he could objectively say about them as a legal professor.
"Pictures of all sorts can convey meaning and emotions in an instant – it doesn't depend on long processes of reasoning or take large amounts of time. You see, you understand and are affected by it – in an instant. Maybe we could use that medium to convey something of the loss, the hurt, the loneliness – primarily for those affected by these dreadful cases, but also sometimes for those of us who work with them all the time. It does have its effect," he explained.
"The topic she raised with me – portraits of those wrongly convicted – presented this whole new possibility of communication. Naturally I wanted to give her an insight into the people and cases we were working with. 
"But I also wanted her to know that people may be wrongly convicted, but that didn't mean that they were angels. Some may have done bad things or had a difficult existence – anyone in prison would know that – it is a rough tough place to get by in. I wanted to see if you could see things from their point of view – empathise and understand – as best as any of us could do."
Moving forward, Ms Parra hopes to continue with her work, after setting up a GoFundMe to fund extra portraits, for what she said was an extremely important cause to bring awareness to.
"I think it is imperative to represent the innocent as they need to be seen; as people who have been harmed by the system that ought to have protected them. This work explores all kinds of complex emotions, profound upheaval, displacement and vulnerability," she said.
"Holding space for exchange, it is my hope that each portrait may help to restore the sitter's normality, humanity and dignity. It is the intention of this project to invoke the human capacity for empathy, urging us to look and engage in a critical conversation."