Podcast: From outback to Martin Place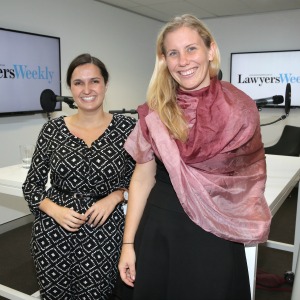 The Lawyers Weekly Show speaks with a young lawyer who spent more than two years working with Indigenous communities in the Northern Territory before joining a corporate law firm.
Our host, Stefanie Garber, chats to Brisbane lawyer Sara Lane, whose budding career has seen her move from Brisbane to the deepest outback and then back to Ashurst's Sydney office.
Early in her career, Sara made a bold move – despite never having lived outside a capital city, she accepted a job with the North Australian Aboriginal Justice Agency in remote Katherine, some 3,000 kilometres away.
While working with NAAJA, each day brought a new challenge for Sara, who helped with civil matters for Aboriginal clients from across the Northern Territory.
Ultimately, her experiences helped shape her approach to legal practice and informed her choice to take a role with Ashurst's pro bono team, working out of Sydney.
Sara shares her experiences and insight, including how remote experiences can influence a young lawyer's career path.
Podcast transcript
Intro: Welcome to the Lawyers Weekly Podcast, for an in-depth look at the issues facing the legal profession. This is your host, Stefanie Garber.
Stefanie Garber: Hello and welcome to the Lawyers Weekly Show. I'm your host, Stefanie Garber, and today we're talking to one lawyer whose career has taken her from Brisbane, 3000 kilometers away, to the depths of the Northern Territory and then back to a large commercial firm in Sydney. We're speaking to Ashurst pro bono partner, Sarah Lane. Sarah, welcome to the show.
Sarah Lane: Thanks, Stefanie.
Stefanie Garber: Now Sarah, you spent 2 and a half years working with the North Australian Aboriginal Justice Agency, known as NAAJA, can you tell me a little bit about how you came to work for that organization?
Sarah Lane: When I finished law school, I started off as many do by doing a graduate program in a large firm in Brisbane. As part of that, I did a 6 month rotation through their pro bono program, and I really enjoyed it, so I decided that as a next step in my career, I'd like to try community law. It was just a matter of doing an internet job search and I saw that that job was being advertised, as a civil lawyer at NAAJA in Katherine, so I applied for it and I got it, and then I moved 3000 kilometers.
Stefanie Garber: Wow, it's a pretty big move, did you know the area at all? Have you ever been to the Northern Territory?
Sarah Lane: I had been to the Northern Territory before. I'd been to Darwin and up to the Tiwi Islands when I was about 13 or 14 years old with my parents. They were visiting friends of theirs who were living up there. I had a very small experience, but I don't think I was really prepared for it in hindsight.
Stefanie Garber: What was that move like, especially as a fairly young lawyer to suddenly be in this completely different environment?
Sarah Lane: All sorts of things. It was scary. It was exciting. It was enlightening. It was a long way from home. It was my first time living in a small country town, I'd always grown up in cities. I think on a whole, looking back, it was an amazing experience, but at the time, it was slightly terrifying.
Stefanie Garber: I could imagine. Can you take me through what your day-to-day was like as a lawyer with NAAJA?
Sarah Lane: Day-to-day, you tried to plan your days ahead as much as you could, but given the context in which we were working, you weren't always able to plan what you're going to do it in a day, you had clients from very remote communities dropping by, and you had people who you'd been chasing for months, and you had to see them pretty much when they walked in the door. You had urgent applications going in in courts, so you had to race down to the courthouse and stand up in front of magistrate and try and work out what's going on. There were days when we would go and travel out to remote communities, driving for 6 hours on dirt roads, getting flat tires, hitting kangaroos, and then when we got out to the community, setting up a legal clinic under a tree in a local park, where we'd take boxes of files and pretty much do what we could, trying to dispense legal advice.
Stefanie Garber: It's pretty different from a big city board room.
Sarah Lane: It's very different.
Stefanie Garber: In terms of the types of matters that you had, what sort of law were you doing? What were the most common types of things that you took on?
Sarah Lane: We were doing general civil law. There was a lot of victims compensation matters, motor accident compensation matters, police torts, say for false imprisonment, or assault and battery, or malicious prosecution. I did a couple of coronial inquests, which were really interesting. I did child protection work. I did some discrimination work. I dabbled in employment law. It was pretty much all of the issues that affect individuals. We didn't do family law, and there was a criminal team, so I personally didn't do any criminal law, but pretty much everything else.
Stefanie Garber: It sounds like you have to be a bit of a jack of all trades and fairly flexible in your approach.
Sarah Lane: Yes, exactly.
Stefanie Garber: What were some of the challenges that you faced, particularly as someone who hadn't grown up in that area?
Sarah Lane: I think moving up there was a big adjustment to start off with. There was also a lot of sort of cross-cultural challenges in working with indigenous clients in remote communities, including language challenges. A lot of people out there speak English as their third, fourth or fifth language, which meant that often you had to use interpreters and the more time that you spent up there, the more sort of cultural differences that you had to become aware of came to light, and you realize when you're about two years into working up there, that some of the things that you've been doing in your first year.
Stefanie Garber: If another young lawyer was thinking of doing that, what kind of advice would you give them?
Sarah Lane: I think just to go with an open mind, really, to sort of let go of your preconceived ideas about what it might be like working in that part of the world and to just really head up there willing to learn and willing to work hard, because it is hard work up there. There are a lot of people who need legal help and you don't necessarily have that many resources to work with, just treat it as a learning experience and also as a life experience.
Stefanie Garber: In hindsight, do you think that you were prepared to face the remoteness of the situation? Was that something that you were fully conscious of going in?
Sarah Lane: I think that I was. I've done a fair bit of travel beforehand when I was at university. I've lived overseas before. I went on exchange by myself, so sort of moving to a new environment by myself was not something that was new for me. I suppose doing something like that beforehand would be an excellent way to prepare for it.
Stefanie Garber: Yes, sure, so being used to being in an uncomfortable or new situations. Yes absolutely. Now, you've made the transition back from the Northern Territory to join Ashurst in Sydney, can you talk me through a little bit about that transition? Why did you decide to come back to the city?
Sarah Lane: Ashurst and NAAJA, which is the organization I was working for in the Northern Territory, have got a very close and longstanding relationship. Ashurst sends a secondee up to NAAJA for six months at a time and I think that program's been happening since 2003, so it's been happening for quite a while. When I was working there, I got to know quite a few of the Ashurst secondees, I also got to know a number of the staff on the pro bono team, because they would come up and visit the secondee to make sure they were settling in okay, everything like that. So I'd met a lot of the team already and then I saw the job advertised, and I thought that I'd apply for it and I got it. That's why I came down to utilize that opportunity and to give it a go.
Stefanie Garber: Yes, fantastic. I mean I can imagine that's a quite big change. What are some of the, it seems like an obvious question, what are some of the differences that you found in terms of practicing?
Sarah Lane: In terms of practicing, I think in the Northern Territory, just because of the context in which you're working you rely a lot more on face-to-face communication, handwritten file notes, paper-filing, because in the communities that you're travelling to sometimes your telecommunications equipment doesn't work or you don't have telecommunications equipment because there's no mobile phone reception in a particular community you're going to. By contrast in the city, communications with clients and file management happens quite differently. For instance, now I'm working with an electronic filing system, most of my communications happen by email and phone rather than face-to-face. It's just really, really different technological environment in which you'll be working. I found that making that adjustment has been quite a big one, which I've had to get used to.
Stefanie Garber: I think I can imagine that there are myriad differences in terms of adjusting to working at a big firm, talk me through some of the work that you're doing, are you still working on quite a lot of cases to do with indigenous issues?
Sarah Lane: I am. I'm still quite involved in my role with NAAJA, which is really nice, because of the close relationship that Ashurst has with NAAJA. I'm also involved in running wills clinics for indigenous clients in regional and remote New South Wales. We're doing a workshop out in Dubbo at the start of May, which I'm really excited about. Apart of that, I'm doing matters like victims support work, I am spending a morning a week running a legal clinic at Lou's Place, which is a women's day refuge in King's Cross. I'm coordinating large scale research projects, which run across jurisdictions and where we're having people in different offices collaborating with each other. The work that I'm doing at Ashurst is really varied and really interesting.
Stefanie Garber: Fantastic. Can you talk me a little bit through the pro bono program more broadly? Does Ashurst take a global approach to a pro bono? Is that correct?
Sarah Lane: Yes, Ashurst, beinga global firm, takes the global approach to pro bono. We've got a global pro bono policy, which applies across all of our offices. In pro bono in Ashurst, our staff are very much encouraged to participate in the pro bono program. We've got a target of 52 hours per lawyer per year, and those hours are traded for the lawyers' chargeable hours and they also count towards bonuses so there's a real incentive for our staff to sort of be involved in that way. Also and probably more importantly, the firm's got a really strong philosophy that it's part of your legal professional obligations to be doing pro bono work, and that's where a lot of the heart behind the program comes from.
Stefanie Garber: Okay, that's interesting, so it's part of being a lawyer, it's not just a nice to have or an add on?
Sarah Lane: Yes, that's exactly right and that's the approach that we take and that's why it's sort of supported so strongly within the firm. In terms of our program, we try and direct our services towards marginalized and disadvantaged people of limited means, not-for-profit or another organizations that support those people, so long as it's going to be too expensive for the organizations to seek legal assistance on a commercial basis. We also look at cases where it's in the public interest to take on the matter. Within Australia, we specifically like to provide our services to indigenous Australians, to people in rural, remote and regional areas, and also people with mental illness or cognitive impairment and the people who care for them.
Stefanie Garber: Have you been able to draw on your experiences at NAAJA to help your practice now? Have you found that those experiences have influenced the way you approach things?
Sarah Lane: Of course they have. working at NAAJA as a junior lawyer, I learned a lot of very transferable legal skills, things like talking to clients, like running matters, like keeping detailed file notes, which are useful in any sort of legal practice. I also understand how the community legal sector works, which I have found to be of enormous benefit in doing pro bono work for Ashurst, because a lot of our referrals come from community legal centers so I have found that it's been really useful to know what the needs of community legal centers are so that we can fulfill those needs in the most efficient way possible.
Stefanie Garber: Do you feel like you could end up going back at some point and working in that region again? Or where do you see your career taking you?
Sarah Lane: I'm not sure at that moment. At the moment, I'm happy just to keep things going for the next couple of years and then really just to see what happens. I wouldn't rule it out, returning to the Northern Territory, but at the moment, I'm still looking at my options and seeing what opportunities there are.
Stefanie Garber: Yes, it seems like you're just getting started.
Sarah Lane: Maybe.
Stefanie Garber: Sort of on a final note, is there anything that you have taken away from your experience with NAAJA? What would be your one lesson that you feel like you've learnt from that time?
Sarah Lane: I think it's to keep an open mind and to accept sort of any opportunities that present themselves to you, even if you didn't necessarily think of doing those things when you were at law school. Taking a chance and moving somewhere like the Northern Territory in the middle of the outback, it can be an enriching, and life changing experience, and it's totally worth it.
Stefanie Garber: Yes, absolutely. I couldn't imagine an experience that takes you 3000 miles away from home is definitely going to leave an impact. Today we've been talking about law in the outback, working specifically with indigenous Australian communities. Sarah, I think you've given us plenty of food for thought on this issue, thanks so much for coming along and thanks to our listeners.
Sarah Lane: Thank you.