Podcast: Opportunities in the Big Apple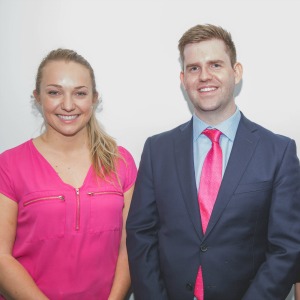 Two Major, Lindsey & Africa consultants join us to look at the opportunities for Australian-qualified lawyers in the New York legal market on the latest episode of The Lawyers Weekly Show.
Our host, Lawyers Weekly journalist Lara Bullock, is joined by Hong Kong-based legal search consultant Nathan Peart and Sydney-based researcher Mikaela Orme of Major, Lindsey & Africa.
Mr Peart and Ms Orme explain how the E-3 visa has made it a lot easier for Australian citizens to be able to work in America, and that New York firms are increasingly looking at Aussie lawyers as potential candidates now that the process has been made simpler.
While the workload can be heavy, the remuneration and relocation packages offered by firms are often generous, and the support given to foreign lawyers preparing to sit the New York bar exam has made it less daunting than it once was.
Listen to other episodes of The Lawyers Weekly Show:
Episode 8: Does in-house live up to its allure?
Episode 7: Brexit getting lawyers home
Episode 6: Drone usage and related legal work reach new heights
Episode 5: Revamping the law firm model
Episode 4: Bringing creativity back to the law
Episode 3: From outback to Martin Place
Episode 2: Is law school teaching enough critical thinking?
Episode 1: Legalising medical marijuana
Podcast transcript
Intro: Welcome to the Lawyers Weekly podcast for an in depth look at the issues facing the legal profession. This is your host, Lara Bullock.
Lara Bullock: Welcome to the Lawyers Weekly Show. I'm your host Lara Bullock. Today we have Major, Lindsey & Africa consultants here, Nathan Peart and Mikaela Orme to talk to us about the New York legal market. Welcome.
Mikaela Orme: Hi.
Nathan Peart: Thanks.
Lara Bullock: Just to sort of get started, would one of you mind sharing with me a little bit about what's happening in the New York legal market at the moment.
Nathan Peart: Sure. I think we're certainly seeing an increase in the past sort of six to 12 months of Australian qualified lawyers going over to New York. This is largely down to a lack of talent at the mid-level in the market there. As with other markets, during the financial crisis, there was a decrease in hiring, so now what we're finding is firms are looking elsewhere for talent as they did in London.
The great things about the Australian market is that there's a free trade agreement between the US and Australia. This has opened up a new kind of visa called the E3 visa, which Australian nationals are eligible for. It's a lot easier for them to get than the typical green card system. Therefore a lot of the New York firms are starting to look to this pool of talent to recruit. Largely in transactional practices such as corporate and finance as well.
Lara Bullock: Tell me a little bit more about the E3 visa category.
Nathan Peart: The E3 visa is tied to an associate's employment and it's a two year visa but it can be extended and also applies to their immediate family as well regardless of their other partners' nationality and things like that.
Mikaela Orme: I think it's important to note that New Zealand citizens working and living in Australia have a slightly different process. It's not quite as easy for them to go over to New York as it is an Australian citizen. That really comes down to the fact that a New Zealand citizen isn't actually eligible for that E3 visa.
Lara Bullock: Oh, that's a shame.
Mikaela Orme: You do you need an Australian passport. In the process, you can do it, it just takes a lot longer. When somebody from New Zealand arrives in Australia, you're automatically given a special category visa which allows you to live and work here but doesn't count as permanent residency. In that case the first step is to get PR here. There's a bit of a funny process. If you have lived here for five years, well, lived and worked here for five years prior to 19th of February 2016, you can then apply for permanent residency on the 1st of July 2017. Once you've gained that PR you're eligible to apply for citizenship one year after. It's a bit of a lengthy process for someone from New Zealand but it can be done if someone's driven enough to do so.
Lara Bullock: Perfect. What's the job market sort of like in general. Obviously you mentioned there's a lack of mid level lawyers but what is sort of happening in general?
Nathan Peart: I think New York market is quite busy at the moment. Certainly our colleagues over in our New York offices have mentioned a number of firms are hiring. The transactional practices are getting busier particularly in corporate, particularly finance as well. I don't think there's too much happening on the dispute side but I think the New York market is a lot busier than certainly other markets in the world, and so from that perspective, it's always a lot faster and a lot more interesting than perhaps you might find in London or Asia.
Lara Bullock: What might attract Australian lawyers to move to New York? What's the draw cards of working there?
Nathan Peart: I think the exposure and quality of work. Very, very fast paced. Slightly high pressured working environment and I think in terms of your future career and what that can do for you, I think there's a lot of opportunity there. You'll get exposure to global clients, to globally focused work. Also a lot of firms will ask you to sit in New York Bar and having that qualification after settling down into a practice we see people return and learn great roles in in-house or going back into private practice. There's some really good opportunities in the market there.
Lara Bullock: Obviously the New York Bar exam is infamous for being extremely difficult. How hard is it exactly for Australian lawyers to go over and sit that?
Nathan Peart: Look, I think the New York Bar is ... It's hard. I think about 40 per cent of first time sitters who are foreign lawyers only pass on the first time.
Lara Bullock: Wow, that's not very good odds.
Nathan Peart: It's difficult, right? But I think when you're going into a top tier international firm in the New York market, what you'll find is, once you've joined, they'll ask you to probably do the next sitting. That's usually in February and June time, so you have time to do the preparation courses and also you get in the direct work exposure. I think it'll be interesting to see whether those pass rates increase or not but traditionally a lot of people sat in LLM but I think now there's lots of preparation courses and firm support so I don't think it's something people should be worried about. I think the credentials needed for a role in New York that the bars highly need, exceptional academics and really good strong international work experience in your previous practice.
Mikaela Orme: Also even while it's tough, on your return back to Australia is recognized how tough it was and that you reached that achievement and it looks good on your CV definitely.
Lara Bullock: Is there much difference between the legal systems to your knowledge between Australia and the US?
Nathan Peart: I don't know the intricacies of how different the systems are. I think what you'll find in a lot of globally focused transactional practices where a lot of these lawyers go, there's certainly a lot of transferability in skill set and ability. We've seen a good number of Australian lawyers make that transition over into the market there and well also I think there'll be challenges and hard work I think for somebody who's hungry and ambitious, I think is a great opportunity.
Lara Bullock: For those who are sort of successful in going over there and landing a role, what do the law firms in New York expect from their associates and lawyers?
Nathan Peart: I think the New York firms are looking for people who are ambitious, who are very driven, very hardworking, intellectually curious. Expectations are high. It's not uncommon to have billable hours, over 2000 hours annually but the compensation is very, very high indeed. A lot of firms have moved to the new New York scale which was obviously Cravath was the first firm to do that. First years now make $180,000 US plus a bonus on top, and there's a certain expectation there of the hours that you're working and the work that you will do. I think if you're naturally ambitious as a lawyer like that, that will be of interest.
Lara Bullock: Tell me what the job application process is like?
Nathan Peart: It's a very fast paced market. There's a number of roles in corporate, both M&A and private equity and banking & finance practices as well. I think what lawyers will find if you compare it to certainly domestically or parts of the London market and Asia, interviews tend to be blocked in two to three hours and they'll meet a number of partners. Occasionally you may have to go over to interview in person. It really depends on the individual and the firm but it's a great opportunity to go meet them and understand sort of what the market's like but it's certainly an exhausting trip. It's pretty much sort of a 24-hour turn around but you tend to find that it's a much quicker process. I think it's also important to note that unfortunately litigators don't tend to make much traction in the market there. Also practices such as IP and TMT, there can be difficultly translating those practices over.
Lara Bullock: Do the firms in New York provide any sort of assistance in relocating Australian lawyers over who have landed a role?
Mikaela Orme: All the firms will provide a standard relocation package. This generally includes a one way ticket for you and any dependents, excess baggage costs, you'll get shipping costs on that as well and the amount will generally vary firm to firm. You'll also get one month temporary accommodation paid for usually at a serviced department. Then as well on occasions you can get a small cash bonus just to assist with any initial costs that occur on arrival. Some firms also have international relocation teams that will help you with the organizing of all of that.
Lara Bullock: Is it the norm to sort of organize a role before you leave as opposed to just rocking up in New York and then try to find something?
Nathan Peart: Yes, for sure. I mean, I think you need to get your visa sponsorship sorted before you leave, that's really important and I think, I know in the UK, a lot of people sometimes went on the youth mobility visa which was only a two year visa but I think this is slightly different. You really need to be organized before making that commitment to move and really think through if it's something that's right for you.
I think it'd be interesting to see whether the other markets in the US open up. Markets such as Texas, California, I haven't seen many examples of that happening yet. But it'll certainly be interesting to see if those markets develop an appetite for Australian qualified lawyers as well. I hear you can get a lot of house for your money in Texas. It's very nice.
Lara Bullock: Is there a difference between sort of what firms are more likely to employ lawyers? Is it just the globals or can you try for a local firm as well?
Nathan Peart: The law firms who tend to hire Australian qualified associates do tend to have a global footprint. I think any sort of boutiques, smaller operations are probably not going to be as open to that talent pool. You're really looking at about 10 firms who have international offices, who do a lot of global work and who have the capacity and facility to help people relocate abroad.
Lara Bullock: Okay, wonderful. It seems like a really fascinating market to work in for anyone who's up for the challenge. Thank you so much for coming in today Nathan and Mikaela.
Nathan Peart: No worries, thanks for your time.
Mikaela Orme: Thanks Lara.
Lara Bullock: Wonderful. I am Lara Bullock and thanks for listening to the Lawyers Weekly Show.