Magistrate divulges nights spent 'sleepless' and 'panicked'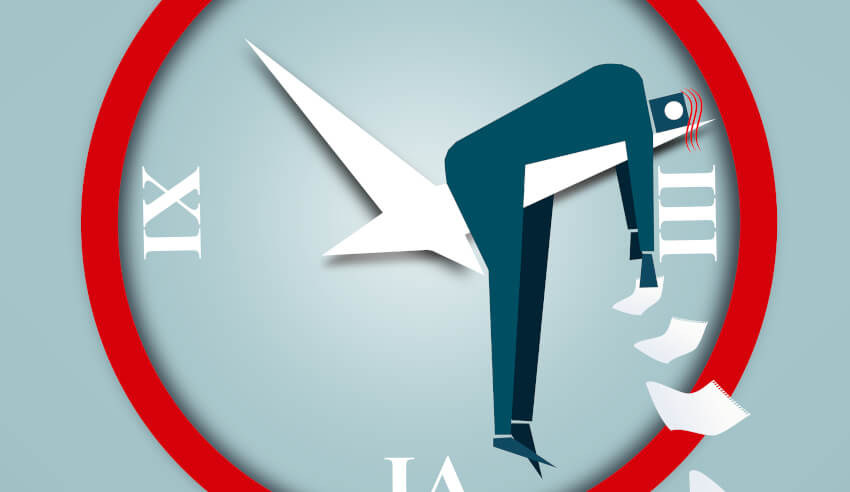 A magistrate of almost 18 years has offered his honest take on the stressors faced by those on the bench, in a bid to "lift the veil" on the extent and incidence of vicarious trauma in the legal profession.
David Heilpern is a committed meditator and yoga practitioner. More than a decade ago the NSW magistrate took lay Buddhist vows; and he also abstains from alcohol.
Speaking to an audience in Sydney for the 2017 Tristan Jepson Memorial Foundation lecture, Heilpern made the point that nobody was immune to a mental health crisis. Although, he has no desire to become "some sort of poster boy for vicarious trauma or PTSD and the judiciary", the magistrate who works hard to maintain balance and perspective in life, said he could not remain silent on the issue.
In a paper released to coincide with his address, Magistrate Heilpern shared moments of his own personal fragility to encourage discussion about better ways to serve people who worked in the law.  
He noted a time about 12 years ago when hearing a series of matters that concerned child pornography saw him struggling to cope. Dealing with more than dozen cases in the space of a matter of months, the magistrate said that the torment and abuse of the young victims would haunt him in his sleep.
"I would wake up in the witching hour screaming, sweating and panicked," Heilpern said.
"I thought it would pass, but it did not. I was pretty scared about going to sleep, and that fear was well-placed."
After a number of weeks thrashing in bed and unable to rest, he sought treatment from a trauma specialist and began talk therapy to help ease his mental burden.
The Chief Magistrate was informed of Heilpern's struggles and he obtained permission to avoid deciding such matters for some time.
"The relief from the nightmares was immediate and dramatic. 'Cured!' I thought."
Heilpern said the professional assistance was facilitated by a state program that still operates today. At the time, the program was newly implemented with the view to providing judicial officers in NSW confidential psychological counseling.  
Some 10 years later and not long after the birth of Heilpern's grandchildren, another especially emotional case weighed on Heilpern's mental health. That particular child sexual assault case was described by the judge at sentencing as "worst of the worst", and deeply affected Heilpern at a time in life when he had what he called a 'heart opened state'.  
"The judge sentenced the father to 48 years imprisonment, and the mother to 12 which is probably all I need to say about the horrors that were perpetrated on this poor child," Heilpern said.
"I had to deal with bail applications, contested interim apprehended violence orders, committal hearings and subpoena issues all of which required reading and making determinations on the evidence."
At this time, Heilpern said he was waking up to his own screams, ruminating on the atrocities of crimes committed against children and the accumulating stress of other serious events at work.
Making decisions in court had become physically painful, the magistrate said, and a good night's sleep had become a distant memory.
"During this period the Ice problem was escalating in my area, and there were four violent incidents inside the court, including a young addicted man who jumped out of the dock, fought his way out of the courtroom and jumped over the balcony at the front, breaking his spine.
"I dealt with two juveniles from the far west of NSW who, having been bailed, that very night held a toddler at knife point while they raped his mother, a nurse.
"And I dealt with another horrible case of child pornography where I had to watch a video which involved binding, gagging, suspending upside down and violating a conscious two year old," Heilpern said.
"That week, a friend died in a freak surfing accident and at the funeral I was very messy.
"I was very nervous for my own and my family's safety. I now see this as hyper-vigilance," he said.
The characterisation of his state of empathy (which the magistrate added was a key determinate of vicarious trauma) as 'heart opened' recognised that he was especially susceptible to vicarious trauma at that time.
"I now know that empathy is not a static – it fluctuates with time. I think I was particularly empathetic at that time," Heilpern said.
After three months of resisting the advice of friends and family to take some time off, Heilpern said that he eventually acquiesced at the insistence of his GP. He said that he wrote what was "the hardest letter I have written in my life" to the Deputy Chief Magistrate responsible for leave, and spilt the beans on his state of mind.
A two-week Buddhist retreat at Chenrezig on the Sunshine Coast then followed and, with progressive improvement, Heilpern said he looked to engage in talk-based therapy, medication and Eye Movement Desensitisation Reprocessing (EMDR).
"After probably three months of bleakness I took the 'advice' of my GP and took a couple of weeks off," Heilpern said.
"I do not wish to be proscriptive on treatment, as I'm sure different processes work for different people," he added.
The magistrate said he viewed his ability to cope with traumatic cases with a mixture of confidence and trepidation.  Before joining the bench, a career in criminal law and academic had made him confident in being able to keep a "pretty good distance" between work and his personal life.
"I now view my mind as a big sponge when dealing with traumatic cases. It sucks up some of that trauma vicariously, and I am watchful to ensure that the sponge does not get too full.
"I would not hesitate to seek help should the sponge feel close to full, and I am certainly better placed to watch for the signs given my experience," Heilpern said.
But as like everyone else, Heilpern added that judicial officers were not immune to anxiety, panic attacks, insomnia, traumatic response, depression, or post-traumatic stress disorder (PTSD). Part of what he hoped to convey to the audience was that decision-makers in the justice system are human too. Judges did not simply "spring from the womb to the bench", he said.
"There is a veil based on assumptions regarding judicial officers. The sooner that veil is lifted, the sooner judicial officers can admit to difficulties, access help and better serve the community," he said.