Report sheds light on LGBTQI inclusion in law firms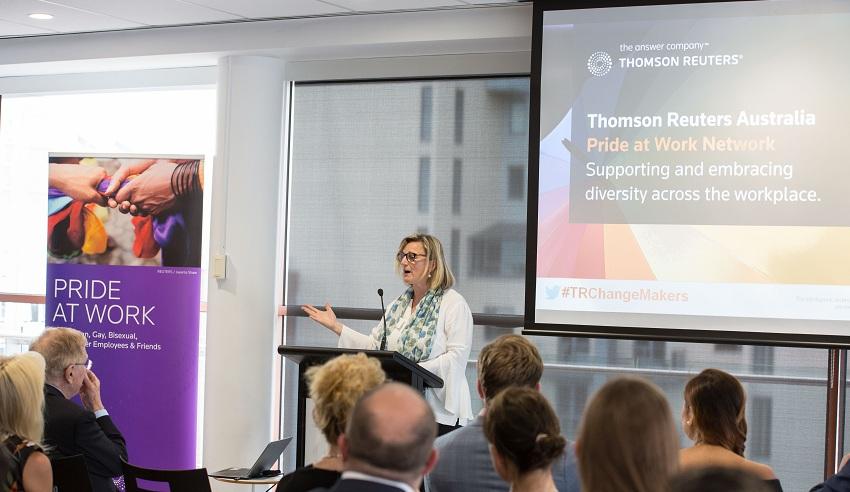 A recent report has revealed the varying perceptions on LGBTQI diversity and inclusion in the Australian legal profession.
The Lawyers Weekly LGBTQI Survey, conducted in partnership with Thomson Reuters, collected the views of legal professionals around the country on LGBTQI diversity and inclusion.
The results were revealed at the Beyond Tokenism event, held at Thomson Reuters' Sydney office on 29 November. Retired High Court justice Michael Kirby AC CMG and Thomson Reuters Legal Australia and New Zealand managing director Jackie Rhodes (pictured) both gave addresses questioning whether diversity and inclusion in law firms truly went 'beyond tokenism'.
The survey, conducted in October, attracted 653 responses. The majority of these were from private practice lawyers, but in-house counsel, barristers and government lawyers also responded.
Twenty-three per cent of respondents were identified as LGBTQI. Forty-nine per cent were identified as female, 47 per cent as male, and 4 per cent did not specify a gender.
The survey produced some interesting findings, painting a picture of a profession that has made great strides in LGBTQI diversity and inclusion but in many areas still has a long way to go.
Surveyed legal professionals were more likely to express a positive assessment of their own firm's approach to inclusivity than of the legal profession as a whole. While just over half believed that their organisation was doing enough to promote inclusion, two-thirds believed the profession should be doing more.
Less than half believed the profession's approach to LGBTQI inclusion went beyond tokenism.
Ms Rhodes said the difference in responses from LGBTQI and non-LGBTQI respondents showed how personal experience can be a barrier to understanding discrimination.
"Seventy per cent of LGBTQI survey participants said organisations should be doing more to improve inclusion in the workplace, compared to 37 per cent of their non-LGBTQI counterparts," she said.
"This reflects room for improvement. We need to wear the lens of a minority group to truly evaluate whether our workplaces go beyond tokenism in embracing diversity."
Perhaps unsurprisingly, survey respondents who identified as LGBTQI had witnessed or experienced discriminatory or offensive behaviour significantly more regularly than non-LGBTQI respondents.
While 36 per cent of LGBTQI respondents had rarely or never experienced such behaviour, 43 per cent said it occurred sometimes and 21 per cent indicated that it happened often or very often.
In contrast, 63 per cent of non-LGBTQI respondents said they had rarely or never personally witnessed anti-LGBTQI behaviour or speech.
The majority of respondents indicated that there is no single organisational level that should be responsible for addressing discriminatory behaviour. 
Most respondents said the responsibility lies with senior management, immediate managers, immediate peers and colleagues, and/or HR.
Meanwhile, 11 per cent used a comment box to provide an 'other' suggestion, overwhelmingly expressing the notion that it is up to anyone who witnesses discrimination to make it clear that it is unacceptable.
The Beyond Tokenism event was run by Thomson Reuters Legal and Pride at Work, the company's LGBTQI network.
Pictured top: Jackie Rhodes addresses the audience at the Beyond Tokenism event in Sydney.