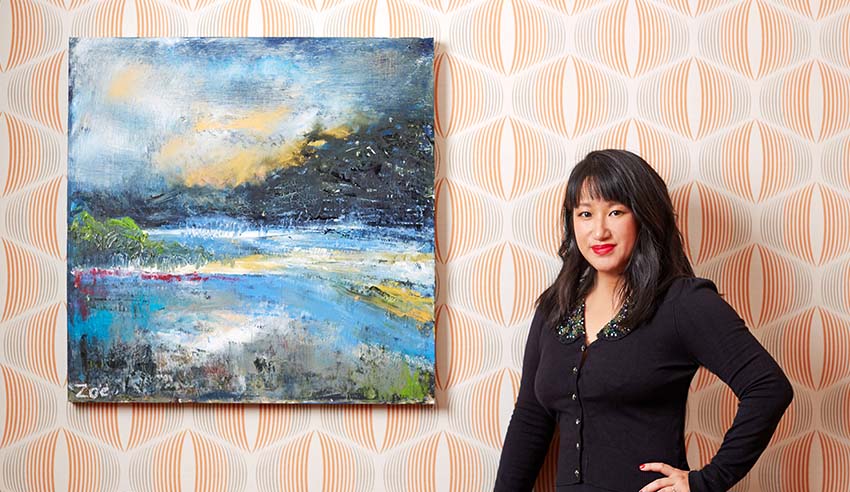 Picasso said "All children are born artists, the problem is to remain an artist as we grow up", writes Zoë Durand.
In my case I did not remain one, but I did find the pathway back to art. As a child and teenager I loved to paint. Somewhere along the way after graduating high school I lost my link to art. Or rather, it lay dormant in the undergrowth.
How I found my way back to art as a junior lawyer
Early in my career as a lawyer I was working in an international commercial law firm. I had a nice boss, great offices with harbour views, my own apartment and a stable boyfriend and well, nothing was "wrong" as such. But I felt restless.
I sensed a nudge one Easter long weekend. A tug toward painting again, after a decade without it.
The feeling was so quiet at first, I could have missed it. But there was magic here too. My skin tingled. That weekend I created three paintings before the "don't be silly you can't paint anymore" voice could get the better of me.
It was as if no time had passed, like catching up with a good friend you have not seen in years and chatting for hours. I was back inside my childhood, painting after school. Existing outside time, in a complete state of flow.
Fast forward several years and I have continued to work as a lawyer and mediator. Shortly after painting, I moved to family law and have worked in both private practice and legal aid as a court-appointed Independent Children's Lawyer and also released a book, Inside Family Law.
At the same time I have continued a parallel life painting. My art journey has led me to some unexpected places. I have exhibited in Sydney, Melbourne, London, New York, Scotland, the Louvre in Paris and recently throughout 13 cities in China. I have also collaborated with fashion designers to create a capsule collection of textiles based on my art. I certainly did not know how this would unfold that Easter long weekend.
Art and law as enjoyable opposites
In so many ways art and law seem polar opposites. Law is regarded as rooted in logic and rationality and art speaks in metaphor, symbolism and intuition. Often law involves minimising risk, whereas art revels in taking risks.
Law is traditionally quantified in six-minute billable units, but painting takes you outside time. Law may involve deconstructing an event, whereas art is construction. Law is often tied to analysing what is. But art exists in the realm of what could be, what does not yet exist.
Yet to me art and law have been the perfect yin and yang in my life, with each one being the pressure valve for the other.
Firstly something funny happened when I started painting. I enjoyed my work as a lawyer so much more. Somehow moving between law and art meant each one always felt renewed and "fresh".
This only increased when I changed the direction of my career to family law, which I had been fascinated with since I was a child (including that at age 10, I wrote an assignment on family law with apt titles such as "too many cooks spoil the broth" on bigamy and "what's mine is mine and what's yours is mine" with regards to property matters).
Who knows, perhaps painting gave me the courage to pursue my passion for family law and take the risk of changing the direction of my career?
Likewise law provided a stable income, which freed my art from money worries. I could pursue whatever artistic ideas I wanted without focusing on popularity or sales.
And I realised art and law actually are not so different as I came to use creative thinking more in my legal work. I see images in my dreams, or sometimes I am shown a whole room of paintings and upon waking I then create these works in real life (over the next few months).
Likewise, I started to get more ideas for matters, saw unexpected links, or had intuitive insights into what the other party might likely do next from my dreams. My 2am bedside creative notebook was full of not just art, but law ideas. I felt more alive and inspired in all areas of life and work.
Painting opened a (wonderful) Pandora's Box. It turns on a switch in your thinking that cannot be reversed. I had more ideas for innovation in family law, including creating Inside Family Law. I was able to bring more "art" thinking – seeing what could be – to law. Working in both law and art made me feel I was more fully living out who I was and embodying different parts of myself.
Bringing art and law together in The Wanderer
Until about the last year I tried to keep these universes separate. In all honestly, for a long time I felt embarrassed by that mean inner voice (we all have one lurking in the shadows) that said "all your colleagues will think you are a weirdo for painting."
However I have recently decided it is much more whole and free to simply be open about these two worlds that I love: art and law.
In my upcoming art exhibition, The Wanderer (running from 4 August to 11 November at the Arthouse Hotel, opening 12 August at 6pm), I am donating part of the proceeds to Youth Law Australia (where I used to work), Justice Connect and Minds Count.
Very kindly, law firms Condon Legal, Dorter Family Lawyers, Evans & Elliot Lawyers and Farrar Gesini Dunn are supporting the show (which now makes me wonder why I thought colleagues would judge me negatively for painting?)
You see, it struck me recently that collectively there is a tonne of art in law firms. I thought, what if we could change the way law firms consume art for the better? What if part of the proceeds of all that art purchased for law firm foyers and offices went back to support access to justice? To me there is a really beautiful, big-hearted logic to this idea. What if we could create a generous link between law firms and the not-for-profit law sector through art? Hopefully this will only be the first iteration of law firm art for access to justice ... watch this space for more.
Which brings me to the last (major) benefit to being a co-careerist: it allows you to see interdisciplinary connections, unexpected things in the spaces between the two worlds you inhabit.
Become who you are
The thing is though, just because this whole co-careerist thing has worked for me, it may not be for you. The reality is (excuse me for cutting to the chase) most of us are searching for purpose, meaningful work, to feel alive, a bit of money, love and human connection. In pursuing all of this, there is no magic one-size-fits-all formula. But whatever it is you want to do with your career and life, you can forge your own path and find the courage to live a life that belongs to you.
Sometimes as lawyers we place such limited confines in who we allow ourselves to be, and it need not be this way. As Jung says "become who you are". Live out that constant state of becoming who you truly are underneath.
Zoë Durand is an artist, family lawyer and mediator