Goodbye job applications, hello dream career
Seize control of your career and design the future you deserve with
In-house in for exciting future, says young gun
The increasing levels of trust, responsibility and investment corporations are placing into their in-house teams is creating an enviable environment to work in, according to an award-winning lawyer.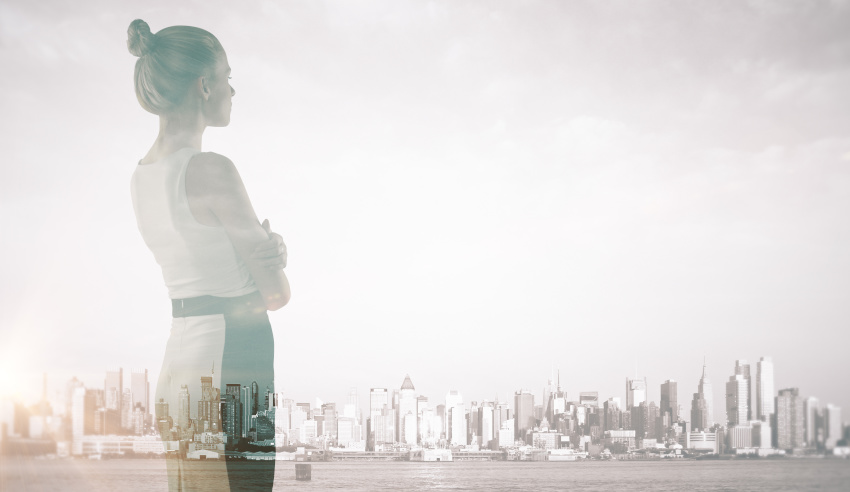 Lena Chapple, a winner at the recent Women in Law Awards 2018, says she is "lucky" to work in a highly respected profession, where "lawyers are recognised as good learners, thinkers and doers".
You're out of free articles for this month
To continue reading the rest of this article, please log in.
Create free account to get unlimited news articles and more!
The Young Gun of the Year took out a hotly-contested category that was open to both private practice lawyers and in-house entrants.
Displaying clear insight, enjoyment and dedication to her day-to-day work, the Thales Australia corporate legal counsel has nothing but positive things to say about the in-house space.
First of all, congratulations on being named Young Gun of the Year! How does it feel?
It was an absolutely wonderful surprise. The women in this year's Young Gun category are doing incredible work and are having a true impact on a range of causes. They are a perfect representation of the modern day legal professional, with equal success in their efforts in philanthropy and innovation as they have achieved in their roles in their firms and organisations.
They are the new age lawyers; marked by diverse thinking, seeking and achieving more in their careers and communities than any generation before. It is a privilege to be a part of this disruptive generation of legal professionals; to make it into the Young Gun finalists' category in their ranks and to be recognised for my part in pursuing excellence and change means the world to me and my family. I feel like I could do just about anything right now.
What does your job look like on a day-to-day basis?
One benefit of in-house is that my job looks different every single day. Thales is an international company, with over 65,000 employees globally, more than 3,600 of those in Australia, many major projects that are critical to the defence, aerospace and space, security, and transport markets, a growing presence in digital security and big data, we are one of the world's biggest innovators and investors in R&D, and from Australia we export all throughout the world.
VIEW ALL
As a member of the corporate legal team, my job covers all aspects of this incredibly cutting-edge business. From IP, to policy, contracts, major projects, M&A, employment and WH&S, strategy, real estate, dispute resolution and commercial management. This is a big challenge, and we have a presence of 30 L&C members in Australia to tackle it.
A lot happens and changes between 9-to-6 on a workday; to manage this I generally spend an hour before arriving at the office reviewing the overnight email traffic, setting priorities and managing my calendar for the day. This means when I get into the office, I know what needs to be done and have a clear plan – although you know what they say about best-laid plans.
A typical day will then be meetings, negotiations, research and writing (whether it be contracts, submissions, reports or strategies). I have a fantastic team, so the day always involves an element of collaboration or brainstorming with them, from my fellow L&C team, to our engineers, security experts, project managers, through to communications, strategy and technology professionals. Working with all of the different stakeholders and learning a bit more about them and the work we are doing is one of the best parts.
What do you like about the in-house space?
Corporations are putting increasing levels of trust, responsibility and investment into their in-house counsel. We are lucky that our profession is highly respected and lawyers are recognised as good learners, thinkers and doers. In the in-house space you get fantastic opportunities to be involved in decision making, problem solving and idea creation. With the right attitude and aptitude there is no limit to the roles lawyers can take on in the corporate and commercial world.
I love being close to the coalface, and being in-house delivers this in a highly diverse way. Each day will bring a new challenge, in a new area of law, business, engineering, technology, policy, people or finance that you have to adapt to. As in-house counsel, you are at the core of the strategic, commercial and social responsibility facets of the business, and will be involved in making key decisions, and resolving challenging issues. You will need to work with a multitude of stakeholders, understand a diverse range of views, be present with the market and new ways of thinking and working, understand your business, customers, competition, be prepared to tackle risks others will hesitate to recognise, and all while also maintaining and developing your legal skills. As an in-house counsel, you cannot succeed unless you are more than just a lawyer, and I love that. I love that each day brings something different, and new relationships in and outside of my organisation.
Lastly, being in-house presents an opportunity to contribute to the business you are a part of, and being part of disruption and innovation is awesome.
The pace of change can be felt more in-house than in private practice; in-house you must sink or swim, learning, moving and looking forward are crucial to meeting the challenges and demands of the corporation you work with, and in turn that corporation meeting the demands of its industry and society.
What is your experience of being a "young lawyer" in the in-house space?
Challenging, exciting and fulfilling. I love being in the in-house space; though my experience has been that a great team is essential to this positive experience. You have so much to learn in-house about the way the business works, its goods, services, industry, policies, and so on, a supportive and talented team is crucial to helping you navigate the steep learning curve.
I have also experienced that 'young' does not have to be an impediment in-house, if you give every task, every relationship and every opportunity 100 per cent of your effort. This can be hard with so many competing demands, but earning the trust and respect of your colleagues across all facets of the business is essential. You have to make their problems your problems, make their projects your projects, their passions your passions. In-house, you have to go for the whole ride with your team, and it will mean the world to them.
You must there for your team, be someone to rely on, be someone whose advice can be trusted, and contribute to the businesses story. When you embrace and work towards that, that you are 'young' disappears from people's minds. It will make the world of difference to your experience of your role too. Because in-house is challenging, you have to make decisions you rarely face as a young lawyer in private practice; there are often high stakes where your advice is relied on heavily, and there are far more considerations for every transaction or issue you deal with than you come across in a firm. This landscape cannot be navigated successfully, or sanely, unless you have a team that collaborates, supports you, shares information, guides you and trusts you.
In your opinion, is going in-house an increasingly popular career path for young lawyers?
Absolutely. I think for a long time the perception around going in-house was not all positive, and even today you may get remarks about it being the 'easier' path. People who think that evidently have not experienced the modern in-house role. In-house functions are becoming more and more sophisticated, full service, and the value of legal counsel in corporations is now well-recognised.
Today's law graduates stand in stark contrast to those of 20 years ago, in particular in terms of priorities, loyalties and ways of working. This cohort of young lawyers wants fast-paced, diverse work, they want to be able to balance work and life, and they want to have an impact on the world around them. I believe in-house can offer this more than private practice can.
I also think young lawyers are cognisant that technology will disrupt law firms and private practice roles significantly over the next decade, in particular AI and automation. Many will see in-house, and diversification of their role in a company, as a way to weather this change.
How do you hope to see your career progress?
I hope to see my in-house role continually change and grow. 2019 goals include upskilling on digital transformation and joining the in-house pro bono movement. You can feel the pace of change all around you in the in-house sector, and I find that so exciting. There are great opportunities to help shape our companies and ways of working at this time, and I want my career to always be at the coal-face of transformation.
Ms Chapple previously told Lawyers Weekly's Corporate Counsel about the unique challenges facing in-house lawyers for 2019.