Goodbye job applications, hello dream career
Seize control of your career and design the future you deserve with
Running an ultra-marathon while juggling life
One of my recent personal adventures was to train and run a 50-kilometre trail race. While the race itself was the big event, it was the five months of training beforehand that was the real work life personal juggle, writes general counsel Catriona McGregor.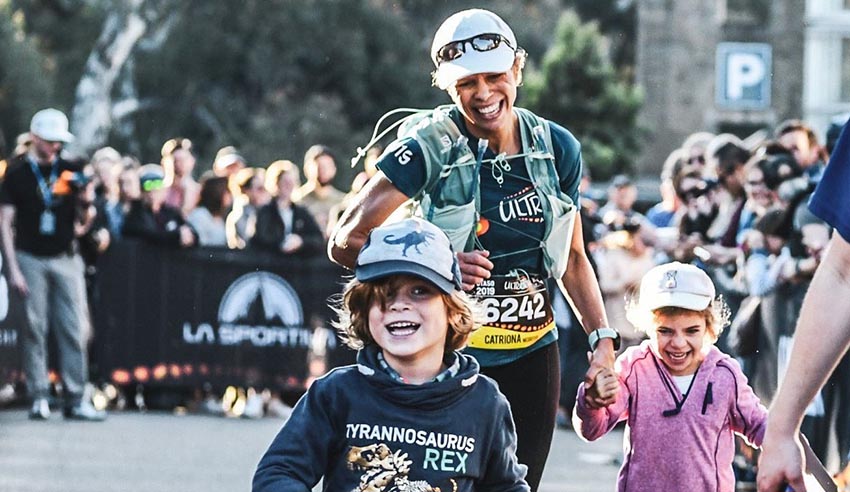 I am no exceptional runner. You will usually find me at the middle to the back of the pack, but I love running and I love the sense of achievement that running gives me. It's also something that's 'mine' outside of work and family.
You're out of free articles for this month
To continue reading the rest of this article, please log in.
Create free account to get unlimited news articles and more!
After a really exciting but busy first year in a new role as general counsel at Domain, I wanted to focus on a personal challenge for 2019. I set myself a goal to run the Ultra Trail Australia 50-kilometre race in the Blue Mountains (UTA50). It was such a lofty goal for me that I was actually terrified at first to even say it out loud and tell people I was aiming to do it. The fact that it was such a completely outrageous goal actually helped overcome some of the fear of failure and let me just focus on how on earth I might try to achieve it.
As a corporate M&A lawyer by background, I have always thrived on the process and planning of corporate deals. So, when I started to think about running the UTA50, it's not surprising that I applied all my deal experience and planning skills into my UTA50 Project. Here's a little about my UTA50 challenge.
Building a team and a support network. I knew I would struggle mentally with the size of the task ahead if I tried to do it solo. So I trained with a local running club and I got those around me on board with the commitment I was making. The support from my husband, my kids, my friends and my team members at Domain made all the difference. I think this is important for any big goal whether it's a career move, a role change, doing a masters or anything that requires a big commitment. Although they are often counted as personal achievements, they are rarely a solo journey. I think it's important to recognise the need for support and be willing to ask for it and accept it.
The life juggle. Like most people, I live the everyday time-complexity of giving my all to a job and career that I love, focusing on my young family, spending some quality time with my husband and squeezing in a bit of personal time for myself. It's a real challenge to make it all somehow balance – or at least fit it all in even if it's not that balanced.
I didn't manage to create any more hours in the day (now, that would have been nice!) but I carefully planned the time that I had available to me to ensure that I could make all the training fit with my other commitments. I also held tight to some very specific times that were dedicated to training (e.g. every Tuesday night was running club and every Sunday morning was a long-run). The rest of the training had to somehow fit in.
Flexibility. We often hear about supportive and flexible workplaces. Domain is genuinely a company that encourages people to pursue their passions. One of our company values is "Have Adventures" and I genuinely felt that my colleagues were interested in and supportive of this crazy adventure that I was pursuing. I fully lived and breathed our Company ethos of flexibility when I was training for the event; from dashing out the door at 5pm every Tuesday night to make my running club or coming in at 10am because I had been to (yet another!) physio appointment. I was supported by both my team and my peers on the leadership team to operate working hours that suited me while still absolutely getting the job done. I have found that when people are encouraged to bring their whole selves to work it makes for a much more interesting workplace.
Planning and checklists. I signed myself up to a good training plan that divided the mammoth training task ahead of me into bite sized weekly chunks that I could just about mentally cope with. Most lawyers love a checklist and I am no exception. As the race approached, I created checklist after checklist and ticked things off with great exuberance and satisfaction. If I could colour code it and add a post-it note, I was even happier: race clothes, mandatory gear, accommodation, transport, nutrition, foam-rolling, the lists went on and on.
VIEW ALL
Leap Grow Repeat. Whether in a business or personal context, it can be daunting to try something new or to aim for something really big. However, so much more can be achieved if you dare to just take the leap. Another one of our company values is "Leap Grow Repeat". I was encouraged by this mindset when I took the decision to sign up to the UTA50, not really sure whether I could actually do it but keen to give it my best shot.
As with any big project, there were definitely a few bumps along the way that tested my resilience – mentally, physically (and occasionally, financially). A niggling pain in my ankle that just wouldn't go away, an old knee injury that came back to haunt me in my final month of training, a 30-kilometre practice race that really knocked my confidence and the biggest financial disaster, lost car keys on a training run in the Blue Mountains which resulted in a tow truck back to Sydney (an expensive mistake that I try not to reflect on too much!).
Training for the UTA has undoubtedly made me fitter and healthier physically but far more than that, it has mentally challenged me; to be disciplined, to stay focused; to cope with the enormity of the task without getting overwhelmed and to maintain a positive outlook when it is not all going to plan. I am so excited that I took the leap to do it and I have most certainly grown in the process. Repeat next year? I may need a few months to recover before making a decision on that!
Appreciating the view.  The UTA50 route has some of the most spectacular scenery from cliff tops to valley floors, views of the Three Sisters, amazing waterfalls and the Leura Forest. It was quite simply breathtaking. When the hills got steep and my legs got tired, I reminded myself to look up, enjoy the view and remember my goal and my reasons for doing it. This was something that I also had to remind myself to do from time to time in my first year as general counsel at Domain. I was in an amazing role working for a company that I was super passionate about but I had the huge challenge of building up a new legal team for a newly listed company and keep the plates spinning on the day to day legal work. Sometimes, I needed that reminder to just look up from the workload, take in the view and enjoy the moment.
I did it! All the planning and training paid off and my body held up pretty well. I was able to maintain positive headspace throughout the whole race and I really did love it. Even the final section up the 951 Furber Steps to the finish line, I was still able to crack a smile although it was a slightly manic smile by then. The finish line was an absolute buzz with people cheering and encouraging all the runners. My husband and kids were there in the crowd and I was able to grab my kids' hands and run the last section with them across the finish line. I felt so tremendously proud – and I completed it in 8 hours 16 minutes, thankfully still in daylight.
Pause and celebrate the success. One of the things that I learned as a corporate M&A lawyer and more recently as a team leader is to celebrate success – to really stop and acknowledge the achievement, to give myself a pat on the back, to send out a thank you note to recognise the value and contribution of everyone involved and high five the deal team who have worked the late nights with me. This was equally important to me after completing the UTA50. I had so many people to thank for their support along the way. It was certainly not a solo achievement.
I have also learned the importance of taking some time to rest at the end of big projects and not just jump straight into the next thing. Corporate lawyers are known for being addicted to deals and I have definitely learned the hard way during my career that I need peaks and troughs in my work life or I end up getting run down. Notwithstanding that I felt pretty great after the UTA50 (relatively speaking!), my body had clearly gone through a lot and I came down with a flu bug the following week. This was a solid reminder that even though I occasionally like to think I am invincible and can do it all, I am definitely not and I can't operate at full throttle 100 per cent of the time. Whether it's running an ultra-marathon or doing a marathon number of work projects, it's really important to learn when to slow down from time to time.
Take the leap. Finally, if you are considering setting yourself a big scary goal, I would say just go for it, take the leap; respect the scale of what you are taking on, break it down, plan for it, get a team and support network on board, take the bumps as they come and remember to look up and enjoy the view. In life, and in your career, it's important to find your passion, set yourself some goals and have adventures along the way. I never knew that I could run an ultra-marathon until I gave it a go – but I did it!
Catriona McGregor is the group general counsel and company secretary of the Domain Group.
Note: The UTA 50 is a 50 Kilometres run covering 2400m elevation and 8000 steps. Catriona McGregor's finish time was eight hours and 16 minutes.