Goodbye job applications, hello dream career
Seize control of your career and design the future you deserve with
Debriefing about in-house life is fundamentally important
For three Sydney-based in-house lawyers, being able to come home and discuss the niche issues that confront legal counsel is fundamental for personal and professional wellbeing.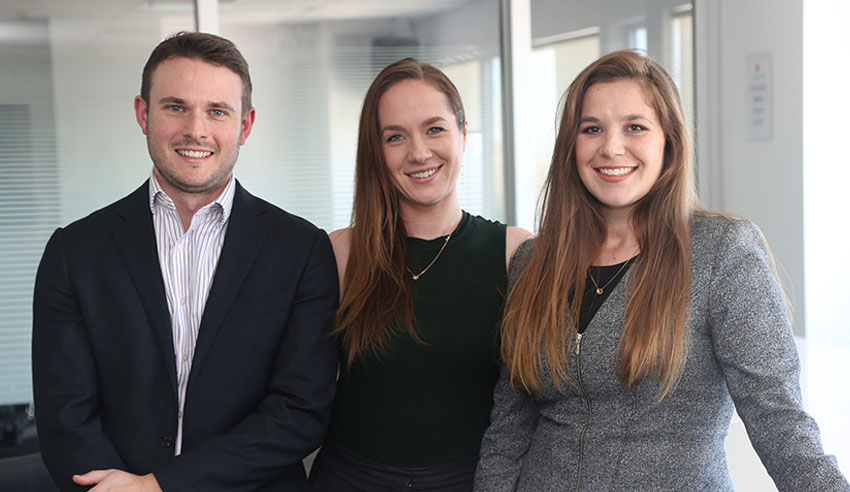 Speaking recently on The Corporate Counsel Show, Thales Group legal counsel Lena Chapple, Stockland legal counsel Eva Chapple and TabCorp senior corporate lawyer Ashley Kerr explained how by virtue of living together in Wollstonecraft, Sydney they are afforded a unique opportunity to debrief about work issues with confidants who can properly understand and appreciate the rigours of in-house life.
You're out of free articles for this month
To continue reading the rest of this article, please log in.
Create free account to get unlimited news articles and more!
As Eva put it, it is "really comforting to know that you have that resource and support to come home to".
"Being able to live with someone and obviously be so closely related to someone who just really understands if you come home and you've had a really difficult day. That's clear when you come home, they very instinctually know what you might actually be going through. And having that there, I think is really special," she reflected.
Eva's fiancé, Mr Kerr, agreed that it is important to have such an outlet.
"We're obviously quite lucky in the sense that you can be in a relationship with someone, whether it's just a housemate or an actual personal relationship, and they may have absolutely no understanding of what you're doing, what you're going through. And, when you come back either not that late in the day or 2:00am in the morning, it can be hard to explain to them why you're so tired, why you're a bit disengaged," he said.
"Not having to always have that conversation allows us to really rest when we get that opportunity. And I have been in the other situation where people don't quite get it and understand it. And it's difficult because if you were to say to someone what it's like working in the legal profession and they've never walked into an office, it's very difficult to do so."
Lena, Eva's sister, said that – while they're able to discuss work issues with each other – the three do well at avoiding actual work once they come through the door.
"There is always that discussion and that availability there when there are those high stress moments or high celebration moments. Our timetables are generally aligned, except that no matter what, we'll all have a week where there'll be those late periods of work. Ash will try and throw in soccer every two days after work to try and add in the sports. But there's always the weekends when we're together. Generally, we'll have our evenings together and so there is that time to download," she said.
VIEW ALL
"Certainly, I'd say three days of the week, there's someone who's back in the office until late, until you're asleep or they're in the corner on their computer and we'd all be respectfully quiet."
For the trio, it is also beneficial to utilise tech and social media for such debriefing.
"We also have our Facebook Group Messenger that we've set up and we talk to each other on that during the day as well. So, I do feel like we're actually in constant communication when I think about it," Eva said.
This helps ensure regular communication, Mr Kerr said, because "it is quite rare" that all of them will be home at the same time.
"But we each have a very different, I think, approach to dealing with problems. And when we do have an issue that comes up at work, it actually can be really beneficial to talk to the person who happens to be there at the time, which most certainly won't be everyone, or necessarily the person you expected to talk to," he said.
"But they'll offer a third perspective that often will really help. I think each of us can say that, that we've had bad days and come home and there might have only been one person around, but that half-hour conversation just totally changed our outlook."
It is not always possible to discuss the specifics, Eva noted, but those who understand the in-house environment will know the right thing to say, she said.
"If you come home and you think in your mind, 'That clause that I was working on today, I just don't know if where I got to in that clause is where I wanted to get to and if I feel comfortable with that', and it's stressing me and it's playing on my mind, I can come home and talk to Ash or Lena and just be like, 'This is just keeping me up all night'," she said.
"And they'll kind of give you perspective and turn around and go, 'Okay, well what will the consequences be? What would the loss or the damage be or whatever might flow from it?' And you kind of sit there and you go, 'Oh, well nothing actually'. And that just kind of makes you take a step back and go, 'Thank you for that kind of perspective on that'. That's one of the real benefits that I see in it."
Ultimately, as Lena puts it, "what we have with each other and what it gives us is a really good example of why it's so important to have a squad in law".
"Someone or a group of people that you can genuinely go to to talk about the types of pressures and the types of questions that you come across in your work life that you can't get anywhere else," she said.