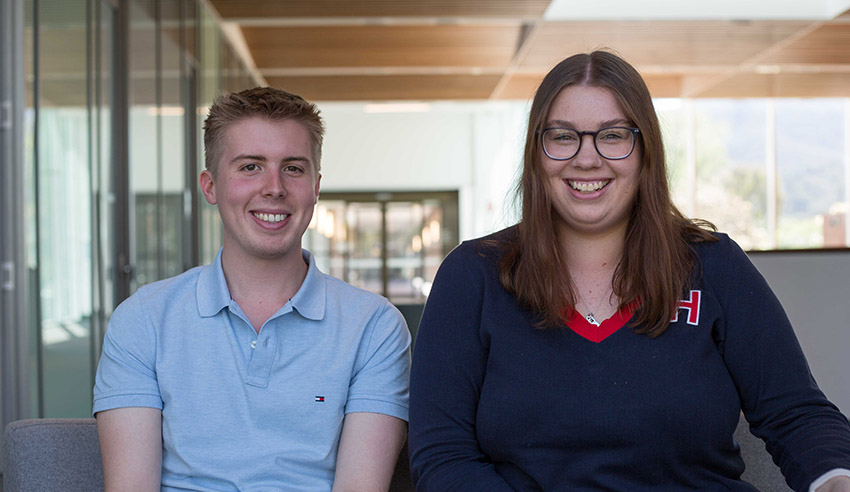 A team of remarkable law students has designed an Australian-first Crisis Simulation Summit to shape the future of national security. As the summit begins to form, Lawyers Weekly spoke to its co-directors about what to expect, how their law degrees will shape a career outside of an office and the opportunities students can secure now.
Alexandria Smith and Timothy Hobbs, the Australian Crisis Simulation Summit (ACSS) co-directors, are fifth and final year Australian National University (ANU) students. They are about to graduate with Bachelor of Laws (Hons.) and Bachelor of International Security Studies, and then will go on to pursue careers in national security.
The two have always been inspired "by the use of law" and have used their time during studies to expand on their knowledge and experiences – the ACSS being one of many. Their passion in law has already seen them cross countries and practices.
"What has excited me most about the study and practice of law is the marriage of the theoretical concepts and practical applications," Mr Hobbs told Lawyers Weekly. "I find engaging with complexity of legal doctrine, whilst trying to achieve a workable solution to a problem an intellectually challenging and rewarding endeavour."
Ms Smith mirrored this, adding that for her, "law is a field that by studying and working in, I can explore the principles, standards and procedures that are required to effect a change when I feel injustice has occurred in the community or an international sphere."
A future in law: Far from the typical legal office
Post-university, Mr Hobbs said he hopes to study a masters overseas and then secure a position where he can play a greater role in the "continued success" of Australia. He said he has always had a strong sense of justice, an interest in governance and desire to understand the complexities and differences between legal systems.
"I find it fascinating how the law can pervade almost every aspect of human life," said Mr Hobbs. "Studying law seemed like a logical step after school because learning the subject matter and acquiring legal skills would allow me to pursue my interests in my career. I liked how studying law would give me a range of career options."
Ms Smith said she has always been inspired by the use of law for changing and shifting societal boundaries. She traced it back to a year 10 school trip to the Downing Centre Local and District Courts in Sydney, which was "the first time I truly saw the adversarial nature of law in action" and was drawn to its sociopolitical aspects.
During her studies, Ms Smith said there are two areas of law that interested her most: national security law and Indigenous law. Her interest in the latter led to an internship with the Kimberley Community Legal Services and completing a university course that focuses on the legal complexities and cross-cultural interests.
National security is the intersection of Ms Smith's two degrees. With concepts and the nature of international and domestic security focus continually shifting, Ms Smith said it leads to "challenges of appropriate and effective legal responses" by institutions that form a foundation for Australia's belief their national security interests are considered.
"I hope to be in a position where my legal knowledge can be translated into policy that positively affects the lives of Australians," Ms Smith said.
She hopes to undertake a masters of national security policy and complete her GDLP at the ANU, then use this for a career in law and national security: "I believe working in legal policy to produce the government and private sector frameworks for guarding Australia's legal standards and security interests will be the most rewarding career."
Opportunities as a law student: From senator's offices to overseas internships
At the time of writing, Ms Smith and Mr Hobbs were both across the world, pursing an opportunity to study law and national security in an internship and law exchange.
Mr Hobbs has spent the last two months undertaking an internship with the Australian Embassy in Stockholm and completing an international law course in Geneva. He said the highlights have included travelling with the embassy and meeting great people.
"[I] have been travelling with and organising Australian  ambassador's to Estonia's visit to Tallinn for Estonia's Independence Day, designed and successfully implementing a new framework for the Embassy's public diplomacy strategy, attending a briefing about the coronavirus at the World Health Organisation Headquarters," Mr Hobbs said.
He said the course in Geneva was run by the ANU, and he applied through the College of Law. The internship was secured via the DFAT website. Ms Smith also applied for her law exchange through ANU's Global Programs opportunities page.
Ms Smith is currently on a law exchange at the University of Dundee in Scotland where she has attended numerous lecture series about international energy law and learning about the policy challenges at regional and international levels.
"It's great to be able to take a comparative law stance and understanding between the European legal perspective and that of Australia and our mineral and resource legal policies with other countries in the region," Ms Smith said.
Back at home, Mr Hobbs is working for a senator in Parliament House at a Canberra-based law firm. He has completed internships with the Australian embassy in Sweden and has travelled to Cambodia, Oxford and Geneva for university courses. Mr Hobbs has also been president of a study society, the vice-president of his college resident's association, director of a think tank, and now director of the ACSS.
On top of working with the Kimberley Community Legal Services, Ms Smith has spent numerous university breaks in the Asia-Pacific region. She volunteered on Pentecost Island and studies Southeast Asian regional geopolitical courses at the University of Singapore, before travelling to Indonesia and Thailand as part of another course.
The Australian-first Crisis Simulation Summit
The ACSS will take place in September 2020 with 100 of Australia's future leaders on national security. The summit will run for three and a half days and will have a summit ball and several panel discussions with leading experts and professionals.
Ms Smith and Mr Hobbs said they wanted to create an initiative and program to design an opportunity for students to acquire fundamental skills and to see if the experiences of crisis management and decision-making was a career path they wanted to explore.
"We hope to expand the summit into a annual or biannual event to continue to develop and foster the unique skill set that students will take home from the conference," said the two. "We envision greater engagement from other universities within Australia and internationally, both in length and the number of delegates."
The major challenge in creating the summit was in securing funding. ANU has already provided the summit with $30,000, but Ms Smith and Mr Hobbs needed more support from government sponsors and private companies. It was also a challenge to secure a place and event for 100 university students over the time allotted.
However, they had assistance from a team of students – Lauren Abrahams, Matthew Robinson, Max Claessens, Matilda Dwyer, Lucy Roberts and Paris Stefanopoulos.
"The most rewarding element is working with and witnessing the collaboration and the development of such a passionate team of young university students at ANU," they said.
The team is utilising simulation software that is also used by NATO, UK Foreign Office and the UK Ministry of Defence. It will also host Admiral Chris Barrie, the former chief of the Australian Defence Force, who has a wealth of experience in conducting similar demanding scenario exercise to compliment coursework.
Ms Smith and Mr Hobbs said they are looking forward to experiencing and challenging students on their ability to lead, show teamwork and communication skills.
"We are working with a brand-new model that we have proposed from our collective previous experiences at university," they said. "While this comes with its challenges, the sense of pride and accomplishment when we get through these trials and tribulations with great results has the most rewarding feeling."
This email address is being protected from spambots. You need JavaScript enabled to view it.