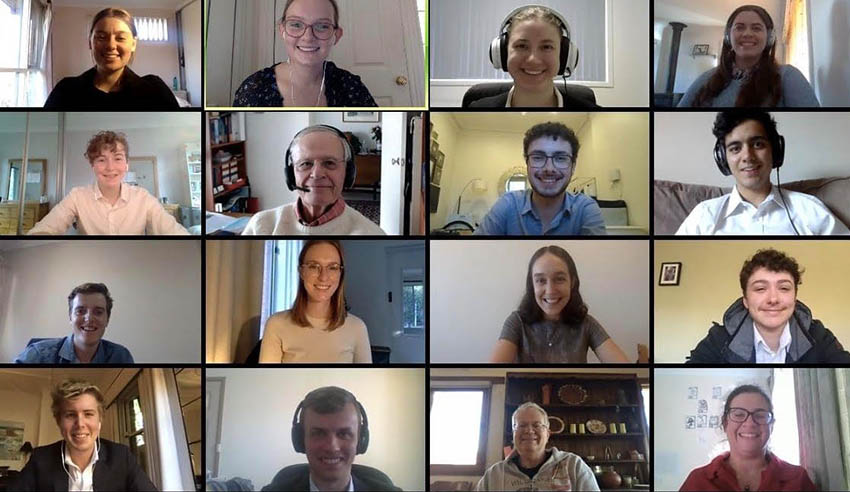 A team of law students will proceed with an inaugural Australian Crisis Simulation Summit despite the coronavirus pandemic – this time, with more technologies to support an online platform and a major sponsor to strengthen the opportunities for delegates. The summit's co-directors spoke to Lawyers Weekly about their new plans.
Law students, led by co-directors Alexandria Smith and Tim Hobbs, will pivot from hosting future leaders in national security at the Australian National University (ANU) to an online platform amid the coronavirus pandemic and the restrictions that came with it.
The COVID-19 outbreak put a dent in the summit's plans but also created an opportunity for the law students to transition it into a digital experience, now complete with technology fit to host future delegates and a sponsorship from the Department of Defence.
"Given the current global pandemic and lack of appropriate government responses to the events of Black Summer, there is clearly a need for the ACSS to educate and upskill the next generation of Australia's national security expert," the co-directors said.
'Designed with COVID-19 in mind': Transitioning into a virtual summit
Prior to the outbreak of the coronavirus pandemic, the ACSS planned to gather over 100 students in Canberra for a series of simulation projects designed to prepare them for their future in a career of national security and law. Now, the summit will look much different.
Mr Hobbs said the outbreak posed a significant challenge for the organising team. On top of concerns about guaranteeing delegate health and welfare, government restrictions on movement and gatherings of people have meant that participating delegates will no longer be able to travel interstate or meet in a large group in one place.
"The ACSS team has shown enormous strength, resilience and innovation in adapting to the summit to ensure 'it is designed with COVID-19 in mind'," Mr Hobbs said.
The solution is to deliver a fully digitised and "COVID-19-friendly" summit, with their main headquarters based in Canberra. Students will tune in via teleconferencing, live-streaming and a mobile app. Mr Hobbs said it will reduce the risk of contracting the virus.
The summit has engaged three technology companies, specialising in live-streaming and online crisis simulation. The team has remodelled the structure of the summit and focuses on technology interfaces and online mechanism for co-integration. It will also ensure that the summit is accessible for students who may not have been able to travel initially.
"Further, the virtual communication systems we have in place [mean] there will be greater connection between mentors, sponsors and the delegates through live-streaming and real-time questions that will be addressed in a more efficient and effective manner – through instant connection from anywhere in the world," said Ms Smith.
The team has rethought its approach to risk management and potential for cyberattacks, hackers and any online harassment. They have also made contingency plans for related technical issues that may occur because "in the era of COVID-19 anything is possible".
"In future, we envisage international Crisis Simulation Summit with students participating in simulated regions from different nations around the world. I think running this summit virtually this year is a good test case for years ahead," said Mr Hobbs.
What law students and delegates can expect from the summit
The ACSS is an opportunity for "spooks, diplomates and those who want to truly engage with the unique and precedent-setting work characteristics of Australia's national security architecture and environment", said Ms Smith. Delegates will get a "clear picture" of what career and line of work are best by meeting and working with industry professionals.
"We anticipate the delegates will bring and share diverse perspectives with other students and mentors, and in turn will gain a better understanding of their standing within this field moving forward," said Ms Smith, on what is in it for participating students.
Mr Smith said the ACSS is looking to enhance students' skill sets by focusing on building "resilience through change and feedback from professional mentors". These mentors will include Australia's top intelligence and diplomatic experts as mentors, who will provide a real-time feedback opportunity to delegates while they work through solutions.
Delegates can expect to be exposed to intense and challenging simulations where there will be a need to produce a series of substantial national and international briefing reports and speeches that engage with key stakeholders, community leaders and government.
"The scholars, diplomats and Australian Defence Force officials are keen to interact with and teach students about those niche and stylistic aspects of a career in framing Australia national security architecture," explained Ms Smith.
Mr Hobbs said the team is excited about the interest and level of support the summit has received from a range of organisations. ANU and the Department of Defence are premium sponsors and both have come on board as financial contributors. In addition, the Department of Defence will play an observer role and support the preparation of next-generation security leaders.
"We're currently in talks with another government department, a law firm, some consulting firms and a bank about potential sponsorships," said Mr Hobbs. "There has been a lot of interest from the private sector, particularly from crisis management and many business continuity divisions. The team and I are excited to see where these discussions end up," he said.
How the summit will prepare students for a future in national security
The ACSS is targeted at students from a variety of disciplines and backgrounds, and the summit is designed to create links between students of different majors that will foster the connections and networks needed for strong future careers.
"We need to learn to work together now and build the culture of collegiality among people from different backgrounds, different universities and different disciplines," said Mr Hobbs. "We will need to draw on everyone's skills and abilities if we are going to be successful at confronting the challenges of the future. The ACSS will strive to achieve this by inviting participants from across the disciplines and from around the nation."
In terms of what careers to expect, Mr Hobbs said the summit will prepare students for a leadership position within the Australian national security community. These could be the traditional roles within politics, intelligence, diplomacy and defence.
"However, we recognise that many of the jobs delegates will end up performing may not have even been thought of yet and will evolve as society progresses. We're hoping to get speakers to come into cover emerging fields in national security like space, AI, cyber and climate change so delegates are prepared for future security challenges," Mr Hobbs said.
Applications are open now, and Ms Smith said the ACSS is looking for the delegates who show a "deep-rooted passion for learning more about Australia's national security". Those successful delegates will demonstrate leadership qualities, the ability to be adaptable and flexible, and are innovative and willing to find solutions at every level of policymaking.
"Delegates will face a series of challenges that require the selection and coordination from the most pressing strategic policy developments. Thus, applicants that show a standard of critical analysis in their application responses will be selected," said Ms Smith.
"We are looking for applicants to express how the summit will have a lasting and profound impact on their academic and professional development."