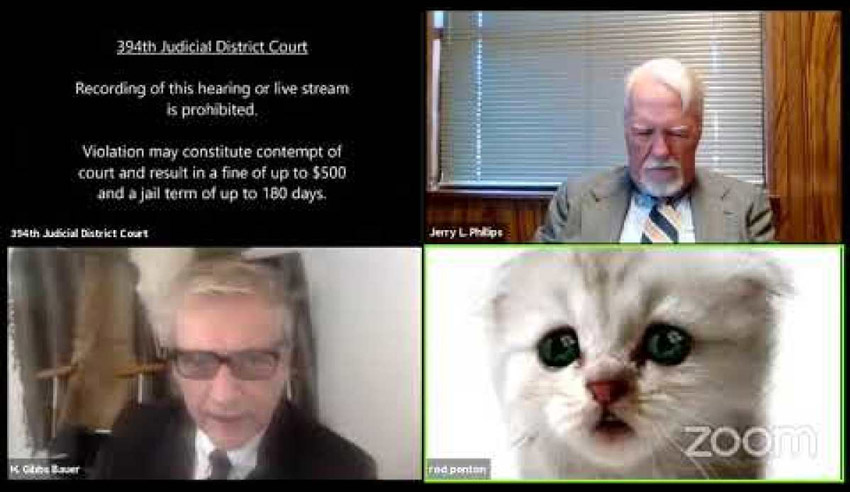 The judge who inadvertently created the #Lawyercat phenomenon has warned law students and graduates to be cautious of social media, no matter how much they try to keep their personal and professional lives separate online.
In early 2021, a US District Court judge, Roy Ferguson, tweeted a 48-second clip of lawyer Rod Ponton's Zoom filter mishap that turned him into an international social media sensation. While Mr Ponton embraced the newfound fame, he was "milkshake ducked before sunset" for a personal indiscretion from years earlier.
In a blog post, Judge Ferguson cautioned new lawyers on their own social media use and warned them away from getting trapped in the misconception that a small following won't mean major exposure. In 2021, Judge Ferguson made the same mistake when the tweet he shared with 1,700 people became a huge viral sensation.
"When I was in law school, social media didn't exist. Phones didn't have cameras. Vehicles didn't communicate with satellites. And people didn't voluntarily carry GPS trackers in their purse or pocket. Basically, if no one saw something happen, it didn't happen. You always had plausible deniability," Judge Ferguson wrote.
"Now, everything we do or say is recorded and stored – forever."
More importantly, Judge Ferguson pushed that "Google searches don't distinguish between personal and professional information", so no matter how personal or hidden a social media post may seem, "virtual actions have real world consequences" – and could even end up costing a new lawyer a job opportunity.
Employers scour an applicant's social media histories as part of the hiring process to look for anything that reflects negatively on the person's character or work ethic, Judge Ferguson warned. Anything that comes across as negative – personal or not – could impact the firm's bottom line and is enough to throw away the application.
This is particularly true of any posts that are "attention-seeking, ignorant, or angry" that glorify bad behaviour or attack the study of law and the profession. Notably, Judge Ferguson said that anything that has ever been posted – no matter how long ago – "is still out there waiting to be found" by prospective employers.
"Someone who's toxic, cruel or abusive on social media might not be someone you want down the hall all day. You may never find out why – you just won't get a call back. Or a new client. Or a referral. Or a partnership offer," he said.
"The difference between your first years as lawyers and mine are the receipts."