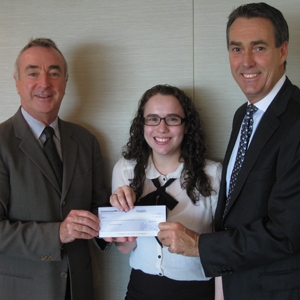 Freehills has pledged $20,000 from the proceeds of a landmark High Court win last year to support a minority-youth mentoring organisation.
The law firm has donated the money to the Pinnacle Foundation, which helps with providing scholarships and mentoring to Lesbian, Gay, Bisexual, Transsexual, Intersex and Queer (LGBTIQ) students facing hardship.
Freehills has a long association with the foundation, with previous pro bono work helping to establish the not-for-profit organisation.
"We chose to give this donation because we absolutely admire what the Pinnacle Foundation is trying to do," said Annette Bain, executive director of the Freehills Foundation.
"They are a dynamic organisation that is really making a difference to the lives of LGBTIQ people and giving them an opportunity to finish their education and start a career.
"The goal of the Freehills Foundation is to increase access to justice and opportunity, so this organisation sits beautifully with what we're trying to do," added Bain.
The High Court win for Freehills last October involved two transgender Western Australians who won their fight to be legally considered male.
The female-to-male transsexuals, known only as AB and AH, took their case to the High Court after the Court of Appeal in WA upheld an earlier decision rejecting their application to have their gender reassigned.
The High Court found in their favour, ruling that the physical characteristics by which a person is identified as male or female are confined to outward appearance and the presence of male genitals is not required.
"We took the case on because it involved establishing the human rights of a minority group that doesn't get a lot of attention," said Stephen Penglis, the Freehills partner who acted on the three-year legal fight.
"It was a rollercoaster for the people involved … they won before the State Administrative Tribunal, they lost at the Court of Appeal, but ultimately our position was vindicated in the High Court."
Pictured is Pinnacle Foundation executive director Sean Linkson (right) and scholarship recipient Veronica Mason (centre) accepting the donation from John Taberner from Freehills (left).