Strength could be weakness for arbitration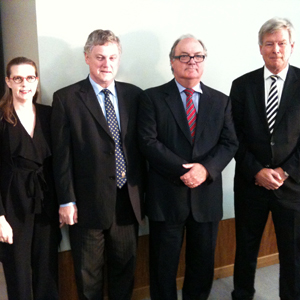 The chief justice of the Federal Court, the Hon Patrick Keane, used this year's Australian Maritime and Transport Arbitration Commission (AMTAC) address to caution that the interests of foreign parties may not agree with Australia's justice system.
Keane, whose speech in Brisbane on 25 September was streamed live in the federal courts across the country, touted the strengths of Australian courts but also warned that these virtues may, in fact, deter some parties from seeking to resolve their disputes here.
He added that the views of international traders, and their priorities and perspectives, are crucial to the prospects for international arbitration in Australia.
"It makes little sense for sheep to pass resolutions in favour of vegetarianism while the wolves remain of a different opinion," he said, explaining that it is important to consider whether Australia's strongly interventionist approach when supervising international arbitrations is inconsistent with the expectations of foreign parties.
Keane supported his view with an exploration of advances and setbacks in the Australian courts that have influenced whether the country is seen as a preferred seat for international arbitration.
"In Australia, reform of the law governing arbitral procedure has been directed to the modernisation and clarification of existing arbitration practice," he said. "[But] Australia's high-minded domestic laws, if given an expansive interpretation by the courts, may diminish Australia's relative attractiveness as an arbitral seat."
The Hon Justice Steven Rares, who is the national convenor judge of the Courts Admiralty and Maritime Arrangement, also participated in the proceedings.
The address was promoted as an important event in light of the Government's Stronger Shipping for a Stronger Economy reform package, which is aimed at revitalising the Australian shipping industry.
AMTAC was established in 2007 and seeks to promote the conduct of maritime arbitration in Australia in appropriate cases.
Photo: (l-r) Professor Sarah Derrington, AMTAC deputy chair; Khory McCormick, ACICA vice-president; the Hon Patrick Keane, chief justice of the Federal Court; and Peter McQueen, AMTAC chair and ACICA director