Lawyer at centre of Bunny mystery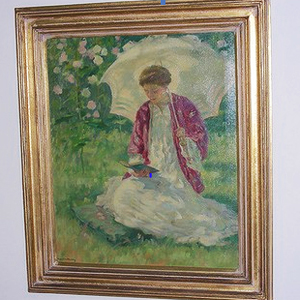 A solicitor has failed to convince a Supreme Court judge that he is the rightful owner of a Rupert Bunny painting worth $200,000, ending the original buyer's 20-year-long effort to recover the valuable artwork.
Rigby Cooke Lawyers' head litigator Elizabeth Guerra-Stolfa told Lawyers Weekly that the Bunny case was one of the most memorable of her career, not only due to the circumstances surrounding the missing painting, but also because she was required to don white gloves and "parade the painting to his Honour".
"I felt like [70s presenter] Delvene Delaney on one of the old quiz shows," she said, laughing.
The mystery began in 1991, when the Rupert Bunny original was stolen from the home of James Watt. He had purchased the painting in 1953 for 26 pounds and five shillings. Almost 20 years later, a tip-off from a member of the public led detectives to a house in East Malvern, in Melbourne's southeast, where the painting was hanging on the wall of solicitor Frank Levy, who had been given the painting by a grateful client.
Levy launched legal action in 2010 with the aim of extinguishing the proprietary rights of the Watt family. Maxwell Watt and his brother Michael (nephews of James Watt) had been searching for the Bunny since their uncle's death in 1993. But Levy argued that the statute of limitations meant the Watts no longer had rights to the painting.
The argument didn't wash with Justice David Habersberger, who accepted Guerra-Stolfa's claim that the limitation period didn't begin until after the discovery of the painting in 2010.
There were "many twists and turns", said Guerra-Stolfa, as both sides uncovered evidence to "get to the bottom of who the true owner of the painting was". But, in the end, Habersberger ruled that the Watt family was entitled to retain possession because there wasn't enough evidence to find Levy's client Peter Rand was a bona fide purchaser of the painting and, consequently, he was not in a position to give it to the solicitor.
"The case turned on the fact that Rand, who left the painting in his will to Levy, couldn't prove how he got it," said Guerra-Stolfa.
Levy has lodged an appeal against Habersberger's decision.