Nations' 'woeful' climate change pledge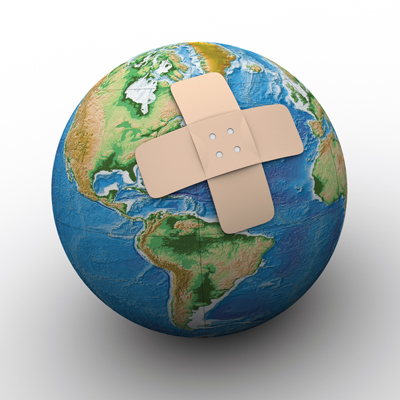 Fear of being blamed for the impacts of climate change continues to see developed countries shy away from climate finance discussions, an environment law expert has said.
The idea of compensating developing nations for the impacts of climate change has been in the shadows for a long time, said Ilona Millar, an environmental and projects senior associate with Baker & McKenzie, who attended the UN Climate Change Conference (COP 18) in Doha, Qatar, recently.
"When the developing countries turn to the question of compensation for loss and damage, as opposed to access to resources to help them adapt and mange within their own capacity, that's where developed countries are very concerned about what that actually means," Millar told Lawyers Weekly. 
Discussion about a "loss and damages mechanism" emerged in 2009, she said, but developing nations are now asking specifically for support with planning and management for natural disasters and assistance from private sector and insurance facilities for catastrophe and risk-reduction options.
The $30 billion 'Fast Start' fund, in place from 2010 to 2012, was scaled up under a Doha deal that set out, in vague language, how richer countries would contribute up to $100 billion annually in climate aid by 2020.
"It's a woeful commitment in terms of what is needed," said Professor Rosemary Lyster, director at the Australian Centre for Climate Change and Environmental Law (ACCEL) at Sydney Law School.
Lyster was speaking at the 2012 ACCEL Conference, Climate change, catastrophic risk and disaster law, at Sydney University on Monday (10 December), alongside Dan Farber, a professor at Berkeley University's Centre for Law, Energy and the Environment.
Farber said high-emitting countries had a special obligation to help poor, lower-emitting countries mitigate the impacts of climate change and rebuild after natural disasters given that their "known actions" increased the risk of disaster.
But it's incredibly difficult to establish the liability of a particular polluter or country.
As Millar explained, it's been almost impossible to prove to date, for example, that "sea level rise in Tuvalu has increased by 50cm, making the island uninhabitable in 2100, because of the US contribution to historical emissions".
"I think there are some research institutions looking at whether or not they can draw that historical attribution…it's been an issue in respect of the climate litigation that's been brought, in particular in the US, and also being contemplated in the ICJ, so, from a legal point of view, causation is a very big issue."
Developed countries resisted calls by poorer nations in Doha to make firm commitments, even around the $100 billion target, citing budget stress from financial turmoil.
Farber said the practical problems with providing compensation include the frequent unavailability of private insurance for mass disasters; the exclusion of catastrophic risk from insurance coverage, and the difficulty of handling very large litigious claims.
[AUDIO]: Click here to hear more from Professor Dan Farber, co-director of Berkeley University's Centre for Law, Energy and the Environment.
Debate to heat up
A recent report by the World Bank warned that global temperatures could rise by four degrees celsius this century, leading to unprecedented heatwaves; more frequent tropical storms; the inundation of coastal cities; risks to food production and water supply, and the irreversible loss of biodiversity. 
The most severe impact is likely to be on developing countries, partly due to geography in some cases but more because they lack the resources of their own to mitigate risks and rebuild.
COP 18 laid down a timetable for deciding on a legally-binding global agreement on climate change by 2015 – giving all nations five years to undertake the domestic ratification process for the agreement to come into force by 2020.
The Kyoto Protocol, due to expire on December 31, was offered a new lease of life for seven years in Doha, compelling cuts from Australia, the European Union, Ukraine, Switzerland and Norway – which make up only 15 per cent of the world's emissions.
"That second commitment period is really a placeholder to try and keep some legally-binding targets for emissions reduction in place in the period between the end of the first commitment period and effectively 2020, when hopefully a legally-binding global agreement will take effect," said Millar.
No one was expecting huge progress in terms of the 2020 agreement, said Millar, but negotiations over the next 12 months will focus on the question of the legal form of the global agreement and its substance and content.
"Various workshops [will be] held to consider the scale of mitigation ambition that can be incorporated in that agreement [which will] most likely be a treaty or convention," said Millar.
Millar attended COP 18 to track negotiations on international carbon markets as she represents a number of clients engaged in emissions trading projects.
"It's very important to fully understand the context in which certain decisions are taken … in terms of setting the rules for accessing the market mechanisms under the Kyoto Protocol," she said.
Millar gave a talk on the recently announced link-up of Australia and the EU's emissions trading schemes, discussing the implications and content of the legislation and what it meant for businesses looking to participate.
It was a much smaller COP in terms of engagement by the business community, said Millar, who was joined by one other Bakers lawyer from Abu Dhabi.
"I didn't see any other Australian lawyers from firms that would normally track the negotiations," she said.