Big firms' mental health façade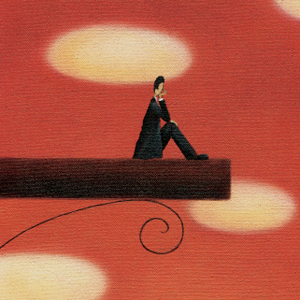 A young lawyer at one of Australia's top law firms details how he felt the profession let him down when he began struggling with depression.
The top end of town is constantly awash with self-congratulatory marketing material published by big firms spruiking their latest program to support mental health or touting the many ways in which they encourage a "real work-life balance".
A few months ago, my firm distributed helpful tips printed on colourful postcards suggesting we ought to "Go for a swim in the ocean" or "Go home and cook a meal with your family". Apparently the irony of recommending such fun and whimsy to a group of employees who are effectively required to remain at the office upwards of 14 hours a day for months on end was lost on the hopeful folks in human resources.
The postcards were swiftly met with derision, as updated versions circulated: "Go for a swim [just don't expect your job to be here when you get back]", "Cook a meal with your family [at an all‑new dinnertime of 11.30pm]".
It's easy enough to brush off these initiatives as a misguided waste of trees - or even a bit of comic relief - but there's a point at which harmless marketing puff becomes a hazardous smokescreen.
That point came for me last year. After weeks of working a minimum of 14 hours a day, not eating a single meal outside of the office and having every social interaction truncated to "I'm sorry, I've got to go - I've got to get this document out urgently", I was left depressed, exhausted and battling suicidal thoughts.
I was genuinely on the brink.
No help
In a profession where asking for help is a sign of weakness and admitting you're struggling will be noted on your next performance review, I swallowed my pride, summoned up what little courage I had left and called the Lawyers Assistance Program hotline (established by the Law Society of NSW) - the support provider my firm had dutifully placed a brochure for in each of our inboxes.
The line rang out. Twice. And again the next day.
Grappling for support, I shot off an email to the Lawyers Assistance Program to say that I needed assistance, that I didn't know where to start and requesting for a counsellor to get in contact with me.
This wasn't some tangential cry for help - it was a very clear and direct email requesting it. I got no response to that email.
The experience left me feeling even more isolated and alienated than when I had started. It was like dragging yourself to the Emergency Department only to find the lights off and nobody home.
Given that the support mechanism had failed, I did the only thing I knew how to do: I bit down and ploughed on. The fact that I had called out for help and received nothing but deafening silence in return made me antipathetic towards seeking help again and galvanised my resolve to bottle things even tighter so nobody would need to know what was really going on.
Breaking point
Everyone has a breaking point; for me, that arrived at the start of this year when (having not received any support) I finally crumbled and found myself whisked off, by force of a medical order, to the Psychiatric Emergency Care Centre (PECC - a special unit within the Emergency Department), "scheduled", as the medicos call it, under the Mental Health Act 2007 and detained for my own safety.
Needless to say, this was a pretty distressing experience - we know as lawyers that the depravation of a person's liberty is a step to be taken only in the most serious of circumstances. Forcibly bundling me off to the PECC unit was an extreme medical response and one that was necessitated by a condition left to fester for far too long.
While I understand the reasons for taking such a drastic step, from the perspective of a patient, nothing changes the fact that it is a thoroughly undignified experience to have to call your housemate from a secure room in the psychiatric ward to explain everything you've locked away for years: you've been deteriorating over the last few months, you've had a breakdown, you can't leave hospital … oh, and could they please bring you some basic clothes and toothpaste?
That was a few weeks ago. Now, with proper referrals onto carefully selected health professionals, I'm taking my first tentative steps on the path to recovery. But even as I stand at the start, I can't help but wonder: "Why didn't I get here earlier?"
The pageantry and self‑satisfaction that the big firms wrap themselves in as they parade their mental health programs around town strikes me now, more than ever, as a cheap placebo that the legal profession happily swallows. A sugar pill to make the workplace health and safety pains go away.
When big firms trade on the good press garnered from announcing yet another mental health program, but then fail to put the systems they've promised in place, it's not just hypocritical, it's dangerous.
In my case, when I discovered the Lawyers Assistance Program to be seemingly no more than a glossy flyer aimed at protecting big firms from liability rather than supporting their employees, it delayed me from seeking appropriate help. And it allowed my condition to grow from a niggling pain into something much more sinister.
Jolly postcards with cute tips on work-life balance will continue to be nothing more than a joke until the big firms that print them genuinely enable a working environment that makes it possible to engage in some of those suggestions. And the cheap façade of mental health assistance programs will continue to place people at risk for as long as the calls of suicidal lawyers ring out.
We all accept a bit of advertising bluff, but if big firms are in anyway serious about the wellbeing of their employees or, perhaps more realistically, their liability when the next tragedy occurs, more has to be done to bring substance to puff pieces and postcards.
The author of this piece wishes to remain anonymous. He is a lawyer within the corporate group of one of Australia's largest law firms.
In response to the author of this article's claims that he had rung the Lawyers Assistance Program hotline twice and the phone rang out both times, and that the lawyer in question also emailed the program and got no response, the president of the Law Society of NSW, John Dobson, made the following statement to Lawyers Weekly:
We cannot talk about specific cases, however, I would like to assure you that the society does everything possible to support the mental health and wellbeing of its members and provides a number of services and programs for solicitors.
As well as the Lawyers' Assistance Program, more recently we have added the Member Assistance Program, with access to free confidential counselling support 24 hours a day, 365 days a year. This service is provided by world leaders in corporate psychology services, Davidson Trahaire Corpsych (DTC).
As part of our MCLE seminar program, we have the hugely popular Lawyers' Guide to Sanity, Wellbeing and Profitability. These free one-day seminars have so far given more than 3000 solicitors the skills to manage the daily challenges to their health and wellbeing.
For newly admitted lawyers, there is the NSW Young Lawyers Mentoring Program and the NSW Young Lawyers Mental Health and Wellbeing website. 
I would also like to add, given the sensitivity of this issue, that we are always open to suggestions on how to improve services in this space.