Linklaters and Allens in firm tie-up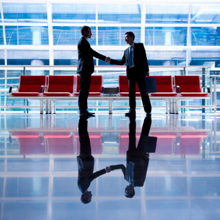 Australia's Allens Arthur Robinson and UK firm Linklaters are set to announce today they have entered into an exclusive alliance and will form a series of joint ventures across Asia.
Allens Arthur Robinson and UK Magic Circle firm Linklaters have announced today they have entered into an exclusive integrated alliance from 1 May and will form a series of joint ventures across Asia.

Allens Arthur Robinson chief executive partner Michael Rose told media the deal was not a merger and that both firms would remain independent.

The news comes as Linklaters litigation partner Michael Sanders heads for Australia this month. He told Roll on Friday, the UK online news site, he was not coming to explore the much-rumoured merger with Allens, but would be looking for new recruits for the firm's London office. 
The soon-to-be announced tie-up is not a merger.

Allens said the nature of this alliance means that in relation to joint matters, clients will have one point of contact, a single team drawn from the best resources of each firm, and advice and support provided in a consistent manner and style.
The firms will align their processes and procedures, share resources and cooperating in relation to recruitment and training.
Rose told Asian Lawyer: "Clients understand that this is an offering that we could not get somewhere else.

"At the same time, it is also an arrangement that maintains our position in Australia and does not make us a firm extension or radically change our local offering."

As part of the agreement, Linklaters and Allens have formed a profit-sharing joint venture that brings together their Asian-focused energy, resources, and infrastructure lawyers.

In respect of Indonesian work, Allens said, the firms have formed a joint venture building on Allens' existing relationship with Widyawan & Partners. The strategic focus of the Indonesian joint venture will be on energy, resources and infrastructure, banking, capital markets, and mergers and acquisitions work, with the intention to invest significantly in these strategic practices.
Rose said the firm is looking to set up similar joint ventures with Linklaters. Resources from both firms would be pooled to work together, either by practice or geography.

Linklaters Senior Partner, Robert Elliott, said: "The firms are a very good fit, we have a similar client base, complementary practice areas, cultural synergy, a leading depth and breadth of expertise, and strength of brand in our respective markets. By combining our resources and aligning our supporting processes we will be able to enhance and expand what we can do for our clients."

More details today at www.thenewlawyer.com.au