Changing the system from within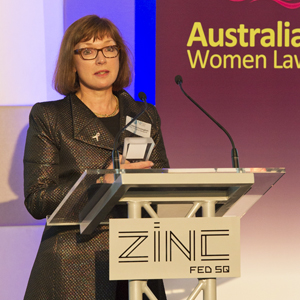 Christine Covington has left her mark on Corrs Chambers Westgarth.
The winner of the Jacinta Fish Legal Mentor Award at the inaugural Lawyers Weekly Women in Law Awards has used her position as a senior partner in the firm to be an advocate for change.
The Sydney-based planning and environment lawyer has been the long-standing chair of the firm's Diversity Council, which she founded in 2006, and she was a key figure in Corrs becoming the first law firm to launch an ASX-compliant diversity policy in February.
Under that policy, Corrs hopes to increase its percentage of female partners from its present level of 22 per cent to at least 35 per cent. Covington was also instrumental in helping bring about the decision to increase Corrs' parental leave entitlement from 14 weeks to 18 weeks early last year.
"I can remember thinking that, as a young lawyer, the practice of law made me very tired but there's nothing like the tiredness that confronts you when you become a mother, and when you've got to do the two together, you wonder where you'll find the energy," said Covington (pictured), commenting on the challenges women face in returning to the profession after childbirth.
In addition to being the driving force behind major macro changes at the firm, Covington has individually served as a role model and mentor to countless numbers of male and female lawyers.
"Christine is a champion of diversity in the legal industry," said one of her referees, Cindy Carpenter, the director of Cast Professional Services. "Through her passion, grace and dynamism, she has successfully implemented innovative initiatives to retain female talent and remove barriers in their careers."
Carpenter adds that Covington's abilities as a mentor are "grounded in her innate ability to be a great listener and draw people together to work as a team".
Louse Camenzuli, now a partner, first joined Corrs in the planning, environment and local government group that Covington heads. When an opportunity arose at short notice for the young lawyer to go on a study trip to South America with the chief justice of the NSW Land and Environment Court, Covington facilitated a scholarship from the firm to help ensure she could attend.
"Christine has spent many hours of many weeks over the past 18 months working on my development plan for partnership and the preparation of my business case," said Camenzuli.
Covington has initiated executive coaching for female partners to assist women to maximise their career potential and included gender diversity in succession planning.
Covington has fundamentally changed the way one of Australia's oldest and most prestigious law firm's views diversity and has helped it to retain and attract a significant number of female lawyers.
This article forst appeared in Lawyers Weekly