The new IT girl of in-house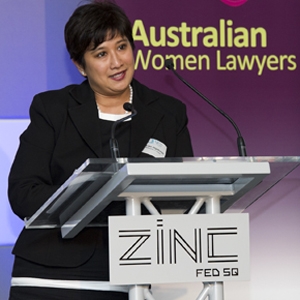 The leadership of Melbourne IT's general counsel during the institution's single largest commercial opportunity in a decade secured her the ACLA In-House Award at last week's Lawyers Weekly Women in Law event.
The leadership of Melbourne IT's general counsel during the institution's single largest commercial opportunity in a decade secured her the ACLA In-House Award at last week's Lawyers Weekly Women in Law event.
Ashe-lee Jegathesan (pictured), who also acts as company secretary, has been responsible for managing the associated legal risks of Melbourne IT's diverse, complex and highly-regulated businesses.
She has demonstrated her commercial nous over the past 12 months by leading the team responsible for working on client applications for new top-level domains (TLDs).
The new TLDs program, launched by the Internet Corporation for Assigned Names and Numbers (ICANN), will see organisations establish and operate their own TLDs - similar to .com - which has been described as the biggest change to the internet in almost 30 years.
The team Jegathesan led consisted of 12 consultants spread across Melbourne IT's global network. The work performed was critical to the business, securing not just considerable revenue this year but also creating an ongoing annuity revenue base for the future.
Jegathesan admitted that one of the challenges of corporations tightening their budgets is finding ways to deliver the same level of service to in-house clients without sacrificing quality and without depriving our younger lawyers in the team to grow and develop.
"There's legal process outsourcing and there's all sorts of cheaper ways to do things but that wouldn't give our younger lawyers the same breadth of experience that we enjoyed and for me, the trick is to balance the two," said Jegathesan.
She has been praised by King & Wood Mallesons partner Greg Semple as a "technically excellent lawyer, with a deep understanding of the regulatory framework and reforms relevant to Melbourne IT's businesses".
Under her direction, the Melbourne IT legal team has undergone a transformation over the last 12 months and is now perceived as a trusted partner and vital resource by the company.
Jegathesan previously worked for Maddocks for five years before joining Freehills for two. A nine month secondment stint at BHP saw her participate more fully in projects she became attracted to working in-house.
"You actually saw [the project] from start to finish and it was incredibly satisfying to see a product come through. One of the challenges with working in private practice was that you only ever saw piecemeal what was going on. You'd do a transaction or you'd get to provide an advice and that was the end of it…I find it incredibly satisfying working with the business teams and influencing them, to get them to make the right decision," she said.
In addition to the introduction of various technologies, Jegathesan has assisted with the creation of a vendor management function with the objective of providing the business with commercial support to ensure strong relationships with both suppliers and third party vendors.
Jegathesan has been heavily involved in the development of the company's governance and compliance policies, which have faced significant challenges in the past year, including various different data privacy and data transfer regimes.
This has required her to work closely with various law enforcement agencies such as the Australian Federal Police's high-tech crime division and the Australian Communications and Media Authority.
Jegathesan has married her commercial savviness with personal leadership. She is a member of an education committee currently developing a guide on internet safety for use by Victorian schools.
Gender balance in the technology sector is still predominantly male, so as one of just two women on the senior executive team, Jegathesan has taken an active interest in supporting the advancement and development of women within the company by coaching and mentoring female staff.
Jegathesan said she'd had great support from partners, male and female, throughout her career, including when she was pregnant, but that she'd been "one of the lucky ones".
"In-house, they were always incredibly flexible about where I worked and when I worked," she added.