ACICA promotion of Oz ADR continues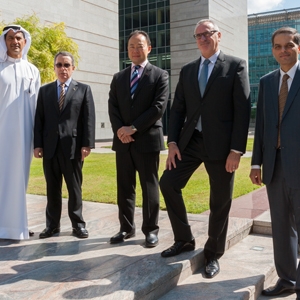 Clayton Utz partner and global arbitral specialist Doug Jones continued his mission to strengthen Australia as an international dispute resolution destination at a forum in Dubai.
The forum - The Australian Arbitration Option - provided an opportunity for senior UAE government officials and eminent jurists to inform key decision-makers from corporations and major law firms involved in international trade that Australia is an attractive dispute resolution centre.
The forum was the first initiative arising from the MOU signed in May between the Dubai International Financial Centre (DIFC) and NSW Government.
"International arbitration is the process of choice in cross-border deals," said Jones, who is president of the Australian Centre for International Commercial Arbitration (ACICA).
"Australia is beginning to attract strong interest from corporations in the Asia-Pacific region and beyond who are increasingly looking to avoid the uncertainty of litigation in foreign courts.
"What Australia offers is a first-rate legal and regulatory infrastructure that is pro-arbitration, pro-enforcement and cost effective."
NSW Premier Barry O'Farrell congratulated ACICA for taking the lead in partnering with the DIFC to promote Sydney and Australia as a neutral venue for arbitration. We
"What ACICA offers complements our engagement with the DIFC to promote investment opportunities between NSW and the Gulf Co-operation Council (GCC) region among existing and potential investors," said O'Farrell.
The GCC region is expected to spend about $934 billion on projects, including infrastructure developments, over the next decade, while infrastructure expenditure in NSW is estimated to be in excess of $746 billion between now and 2018.
Chair of the forum, Essam Al Tamimi, senior partner at Al Tamimi & Company, the largest law firm in the Middle East, said: "We were provided with clear and compelling reasons why Australia, through the Australian Centre for International Commercial Arbitration (ACICA), is a viable option for global companies in the Gulf region who use international arbitration as a means of resolving disputes."
Australian Consul General in Dubai and Senior Trade Commissioner (Middle East and North Africa) Gerard Seeber, who also addressed the forum, also praised ACICA for the initiative.
Firms represented at the meeting included Clifford Chance and Herbert Smith Freehills.
Photo caption: Essam Al Tamimi, principal of the Middle East's largest law firm, Al Tamimi & Co; Professor Doug Jones AO, President of ACICA;  His Excellency Pablo Kang, Australian Ambassador to UAE and Qatar; His Excellency Gerard Seeber, Australian Consul General and Senior Trade Commissioner (MENA) and Mr Moin Anwar, Director Trade and Investment (Middle East) Government of New South Wales.