Mountain of similarities between Everest and the office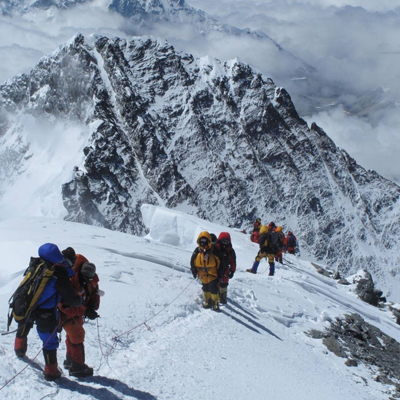 A former partner at Minter Ellison and Gilbert + Tobin has completed the 'seven summits of the world' to learn a few lessons in communication.
Christine Burke was speaking to friends and business associates of Negocio Resolutions at an event in Sydney on 19 February.
Mediator and managing director of Negocio Resolutions, Steve Lancken, met Burke when she was working in the real estate section of a law firm he also worked in when there was "nothing to indicate how ambitious she was", he said.
"What indicated to me that she was competitive was that she decided to jump from the very sleepy and lovely firm Owen Hodge Lawyers in Hurstville into a very competitive environment at Minter Ellison," said Lancken.
Burke went on to make partner at Minters and Gilbert +Tobin before leaving the corporate world to climb mountains in Australia, New Zealand, Nepal, China, Africa, Malaysia, Southeast Asia, the Americas, Antarctica and Europe.
"I love the challenge, I like seeing how hard I can push my body. I've learnt along the way how hard I can push my mind," said Burke, adding that mountaineering is 60 to 70 per cent mental and the rest is physical.
On an expedition to Manaslu in the Nepalese Himalayas, she and her climbing team narrowly escaped death when an avalanche of snow fell just 60 metres from their camp.
In August last year, on an expedition to Carstensz — the highest mountain in Oceania, located in Papua province, Indonesia — Burke walked for an hour and a half before running into a village and an unexpected challenge: heavily-armed 'freedom fighters' who were hostile to westerners, largely because of the nearby PT Freeport mine.
The militia kidnapped, intimidated and demanded $100,000 dollars from Burke and her group.
"We talked about escaping; we talked about them burning the hut down with us in it. They were very skilled with fire … with the guns and bows and arrows, and warned us that if we didn't obey their orders that they had killed climbers before," recalled Burke.
She left Carstensz with the help of the Australian and New Zealand embassies but, by December, decided she would return; this time undercover, via a different route, with non-westerners.
"We all have avalanches in our office; avalanches of emails [and] other dramas; we have oxygen deprivation when we're under incredible stress. Whilst you might not have to walk as far on a particular day in the office, you have other challenges that you face that make any environment difficult," she said.
When one audience member asked, understandably, how Burke could compare such risk to life on a mountain to a tough day in the office, Burke replied:
"You have the same stressors because you have the same risk to your career or to your occupation if something goes terribly wrong [in the office] and for most people that's a very critical thing; just as it is on the mountain when your life is at risk," she said.
Communication difficulties
Burke is now a full-time adventurer who is, in between climbs, a corporate motivational speaker and charity worker.
She admits that communication on a mountain is usually more difficult than in the office as climbers are often in a low-oxygen environment, wearing snow suits and masks that hide their face and largely mute their voice.
"There were a couple of times on the mountain I made assumptions, as we all do, as to what was happening and I was completely wrong," said Burke.
In May 2011, Burke reached the summit of Mount Everest, becoming the 10th Australian woman to do so. She recently completed the 'seven summits of the world', climbing the highest mountain in each of the seven continents.
"In my working life a lot of what I did was risk assessment, risk management and risk minimisation and I apply that same philosophy or work practice when I'm on the mountain … once a lawyer always a lawyer … my brain is always working as to how can I reduce the risk to me and my teammates," she said, adding that the way she verbalises concerns hasn't always won her a lot of friends.
To video highlights of Christine Burke's presentation to firends of Negocio, click here.
Click on the images below to view a photo gallery of Christine Burke's adventures.
{^widget|(useupdatepanel)False|(disableviewstate)False|(wherecondition)FileName+not+like+%27%2525_60%27+and+FileName+not+like+%27%2525_90%27+and+FileName+not+like+%27%2525_120%27|(widget_displayname)RBI+Media+Gallery+Viewer|(noofcolumns)4|(selecttopn)100|(fileidquerystringkey)fileid|(transformationname)Penguin.Product.CustomGallery|(visible)True|(name)RBI.MediaGalleryViewer_1|(libraryname)%7b%2525cmscontext.currentsite.sitename%2525%7dML|(disablemacros)False|(hidecontrolforzerorows)True|(showgroupfiles)False|(thumbnailsize)90|(sitename)%7b%2525cmscontext.currentsite.sitename%2525%7d|(filepath)Everest+Special%2f%2525|(checkpermissions)True|(width)|(height)^}