G+T app gives grads firm insight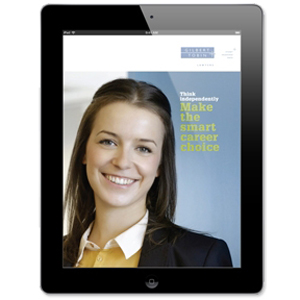 Gilbert + Tobin has launched a graduate recruitment app that aims to debunk the myth that only global firms offer international opportunities and high-profile work, the firm's corporate advisory partner has said.
Speaking with Lawyers Weekly ahead of the release of the G+T Careers app, Rachael Bassil said graduates currently equate overseas travel with the global brands.
The app is a way for G+T, a staunchly independent firm, to promote what it has to offer in the way of international work, she added.
"We fight hard for top candidates and that includes explaining to them that if they do have a desire to work overseas in the future we can facilitate that," she said.
"Graduates don't start their journey looking into firms with that awareness, and [through the app] we're explaining what they'll be able to do here."
Bassil said the decision to launch an app, as opposed to a print publication, was based on the communication habits of the current generation of graduates and the ability to present the content in a more engaging way.
 "[The app] doesn't have the limitations of print; we can include more information and it allows the candidates to imagine themselves working at the firm," she said.
The app features a video account of a day in the life of a summer clerk and an interview with managing partner Danny Gilbert. Bassil said that learning more about Gilbert via an intimate interview could sway a candidate who is shopping around for a firm.
"Candidates like to see the managing partner and understand the direction of the firm, and Danny is key to the vision for G+T," she said.
Bassil joined G+T's corporate advisory team in 2010, moving across from King & Wood Mallesons. She admitted that she "put her hand up" to be more heavily involved in graduate recruitment at the firm.
"It's something I've always really enjoyed and am passionate about," she said.
G+T Careers is available for free for iPad from the iTunes App Store.