Rose nestles between two merged thorns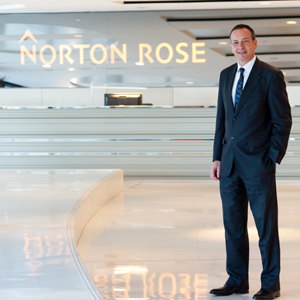 Norton Rose's merger with American giant Fulbright & Jaworski has officially come into being.
Last November it was announced that Norton Rose was merging with the American-based global firm Fulbright & Jaworski, with that merger formally commencing today (3 June).
The merged firm will be known as Norton Rose Fulbright.
"This is one of the largest transatlantic legal combinations completed to date," said Peter Martyr, the firm's global chief executive based in London.
The firm's global chairman is Adrian Ahern, based in Sydney.
Norton Rose Fulbright will have around 3800 lawyers in more than 50 cities.
For the 2012 financial year, Norton Rose pulled in $US1.3 billion, while for FY2011, Fulbright & Jaworski had a turnover of $US597 million.
These figures place Norton Rose Fulbright as a top 10 law firm by both headcount and revenue.
"Since announcing the merger we have seen a significant flow of referrals to and from Australia into the US, and importantly from around the world into and out of the US," Norton Rose Australia managing partner Wayne Spanner (pictured) told Lawyers Weekly, dismissing concerns that the arrival of global American-based law firms Squire Sanders and K&L Gates in Australia recently had already sewn up much of the available work for legal advisors on the back of American investment into Australia.
Spanner was a key figure in the year-long negotiations to bring the two firms together.
Fulbright has particular expertise in energy & resources, with clients including Exxon Mobil, ConocoPhillips and Shell. It also counts GalaxoSmithKline and Yahoo as high-profile clients.
Norton Rose's client list includes BMW, the China Development Bank and HSBC.
Curse of the merger?
Many of the high-profile global law firms that have entered Australia recently via mergers with large domestic firms have struggled.
In the first half of this year, King & Wood Mallesons has rolled out redundancies and Herbert Smith Freehills has instituted a pay freeze and lost well-regarded partners Michael Mills and Michelle Fox to Quinn Emanuel Urquhart & Sullivan.
DLA Piper also made a number of staff redundant in Australia late last year and early this year and, like King & Wood Mallesons, it has shaken-up its Australian management team.
It has also lost a number of partners, including Amanda Turnill and John Hutchinson.
Ashurst has also reportedly embarked on a cull of partners, something which it has denied to Lawyers Weekly.
However, Ashurst did confirm to Lawyers Weekly in December that the firm had "made some adjustments in response to prevailing economic conditions".
While Spanner did not unequivocally rule out any headcount adjustments in the future, he said the firm's new moniker as Norton Rose Fulbright would not see practice groups restructured or lawyers being culled.
"I think it is challenging across the Australian legal industry at the moment," said Spanner, adding that "it is tough out there" in relation to M&A and transactional work.
"Our platform provides all our lawyers with a fantastic opportunity... Despite challenging economic times over the last couple of years we have continued to grow our business from when we [Deacons] joined Norton Rose."
Spanner said that "counter-cyclical" practice groups such as employment, disputes and insolvency were performing strongly and that the firm would continue to look to make lateral partner hires in selected areas.
Over the last three years, Norton Rose has poached around 30 partners from competitor firms in Australia.