Young achiever on the fast track to partner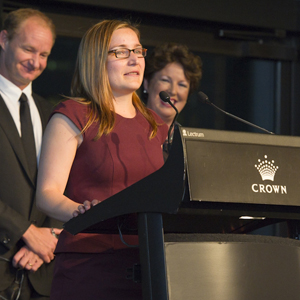 Few lawyers get the chance to head up a practice in their first few years on the job.
But this year's recipient of the Young Gun Award is effectively running her own practice of more than 250 refugee family clients after just two-and-a-half years as an admitted lawyer.
Sophie Roberts (pictured), an associate at Salvos Legal, manages Anglicare's migration service for newly-settled refugees across four outreach locations in western Sydney. Despite this and numerous other achievements, Roberts appeared shocked to have beaten off competition from the big firms, including Norton Rose Fulbright, Herbert Smith Freehills and Ashurst, at the Lawyers Weekly Australian Law Awards in Melbourne on Friday night (26 July).
"It's really exciting; it's very unexpected, especially when you look at the big firms that all the other finalists come from, and I guess it's a good time for the future of our firm," she told Lawyers Weekly upon accepting the award.
In addition to her work with Anglicare, Roberts runs another office of Salvos Legal in partnership with Canterbury City Council where she supervises four junior lawyers.
Roberts revealed that she relishes the opportunity to manage others and would one day like to be an accredited specialist in immigration law who also mentors up-and-coming lawyers.
"I'd like to progress ... to the partner level and pass on all the knowledge and skills that I've learnt to other junior lawyers and to ... provide a high standard of advocacy to clients who wouldn't be able to afford it otherwise," she added.
The impressive young lawyer is well on her way to achieving her goal. Prior to joining Salvos Legal full time, Roberts was poached by immigration law heavyweight Michael Kah to join his large migration practice, where she became one of the firm's 'go-to' migration practitioners. She was later poached again by Salvos Legal managing partner Luke Geary to head up the firm's work with Anglicare.
Roberts' stellar CV is likely to attract many more job offers, but she isn't planning to leave Salvos Legal just yet. She said the firm has given her the opportunity to do enormously satisfying work and receive "the best mentoring".
"Coming towards the end of my degree, I had a lot of anxiety about career prospects and I think that getting involved with volunteering and a firm like Salvos Legal has obviously done wonders for my career," she said.
"I've been encouraged and supported from day one, and to be recognised at a forum like this where we don't traditionally have such a big presence just shows you can succeed no matter what you choose to do."
The other finalists for the Young Gun Award were: Daniel Chaney from Norton Rose Fulbright, Michael Compton from Herbert Smith Freehills, Liam Davis from McCullough Robertson, Natalie Lazar from Ashurst and Lena Vanmali from Gilbert + Tobin.